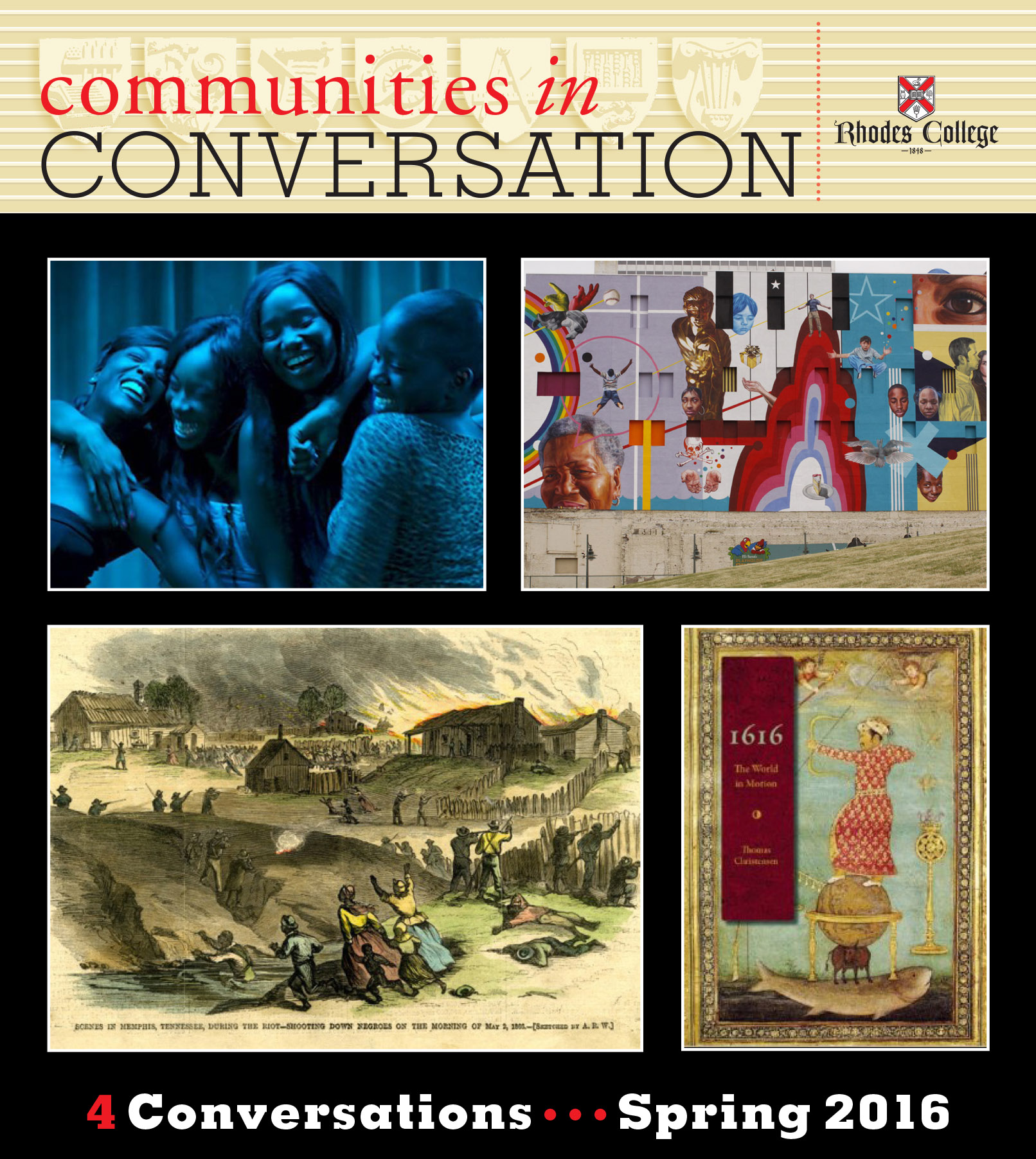 Tournées French Film Festival 
January 26 – February 10 at 7 p.m. Blount Auditorium, Buckman Hall (Subtitled in English)
Tuesday, January 26, Bande de filles/Girlhood (Opening Reception at 6:30 p.m.)
Wednesday, January 27, Timbuktu
Tuesday, February 2, Hiroshima, mon amour
Wednesday, February 3, L'Ecume des jours/Mood Indigo
Tuesday, February 9, Parce que j'étais peintre/Because I was a Painter
Wednesday, February 10, Deux jours, une nuit/Two Days, One Night (Closing Reception at 6:30 p.m.)
Memphis: Art & Place
Mel Chin "Stuck Inside of Mobile with the Memphis Blues Again": Our Place in the Age of a Dystopian Future
February 18 at 6 p.m., McCallum Ballroom, Bryan Campus Life Center (Reception at 5:30 p.m.)
Mel Chin's keynote lecture for the symposium "Memphis: Art and Place" will begin our deliberations with a powerful set of questions: What kind of art, what kind of place can we imagine as climate change and terrorism bear down upon us? Can we chart and dictate the outcome of communities without systemic woes recognized or addressed?
"Memphis: Art and Place" (February 18-19) will consider how the arts have defined and shaped our city, contributing to social change, community building, and urban development.
Steve Ash – "A Massacre in Memphis: The Bloody Race Riot of 1866"
March 17 at 6 p.m. McCallum Ballroom, Bryan Campus Life Center (reception at 5:30 pm)
In May 1866, a year after the Civil War ended, the city of Memphis erupted in a three-day spasm of racial violence aimed at the recently-freed African American people who lived there. More than forty black men and women were murdered, many more injured, and all of the city's black schools and churches and many homes destroyed by fire. Professor Ash's talk will examine the origins of the riot, describe its horrific violence, and assess its significance in American history.
Thomas Christensen – "1616: The World in Motion"
April 21 at 6 p.m. Blount Auditorium, Buckman Hall (Reception at 5:30 p.m.)
1616 was a momentous year, marked not only by the deaths of Shakespeare, Cervantes, and Tang Xianzu, but also cultural contact (and conflict) around the globe: Japan was closed to foreigners; Pocahontas visited London; Galileo discussed heliocentrism at the Vatican; a smallpox epidemic decimated the indigenous population of New England; Harvey lectured on the circulation of blood; and the first slaves arrived in the Bermudas. Writer Thomas Christensen will survey 1616 as a year of the "World in Motion," discussing fascinating images from the visual arts in Asia, Africa, Europe, and the Americas. Christensen's talk will be the keynote for the Friday, April 22 symposium on the year 1616, with lectures across the liberal arts and a performance based on the last days of Shakespeare's life: www.rhodes.edu/1616.