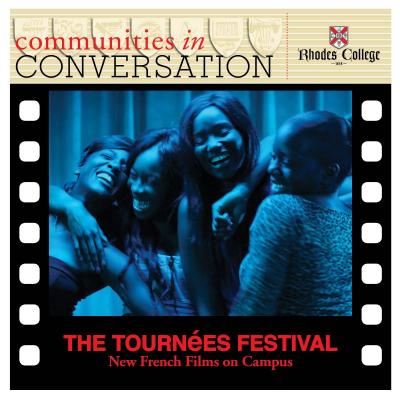 January 26-February 10, 2016
Blount Auditorium, Buckman Hall
Free admission, Films screened with English subtitles
Open to the public
Sponsored by: the Department of Modern Languages and Literatures, Film Studies, Communities in Conversation, the Spence L. Wilson Chair in the Humanities, Gender & Sexuality Studies, Africana Studies, the Alliance Française of Memphis, and Indie Memphis. 
Features List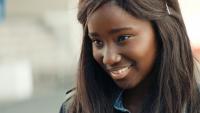 Bande de filles / Girlhood
Céline Sciamma/112  min/Not Rated
TUESDAY, JAN.26, 7PM
Opening Reception, 6:30pm
Introduction by Prof. Evelyn Perry, Department of Anthropology and Sociology, Rhodes College 
Girlhood, Céline Sciamma's third feature, continues to probe what has been this perceptive writer-director's abiding interest: female pubescence and adolescence, the stage when bodies and identities are still in flux. Set in the banlieues (low-income housing projects) that ring Paris and are home to many of its French-African citizens, Girlhood focuses on Marieme (Karidja Touré), a sixteen-year-old who assumes responsibility for her two younger sisters while their mother works the night shift; the teenager must also frequently absorb the wrath of her tyrannical older brother. School provides no haven from these hardships.  Having already repeated a grade twice, Marieme is told that vocational training is her only option. Rather than accept this indignity, she falls in with a triad of tough girls, abandoning her braids for straightened hair, her hoodie for a leather jacket—and learning the pleasures of raising hell at malls in Les Halles and impromptu dance-offs on the Métro. Led by the swaggering Lady (Assa Sylla), this crew—whose members are all played by charismatic first-time performers—boosts Marieme's confidence. "You have to do what you want," Lady exhorts her; patiently and astutely, Girlhood follows Marieme as she tries to put this mantra into practice while being repeatedly reminded of her severely limited options.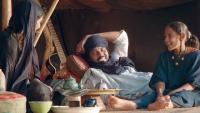 Timbuktu
Abderrahmane Sissako /100 min/PG-13
WEDNESDAY, JAN. 27, 7PM
Introduction by Prof. Shadrack Nasong'o, Department of International Studies, Rhodes College
In his magnificent fourth feature film, Abderrahmane Sissako demonstrates his remarkable ability to thoroughly condemn religious fanaticism and intolerance with subtlety and restraint. Timbuktu concerns the jihadist siege of the Malian city of the title in 2012. A ragtag band of Islamic fundamentalists, hailing from France, Saudi Arabia, and Libya, among other nations, announce their increasingly absurd list of prohibitions—no music, no sports, no socializing—via megaphone to Timbuktu's denizens, several of whom refuse to follow these strictures, no matter the consequence. In one instance of such defiance, perhaps Timbuktu's most indelible scene, a group of boys "play" soccer with an invisible ball; in another, a woman who has been sentenced to be flogged for singing continues her song between lashes (her punishment depicted discreetly). Upbraided by a local imam for entering a mosque with guns, the jihadists reveal themselves to be men less concerned with the teachings of the Koran than with enforcing draconian, and ever arbitrary, law. As further proof of Sissako's great compassion, even these horribly misguided dogmatists are presented as multidimensional characters, though the intolerant way of life they insist on is never less than criminal.

Hiroshima, mon amour
Alain Resnais/90 min/Not Rated
TUESDAY, FEB. 2, 7PM
Introduction by Prof. Andrew Daily, Department of History, University of Memphis
Post-screening discussion by Andrew Daily and Prof. Brad Onishi, Religious Studies, Rhodes College
One of the most influential movies ever made, Alain Resnais's masterwork from 1959 would not only shape the Nouvelle Vague benchmarks made in its wake but also liberate filmmakers from linear storytelling. "[I]n my film time is shattered," Resnais once said; indeed, Hiroshima, mon amour, which was scripted by Marguerite Duras, consists of multiple flashbacks, a device that destabilizes chronology. Spanning approximately 36 hours, the movie centers around the time-toggling conversations of two characters, identified only as She (Emmanuelle Riva) and He (Eiji Okada). She is a French actress who has gone to Hiroshima to take part in a film about peace; He is her married lover, a Japanese architect who had served during World War II—and whose family was in Hiroshima the day the US dropped an atomic bomb on the city. While the two reflect on the horrors of wartime—She on living in a Nazi-occupied country, He on the incineration of more than 100,000 of his compatriots—they begin to debate the very unreliability of memory. The past and the present commingle in Hiroshima, Mon Amour, a film that pointed the way to the future.

L'Écume des jours / Mood Indigo
Michel Gondry/131 min/Not Rated
WEDNESDAY, FEB. 3, 7PM
Long thought unfilmable, Boris Vian's 1947 cult novel—which translates literally as "The Foam of Days"—is charmingly adapted by Michel Gondry, who fills the screen with his trademark whimsical touches. The central narrative of Mood Indigo concerns the ultimately tragic love story of Colin (Romain Duris), an exceptionally wealthy man who inhabits a spectacular rooftop apartment/playhouse, and Chloé (Audrey Tautou), a physically frail woman he meets a at party. Yet theirs is no ordinary courtship: Colin and Chloé travel across Paris in a cloud-shaped vessel, sip beverages from a cocktail-mixing piano, and dine on elaborate concoctions prepared by Nicolas (Omar Sy), Colin's in-house chef and lawyer. Although Gondry has been celebrated for his inimitable mise-en-scène ever since Eternal Sunshine of the Spotless Mind (2004), here he takes production design to a whole new level, deftly mixing stop-motion animation and digital special effects. For all its visual splendor, though, Mood Indigo never loses sight of the great romance shared by its main characters—bonds that deepen when Chloé is diagnosed with a life-threatening malady: the growth of a water lily in one of her lungs.

Parce que j'étais peintre / Because I Was a Painter
Christophe Cognet /100 min/Not Rated
TUESDAY, FEB.9, 7PM
Introduction by Prof. Patricia Lee Daigle,  Director of The Martha and Robert Fogelman Galleries of Contemporary Art, Visiting Assistant Professor in Art History, The University of Memphis
Post-screening discussion by Rachel Shankman, former senior director of Facing History and Ourselves.
Christophe Cognet's absorbing documentary about artworks created by those imprisoned in concentration camps during World War II explores a number of paradoxes. Can a drawing of unimaginable horrors, for instance, ever be considered "beautiful"? What, exactly, is "beauty"? The surviving artists, interviewed in in their homes in Israel, France, Poland, and other countries, express a range of opinions on these matters; one painter asserts that depicting his surroundings, no matter how gruesome, on paper was the only way to endure the torture. Others declare that sketching people, places, and events from the past was crucial to their survival. The testimony of these subjects is profoundly moving, never more so than when they offer a close critical analysis of the pieces they made during their incarceration. Cognet also meets with several museum curators and art historians who shed light on the trove of works left by those died in the camps—including the scores of portraits that Dinah Gottliebova, who was assigned to work with Josef Mengele, did of Roma detainees shortly before they were killed. Tackling two seemingly irreconcilable subjects—the atrocities of the Holocaust and the drive to create art—Because I Was a Painter provides a vital discussion of both. 

Deux jours, une nuit / Two Days, One Night
Jean-Pierre & Luc Dardenne/95 min/PG-13
WEDNESDAY, FEB. 10, 7PM
Closing Reception, 6:30pm
Arguably contemporary cinema's greatest chroniclers of the workingclass, Jean-Pierre and Luc Dardenne here join forces with one of the most talented performers working today, Marion Cotillard. The actress plays Sandra, an employee at a solar-panel factory in an industrial town in Belgium who took a leave of absence after suffering a bout of crippling depression. Although eager to return to work, the wife and mother of two young children is told that management is offering each of her colleagues a 1,000-euro bonus if they vote to make her redundant. Sandra, still emotionally frail, faces the daunting task of meeting with each of her 16 coworkers over the span of a weekend to convince them why they should forgo the cash and let her resume her position at the company. Each of these encounters reveals the Dardenne brothers' signature compassion for characters torn asunder by the demands of late capitalism. The themes that dominate this unforgettable film—the fight for worker solidarity, the definition of sacrifice, the struggle to maintain self-respect—aren't presented didactically but rather emerge organically as Sandra pleads, again and again, for the right not to be dismissed.
For parking and campus directions, please see Campus Maps
Support for the Tournées Festival is provided by: Cultural Services of the French Embassy in the United States / Centre National de la Cinématographie et l'Image Animée/Campus France USA / Florence Gould Foundation / highbrow entertainment/ www.facecouncil.org
For questions, please contact Prof. Laura Loth, Department of Modern Languages and Literatures, Rhodes College, lothl@rhodes.edu.
Visit our website at www.rhodes.edu/tournees.
For information about the Communities in Conversation series, visit www.facebook.com/communities.in.conversation.