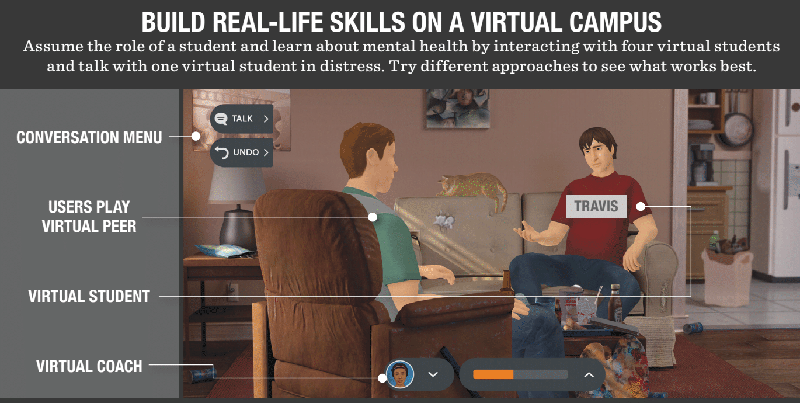 At Rhodes, we want to make sure that we can all recognize signs of distress and know what to say if a friend needs help. Rhodes Student Counseling Center has adopted Kognito, an online conversation simulation to help students, faculty, and staff learn to notice signs of distress, use techniques to discuss our concerns, and, if necessary, refer students to appropriate resources.
For Students
At-Risk for Students lets you practice conversations with a virtual student, so you'll know what to say in real life. You'll learn how to determine when a friend needs help, how to talk with a friend who you're worried about, and where you and your friend can turn to for help.
To access the At-Risk for Students, go to https://kognitocampus.com
Create a New Account by clicking on the orange button in the top right-hand corner of the sign in box that says, "Don't have an account:? Click here."
Use your Rhodes email address and the enrollment key:  rhodesstudents
Follow the on-screen instructions
Choose your simulation and click "LAUNCH"
Faculty & Staff
At-Risk for Faculty & Staff lets you practice these challenging conversations at your own pace through role-play with virtual students. In a national study of effectiveness, this simulation has been shown to increase the number of student referrals to counseling. It is also listed in the Suicide Prevention Resource Center's Best Practices
Registry and under review for inclusion in the National Registry of Evidence-based Programs and Practices.
To access the At-Risk for Faculty & Staff simulation: Go to https://www.kognitocampus.com/ 
In the top-right hand corner of the sign in box – click on the orange button: "Don't have an account?  Click here."
Create an account using your Rhodes email address and the enrollment key: rhodesfaculty.  It can be completed in multiple sittings and your progress will be saved. 
 Choose your simulation and click "Launch"