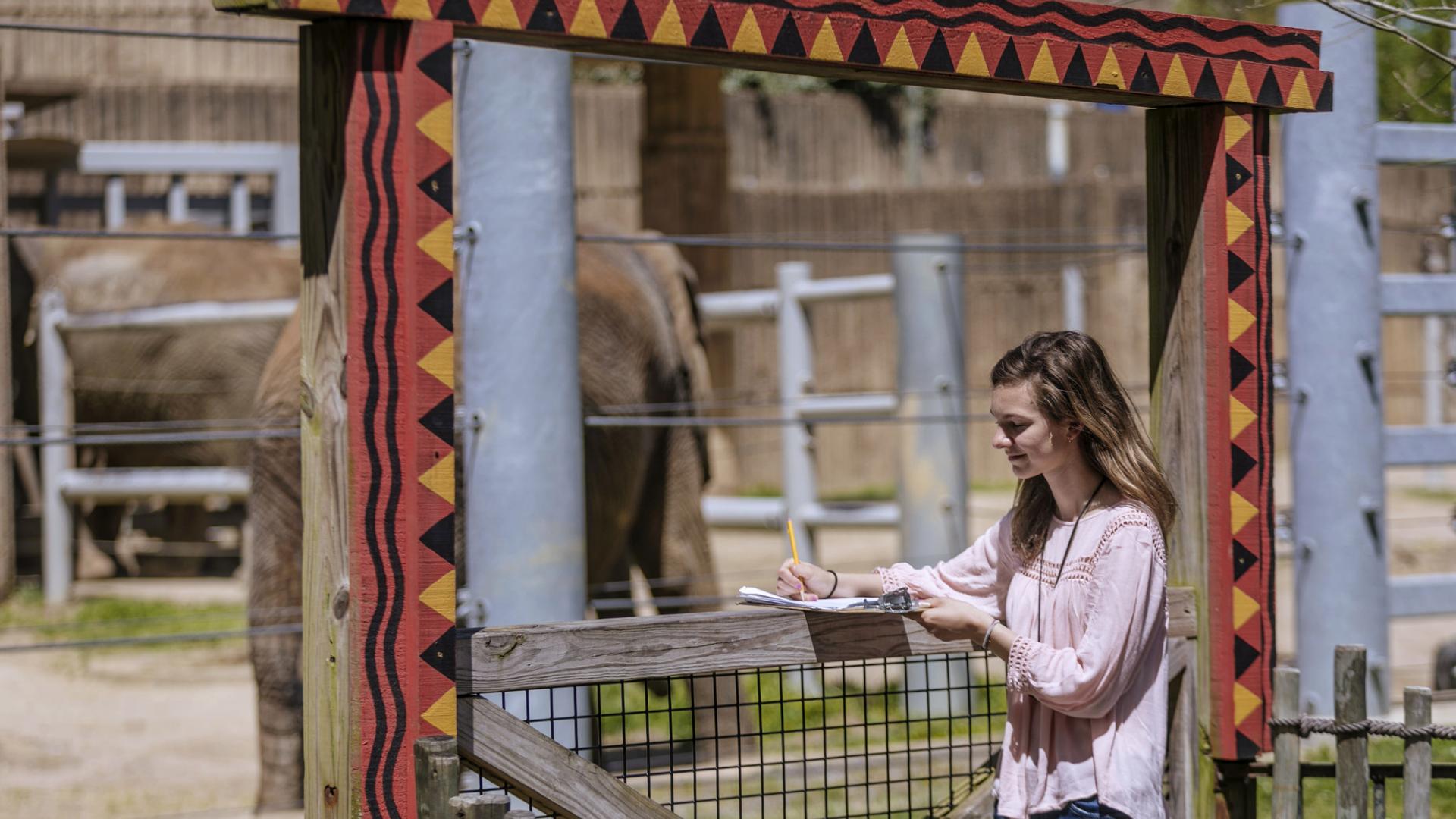 The Fellowships Program allows students to take their learning beyond the classroom and into the world around them. Rhodes Fellows engage in a rigorous, academically-oriented program that takes theory and puts it into practice. Thanks to donors such as Steve and Riea Lainoff, Ham and Katherine Smythe, and Meri and Donald Armour, there are many established Fellowships in all types of fields, including research at St. Jude Children's Hospital, studying animal behavior at the Memphis Zoo, and interning at FedEx. Students, with the help of a faculty or staff advisor, can also create a new fellowship based on their personal passions. Read on for an extensive list:
Many established Fellowships programs have deadlines throughout the year, so follow the links below. All other fellowships have a deadline of February 15. Please send questions to Dr. Katherine White, Director of Fellowships and Undergraduate Research
---
---
This fellowship provides the opportunity to learn American Sign Language, learn more about Deaf Studies, and participate with organizations devoted to the deaf and hard of hearing.
Contact Prof. Lori Garner
The deadline to apply is February 15th.
---
---
The Rev. Robin R. and Daniel B. Hatzenbuehler Summer Ministry Fellowship for Social Justice will enable a student to engage in directed study and experiential learning in the context of ministry, social justice, and ethics.
To be selected for this Fellowship, students will submit a written application with a faculty reference in November.
Funding from the Lainoff Foundation provides the opportunity to participate in experiential learning projects in various disciplines, such as deaf literacy, archival studies, and the humanities.

Contact Dr. Katherine White for more information.
---
These fellowships - which will begin in Spring 2017 - will allow students to launch and sustain arts-related projects in partnership with a faculty mentor. These projects will be wide-ranging and are designed to bring a student's classroom interests into contact with the unique opportunities of the Memphis area.

Please contact Dr. Charles Hughes, Director of the Memphis Center, for more information.
---
Memphis High School Theatre Fellowship
---
Mayor's Urban Fellows program
Contact Sandi George-Tracy; The deadlines to apply are around October 1 and around March 1.
---
The Rhodes Institute for Regional Studies is an 8-week summer program that allows students of any major study a research topic or creative activity of any discipline through the regional lens of Memphis and the greater Mid-South Area.
Contact Prof. Charles McKinney
The deadline to apply is in mid-February. 
---
Partner with the neighborhoods adjacent to campus, nearby schools and other community and educational organizations.
The deadline to apply is March 15th (for Summer Fellowships).
---
​Rhodes Student Associate Program (RSAP)
Stimulating and important campus employment through which students can take on challenging projects and start exploring career interests.
Contact the financial aid office.
The deadline to apply is in mid-February.
---
Work in a neuroscience lab at the University of Tennessee Medical School.
Contact Prof. David Kabelik
The deadline to apply is in mid-March. 
---
The Shelby Foote Fellowship provides ongoing support for the Shelby Foote Collection, which is housed in the Rhodes College Archives. Through transcribing and annotating the Foote Diaries, Foote Fellows are contributing to the development of Digital Shelby Foote, a digital history project.
Designed for students with an interest in the history and literature of the American South, this fellowship is available during the academic year through a competitive selection process.
Contact Prof. Tim Huebner for more information. 
The deadline for applications is in mid-March.
---
Work alongside research at St. Jude Children's Research Hospital.

Contact Prof. Gary Lindquester; the deadline to apply is in mid-January.
---
Student Research Associate
Get paid to help faculty members with research projects during the academic year.
Contact Dr. Katie White
The deadline to apply is February 15th.
---
---
Get paid to engage in intensive community projects over the summer.

Contact Sandi George-Tracy; The deadline to apply is February 15.
---
The Mike Curb Institute provides real world musical experiences in Memphis  that link to their studies on campus.

Work in a variety of areas, including audio/video production, PR/Marketing, Research and Preservation, and Community Engagement. 

Students interested in pursuing a Curb Fellowship should contact Prof. John Bass, and are highly encouraged to take the Music and Community in Memphis course (URBN 262).
---
Writing Fellows serve as tutors in the college's Writing Center and may be assigned as a mentor and tutor to a First Year Writing Seminar. Fellows must be nominated by a member of the faculty for their writing ability no later than March 1st for the following academic year.
Contact Rebecca Finlayson.
---