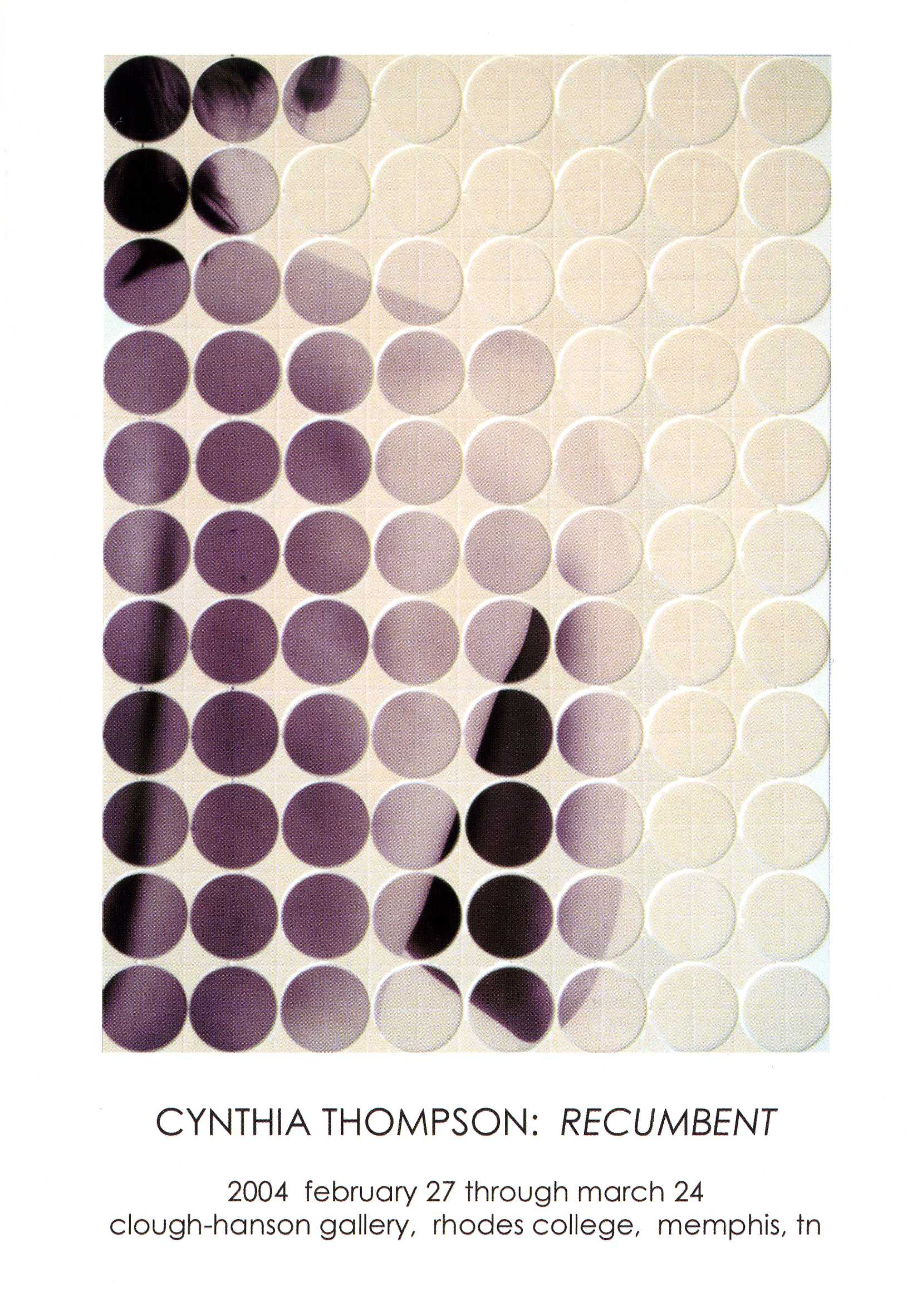 Clough-Hanson Gallery at Rhodes College is very excited to announce its second show of the spring season: "Cynthia Thompson: Recumbent"
The show will run from February 27 through March 24th, 2004. The artist will present a free lecture on her work in Blount Auditorium in Buckman Hall at 7:00 p.m. on Thursday, February 26th. The reception for the show will be Friday, February 27th, from 6-8 p.m. (Please note the new time for receptions at Clough-Hanson.)
Thompson's show for Rhodes College will feature recent work that was executed in her Memphis studio as well as work that was begun during her semester abroad in Italy. Clough-Hanson's intimate exhibition space should prove an ideal complement for Thompson's quiet, meditative work.
In her artist's statement Thompson writes:
"My work contains strong religious undertones and has often been described as 'Catholic' in nature. I am interested in addressing how religion plays a part in constructing body images and sexual identity. Many surfaces and materials I use in my work refer to skin or flesh, their ability to allure and seduce the viewer is of great importance. Using the body as the site of intense investigation, I explore the physical manifestations of denial, shame, and oppression; how internal pain and oppression register externally on the body—how pain sadness and longing register externally on the body. In particular, I hare my own experience of having grown up female in the religious South. I am in a sense putting on display shameful things as a means of addressing my own concerns with beauty, vulnerability, imperfection and guilt. For example, 'Heirlooms' contains digital images of the hands of Adam and Eve immersed in cast, hand-made paper pulp resembling flesh. Covering and concealing, the hands become metaphors for shame and guilt; they reinforce the idea of covering or hiding your body,"
Cynthia Thompson is an Assistant Professor at the Memphis College of Art where she organizes exhibitions as well as teaches Papermaking and Book Arts. She received her BFA in printmaking from Maryland Institute College of Art and went on to receive her MFA in Print and Paper from Rutgers University. Cynthia Thompson's recent exhibitions include 2000 Biennial at Columbia College for Book and Paper Arts, Chicago, IL; Artists' Book Exhibition, Art Institute of Chicago, Joan Flasch Artist Book Collection, Flaxman Library, Chicago, IL; Paper Trails, Rutgers University, Civic Square Gallery, New Brunswick, NJ; and 2000 Juried Exhibition, American Museum of Papermaking, 2000 Dard Hunter Papermaking Conference, Atlanta, GA.
In 2002 Thompson was awarded the Tennessee Arts Commission Individual Artist Grant.