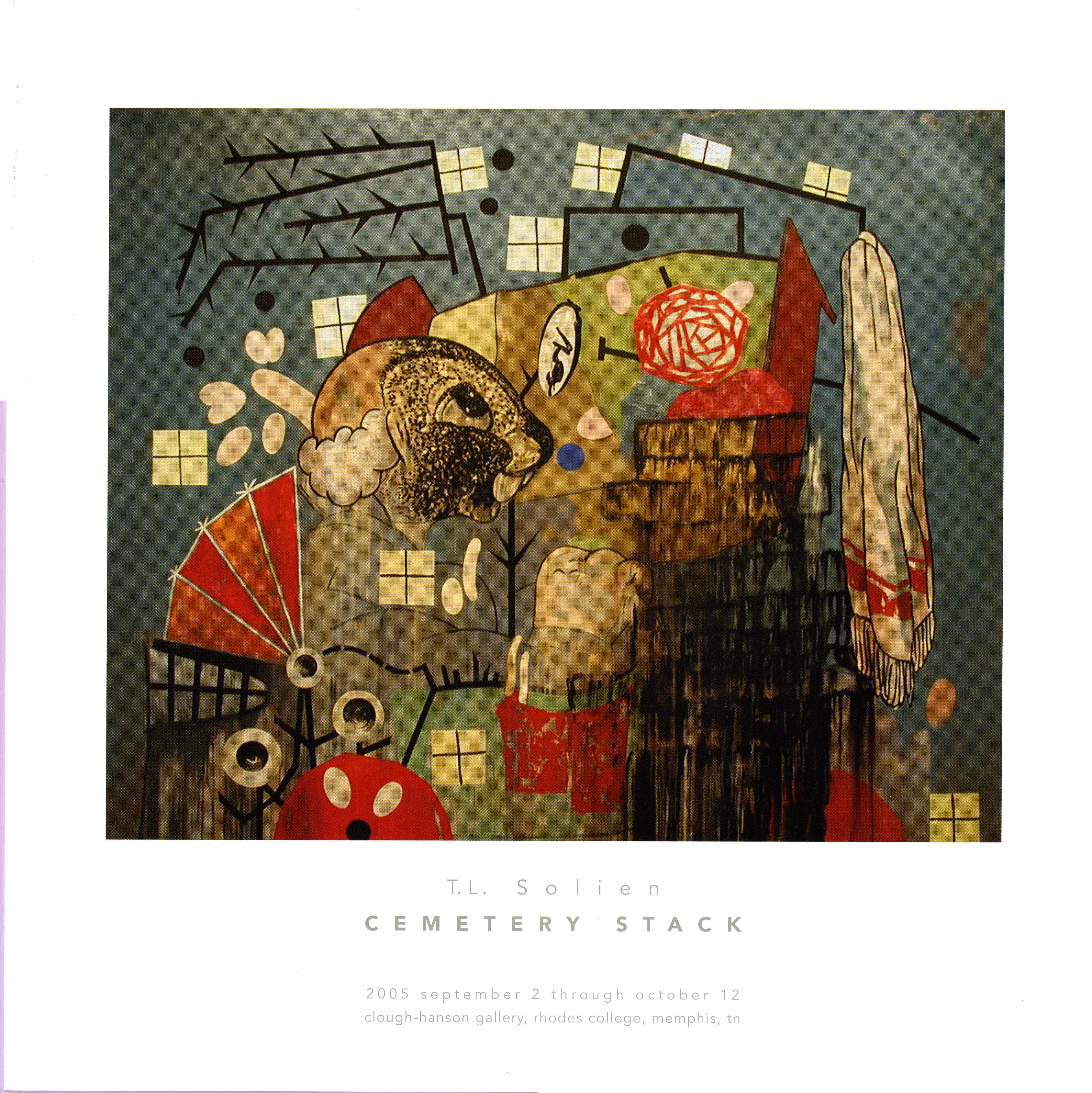 Clough-Hanson Gallery at Rhodes College is very excited to announce its first show of the fall season:T.L. Solien's "Cemetery Stack"
The show will run from September 2 through October 12th, 2005. The artist will present a free lecture on his work in Blount Auditorium in Buckman Hall at 7:00 p.m. on Thursday, September 1st.
The reception for the show will be held in the gallery from 6 - 8 p.m., Friday September 2nd.
T.L. Solien as an artist is almost impossible to pin down. With "Cemetery Stack" Solien continues his investigation of the inner life of self-portraiture. His work combines his interest in history of painting and the great stylistic diversity of the making and practice of contemporary art. He employs Pop imagery as a starting point while borrowing and incorporating influences from all spheres of his life experience and knowledge. His paintings present themselves as dense accumulations that are at once deeply troubling and profoundly witty. Solien was included in the 1983 Biennial Exhibition at the Whitney Museum of American Art in New York, the 39th Biennial Exhibition of American Painting at the Corcoran Museum in Washington, D.C., "Avant-Garde" in the Eighties at the Los Angeles County Museum of Art, and "Printmaking in America: The Collaborative Print and Presses 1960-1990" at the Bloch Gallery at Northwestern University in Evanston, Illinois. He was a recipient of the McKnight "Mid-Career" Artist Fellowship in 1994. His work is in the collections of the High Museum of Art in Atlanta, the Walker Art Center in Minneapolis, the Fredrick Weismann Foundation, the Whitney Museum of American Art, and the Art Institute of Chicago. Solien shows at Tory Folliard Gallery in Milwaukee and Luise Ross Gallery in New York. Solien currently teaches painting at the University of Wisconsin in Madison.
Gallery hours for Clough-Hanson are Tuesdays through Saturdays, 11:00 - 5:00 p.m. The gallery is closed Sundays and Mondays.
Admission to the gallery and lectures are always free to the public. If you should have any questions please don't hesitate to contact Hamlett Dobbins at Clough-Hanson Gallery (901) 843-3442, or via email at dobbinsh@rhodes.edu.