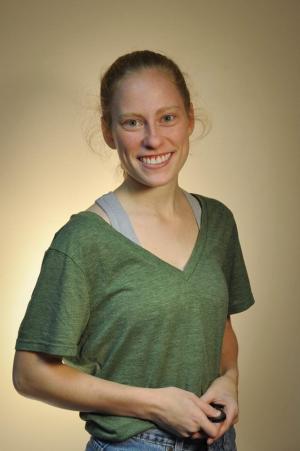 Laura is completing her fellowship at the Stax Museum of American Soul Music. The focus of her fellowship is to preserve and catalog items, documents, and photographs that were seized upon the original record label's descent into insolvency. The items now belong to Concord Music Group and likely have not been touched in more than forty years. She is continuing the work of a previous Memphis Center Fellow, Malerie McDowell '15 and has found some intriquing items, including a collection of photos from the Wattstax benefit concert as well as a copy of a news article reporting on a 10-year-old who recorded with Stax.  
Director of the Memphis Center, Dr. Charles Hughes, is Laura's mentor for this project. "He brings a lot to the table, as he is particularly well versed in Memphis's history, particularly as it relates to music and the Civil Rights Movement of the 20th century. In addition to mentoring me in this project, he also organized a Public History Practicum course in which we collaborated last semester as well." Stated Laura. In a course with Memphis Center Director, Dr. Charles Hughes, a "Public History Practicum" was organized. The class was tasked with individually proposing a series of digital "beacons" that might be incorporated into the National Civil Rights Museum. Laura's work at Stax inspired her to develop the concept of incorporating well-known music into the Civil Rights Experience. "African American culture has always been closely tied to music," said Laura. "Especially throughout the quest for equal treatment: from using songs as codes to guide runaway slaves on the Underground Railroad; to proclaiming black pride in soul and funk music in the '60s and '70; to modern pop, hip-hop, and rap songs that deal with contemporary civil rights issues."
As a Political Science, International Studies major, Laura is not academically involved in the arts. The Memphis Center Arts Fellowship allows Laura to engage in her longstanding appreciation for the arts: "Over the course of my four years at Rhodes, I have developed an even greater appreciation for the role that art, specifically music, has played in the history and revitalization of Memphis."