The Academic Progress Notification System is a tool that allows faculty to communicate academic performance challenges directly to a student and encourages the student to follow-up with their professor, advisor, the Office of Academic & Learning Resources (ALR), and additional campus resources.

The system will remain open throughout the semester to allow for early identification of challenges and continued reporting as new challenges arise, giving faculty and student services staff the opportunity to address students' needs and access support services.
 
Academic Progress Notification Form
Step 1
This link: stuinfo.rhodes.edu/portal/faculty, provides access to the portal for the Academic Progress Notification System. Faculty will use their OneLogin credentials to enter the portal. 
Step 2
Next faculty can view a course tab to see all current courses. Clicking on the desired course will show all currently enrolled students. Faculty can also view an advisee tab to view any of their current advisees. Faculty will then click submit alert for the individual student via the course or advisee tab. 

Step 3
There are two sections of this form. Depending on the nature of the concern, faculty may opt to complete one or both parts of the form. 
Progress Notification to Student (PART 1) If this section of the form is completed, an email notification is sent to the student from the faculty member. The advisor can be copied on the message. The Academic & Learning Resources Office is also notified.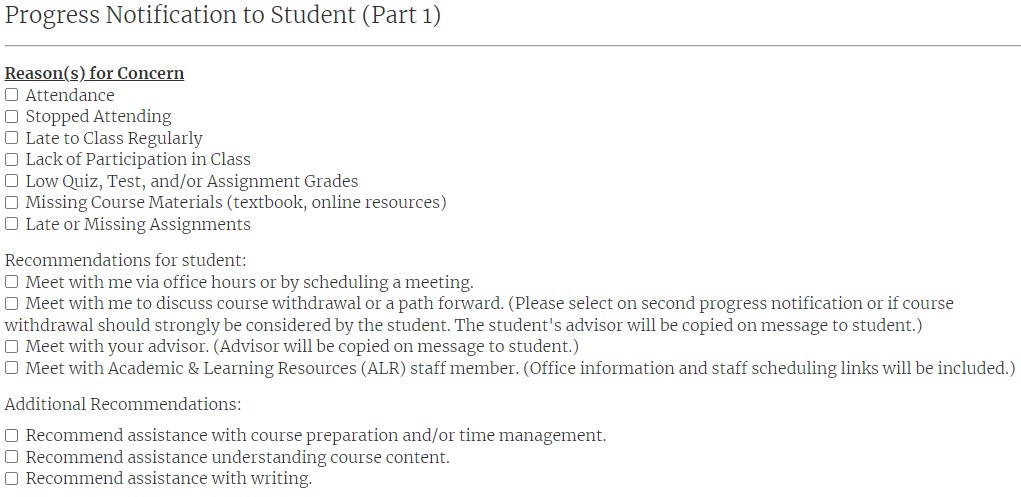 Academic Referrals (PART 2) Information disclosed will be shared with campus partners to allow for additional outreach.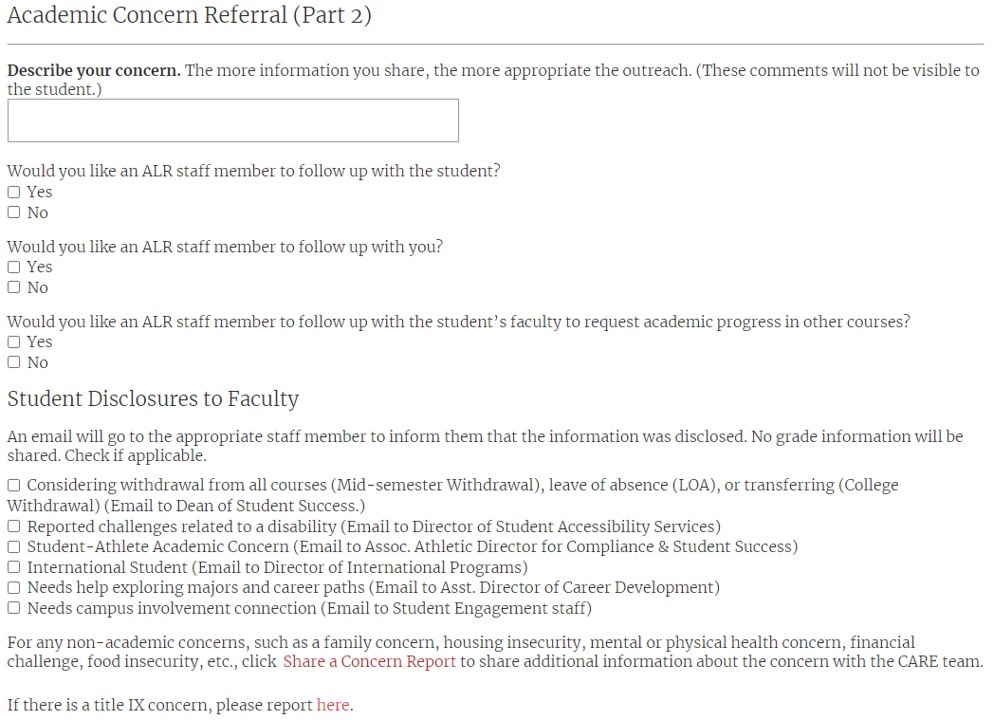 Step 4
Check the box to have a copy of the report emailed to you. 
Step 5
Be sure that the form includes student's name and last name, advisor, your name and email, and course information. Click the SUBMIT button to send the form.
Non-Academic Concerns
To report any non-academic concerns, such as a family challenge, housing insecurity, mental or physical health concern, financial challenge, food insecurity, etc., click Share a Concern Report to ensure the student is connected with the appropriate resources.