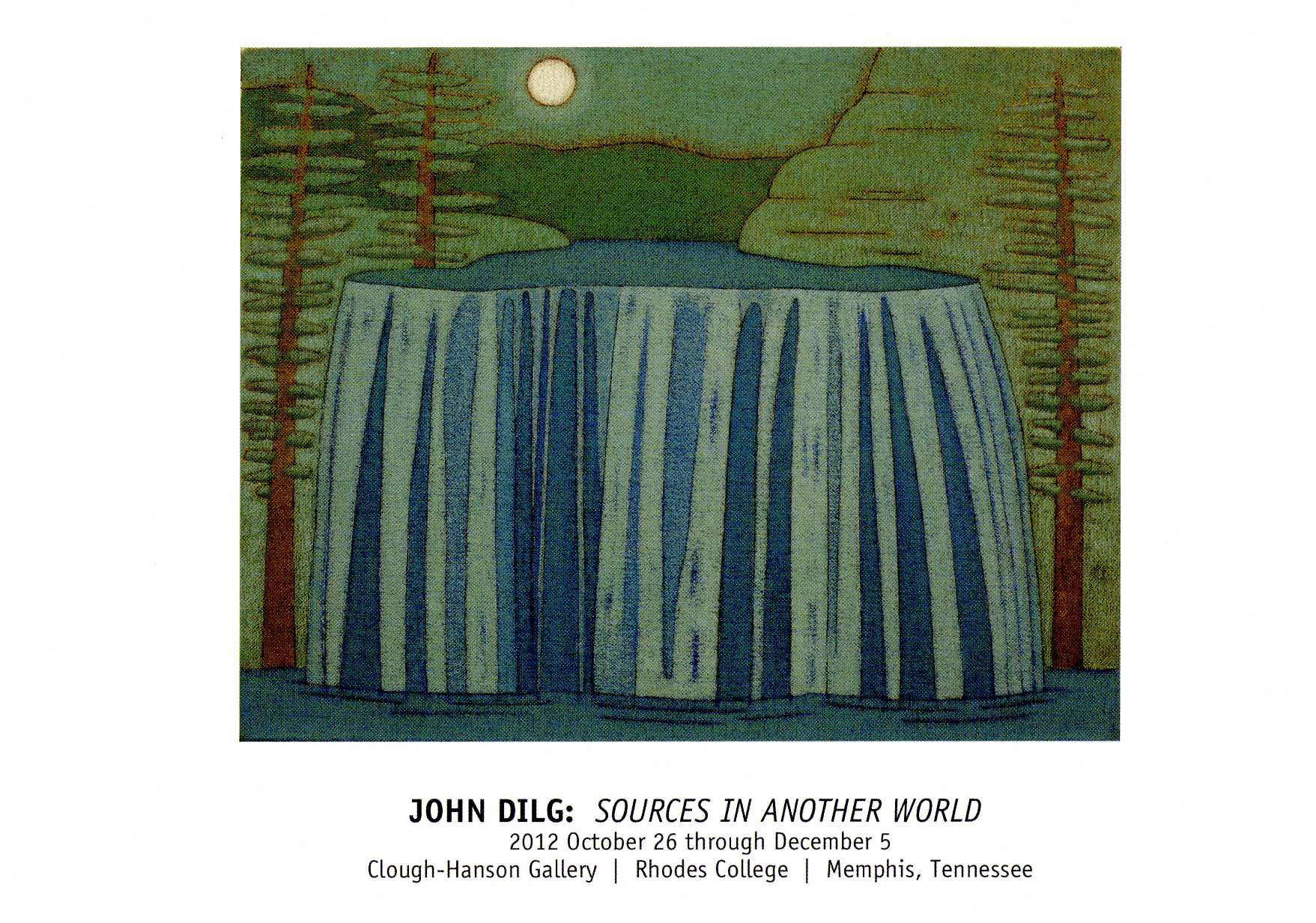 JOHN DILG: SOURCES IN ANOTHER WORLD
John Dilg's abstracted landscape paintings are delicately rendered with an uncanny sensitivity to the surface of the painting. Subtly nuanced colors are paired with the artist's careful attention to line to give these intimately scaled paintings a quiet, meditative sense of space. The exhibition at Clough-Hanson Gallery will include a number of recent paintings as well as a variety of objects that serve as source material for the artist. They include paintings and drawings made by close friends, vintage postcards, thrift store paint-by-numbers paintings of waterfalls, as well as handmade signs. The collection at once illustrates the artist's complex web of influence as well as the framework for the artist's particular peculiar constructed visual vocabulary. In his artist statement Dilg writes: "… as a contemporary painter my chief pleasure is to make idiosyncratic constructs, personal souvenirs of something seen before; in this, they are allied to our virtual world, since all souvenirs take their life from that which no longer actually exists. And, finally, if beauty is present it is in the form of a primitive elegance, where "primitive" represents one's sources and "elegance" his training. Like the pleasure of rubbing a stone over and over again."
John Dilg grew up on the north side of Chicago, and received a B.F.A. in Painting and Filmmaking from the Rhode Island School of Design. He is the recipient of a Fulbright Grant to India, a National Endowment for the Arts Senior Artist Fellowship, and Residency Fellowships at the Yaddo Foundation and the Ragdale Foundation. Solo exhibitions include four at Luise Ross Gallery, New York (2000 - 2011) and two at Schmidt Contemporary Art, St. Louis (2004 and 2008). Included among many group exhibitions are Sikkema Jenkins & Co., NY, 2012; Lesley Heller Workspace, NY, 2011; Edward Thorp Gallery, NY, 2010; Art Miami, 2008; Wake Forest University, 2007; Moti Hasson Gallery, NY, 2006; Andrea Rosen Gallery, NY, 2005; Kraushaar Galleries, NY, 2004. Exhibitions have been reviewed in Art in America, The New York Times, The New Art Examiner, Artweek, and The Chicago Sun-Times. His work is in the collections of the Arkansas Art Center, the Figge Museum of Art, Illinois State University, the Museum of Contemporary Art, Chicago, as well as other institutions. He lives in Iowa City, where he teaches painting and drawing at the University of Iowa.