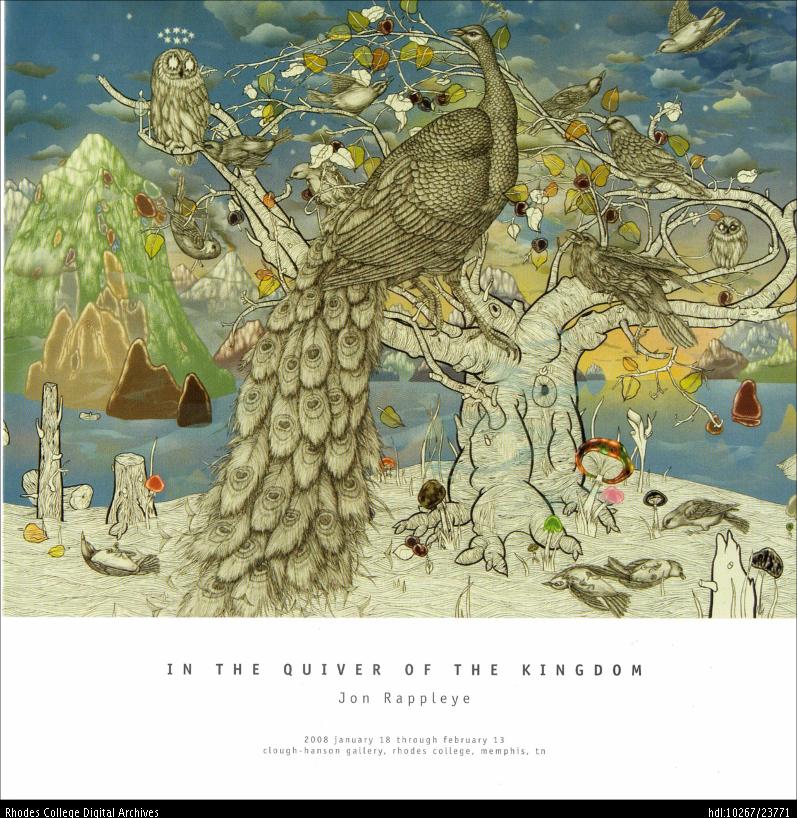 Clough-Hanson Gallery at Rhodes College is very excited to announce its third show of the season:  Jon Rappleye:  In the Quiver of the Kingdom.
In the Quiver of the Kingdom will run from January 18 through February 13, 2008.  
The artist will present a lecture on his work in Blount Auditorium in Buckman Hall on Thursday, January 17th at 7 p.m. 
The reception for the show will be held in the gallery from 6 - 8 p.m., Friday January 18, 2008. 
In the Quiver of the Kingdom will feature nine recent paintings.  The extraordinary acrylic on paper pieces show the artist juxtaposing a number of visual languages and materials to create a fantastic fairytale world.  These lakeside landscapes are inhabited by a number of lavishly rendered animals including snakes, owls, deer, and peacocks.  In his statement for the exhibition the artist writes "Using nature as a blueprint, I explore the boundaries of reality versus artifice.   Due to scientific 'fact,' we have lost our interest in the mysteries of the unknown and the unseen.  My work is a flight of the imagination, taking place in an uncertain future and inspired by an unknowable past."
Jon Rappleye was born in Salt Lake City in 1967.  He received his BFA from Utah State University in 1992 and went on to receive his MFA from the University of Wisconsin in Madison in 1997.  He has had residencies at the Kohler Arts Center in Sheboygan, Wisconsin; the Headlands Center for the Arts in Sausalito, California and at the prestigious Skowhegan School of Painting and Sculpture in Maine.  He recently finished Salina Art Center's first ever Artist Initiative artist residency in Salina, Kansas.  He has had one person shows at the Jersey city Museum in New Jersey, at Jeff Bailey Gallery in New York and at Aron Packer Gallery in Chicago.  His work has been featured in group exhibitions in Boston, New York, San Francisco and Washington D.C.  His work has appeared in Art on Paper and in New American Paintings.  Rappleye lives and works in Jersey City, New Jersey.  
If you should have any questions please don't hesitate to contact Gallery Director Hamlett Dobbins at Clough-Hanson Gallery (901) 843-3442, via email at dobbinsh@rhodes.edu.