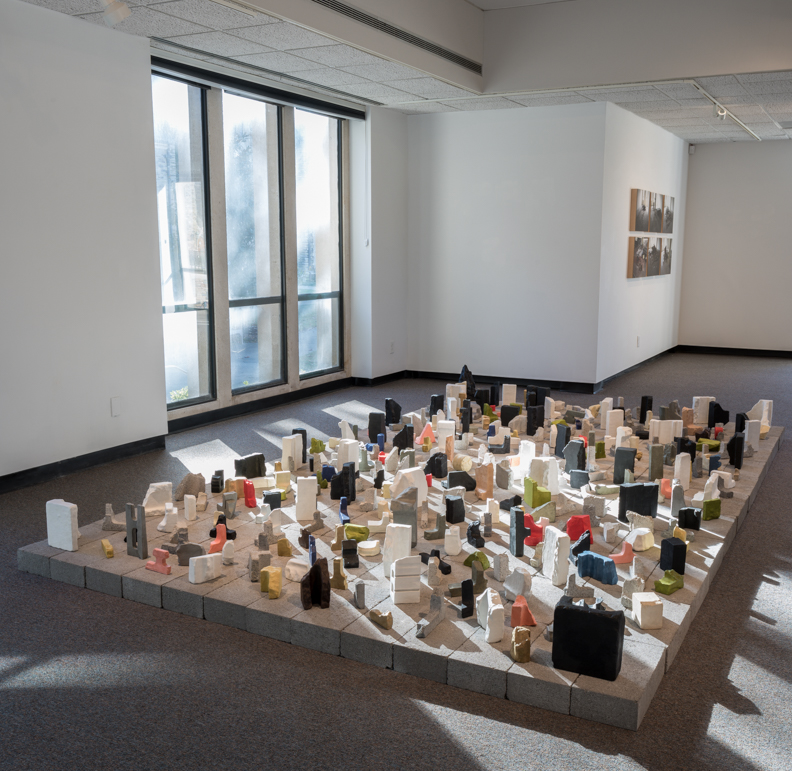 Joan Livingstone: marvels and oddment(s)
October 30 – December 5, 2015
Artist's Lecture: October 29, 6:00 pm, Buckman Auditorium
Opening Reception: October 30, 6:00-8:00 pm
Discussion: "Art, Poetry and Place," November 12, 6:00 pm, Clough Hanson Gallery
The exhibition is composed of previously overlooked objects that Livingstone has rethought, reanimated, and reskinned in order to provoke a conversation about place and memory. Shattered pool tile, rough ceramic cups, and construction debris, found during her travels and on her regular walks through her Chicago neighborhood, are combined with delicate gold leaf, felt, and rice paper in arresting tableau that bring to mind both the intimate scale of the hand-held and familiar, and the grand scale of the lived-in environment.
 Livingstone is Professor and Chair of the Fiber and Material Studies department at the School of the Art Institute of Chicago. She received her BA from Portland State University and her MFA from Cranbrook Academy of Art. Her work has been shown at the Sonje Museum of Contemporary Art, Korea; Museum of Contemporary Art, Chicago; Mus'e Cantonal des Beaux-Arts, Lausanne, Switzerland; Museum of Modern Art, Kyoto and Tokyo; Arkansas Art Center, Little Rock; and Laura Russo Gallery, Portland OR. She was co-editor of The Object of Labor from MIT press. Her work is in the collections of the Metropolitan Museum of Art, NY; Detroit Institute of Art Museum; and the Museum of Contemporary Art, Honolulu, HI. She has received the Illinois Arts Council Artist Fellowship; the Virginia A. Groot Foundation Individual Artist Fellowship; NEA Grants; and a Louis Comfort Tiffany Foundation Artist Fellowship.
This exhibition is part of This Must Be the Place, a year-long exploration of art's relationship to place, presented by Clough-Hanson Gallery and curated in collaboration with Karen Patterson, Associate Curator of Collections and Exhibitions at the John Michael Kohler Arts Center. It will culminate in a conference in February 2016 at Rhodes College.