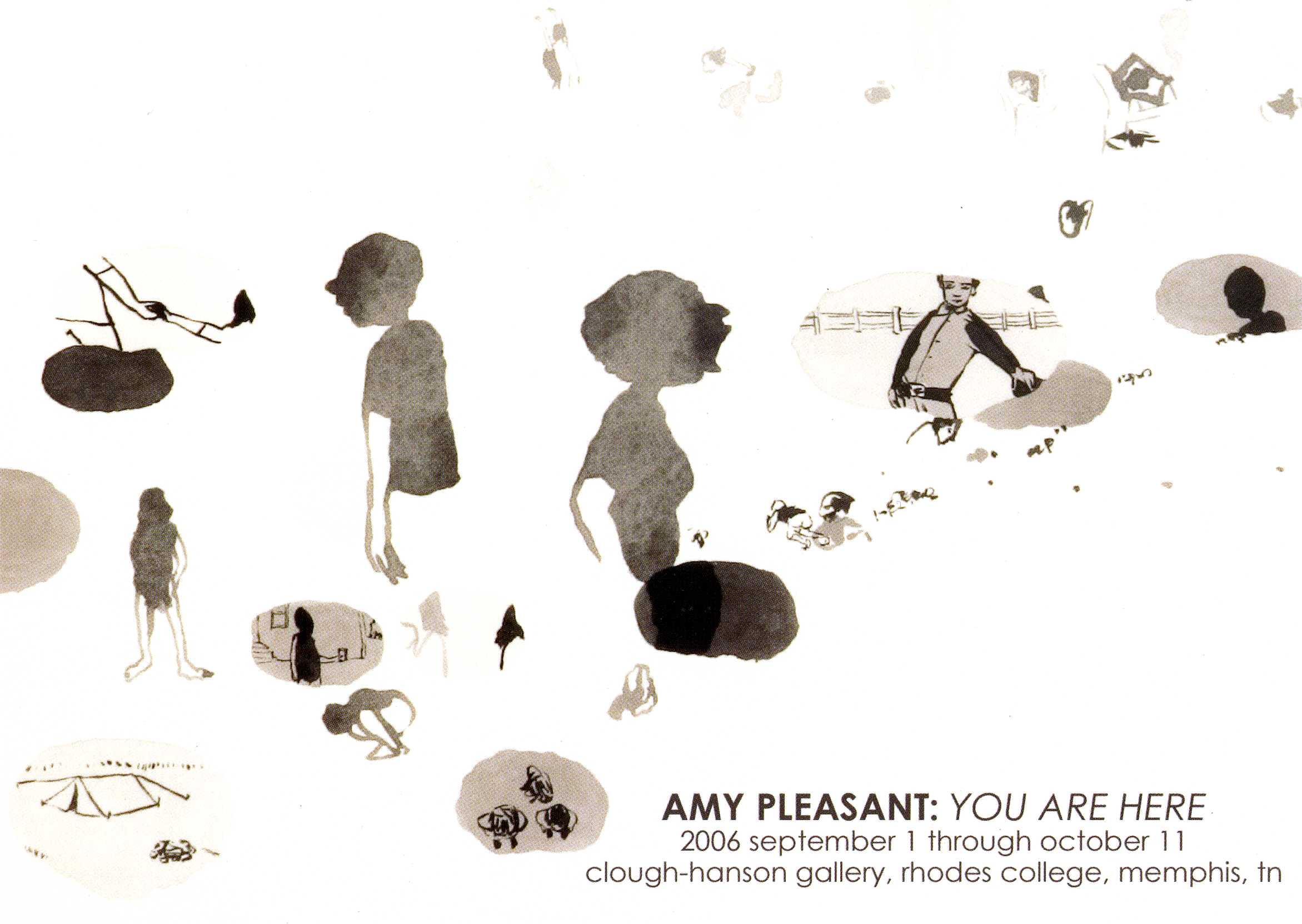 Clough-Hanson Gallery at Rhodes College is very excited to announce its first show of the fall season: Amy Pleasant:  You are Here.
The show will run from September 1 through October 11th, 2006.
The artist will present a free lecture on her work in Blount Auditorium in Buckman Hall at 7:00 p.m. on Thursday, August 31st.
The reception for the show will be held in the gallery from 6 - 8 p.m., Friday September 1st.
Amy Pleasant's You Are Here consists of large drawings, ink on paper, and a wall drawing installation. The drawings are made up of hundreds of tiny figures engaged in daily activities.  These drawings reveal the awkwardness and the grace of the human form and they are a peephole to the absurd and the vulnerable.  These are the rituals that people perform daily that become the basic organization of our existence.  These are the actions that occur in-between; the subtle gestures that reveal who we are. The examination of the body engaged in repetitious gesture presents itself in the form of constellations or natural happenings.
Amy Pleasant received her BFA from the School of the Art Institute of Chicago (1994) and her MFA from the Tyler School of Art, Philadelphia, PA (1999).  She has held solo exhibitions at Jeff Bailey Gallery, New York, NY (2005/2004), The Ruby Green Center for Contemporary Art, Nashville, TN (2003), and the UAB Visual Arts Gallery, Birmingham, AL(2003).  She has participated in group exhibitions at venues such as, The National Museum of Women in the Arts, Washington, D.C. (2005), The Contemporary, Atlanta, GA (2005), The Southeastern Center for Contemporary Art, Winston-Salem, NC (2005), The Art Museum of the University of Memphis, Memphis, TN (2005), The Mobile Museum of Art, Mobile, AL (2005), Luxe Gallery, New York, NY (2004), The U.S. Embassy, Prague, Czech Republic (2004), The Huntsville Museum of Art, Hunstville, AL (2003), and A.I.R. Gallery, New York, NY(2001). She was the recipient of an individual artist grant from the Alabama State Council on the Arts in 2003.  Pleasant's work has been reviewed in such publications as Art in America (2004), and Art Papers (2005/2003). She currently lives and works in Birmingham, Alabama.
Gallery hours for Clough-Hanson are Tuesdays through Saturdays, 11:00 - 5:00 p.m. The gallery is closed Sundays and Mondays. Admission to the gallery and lectures are always free to the public.
If you should have any questions please don't hesitate to contact Hamlett Dobbins at Clough-Hanson Gallery (901) 843-3442, or via email at dobbinsh@rhodes.edu.