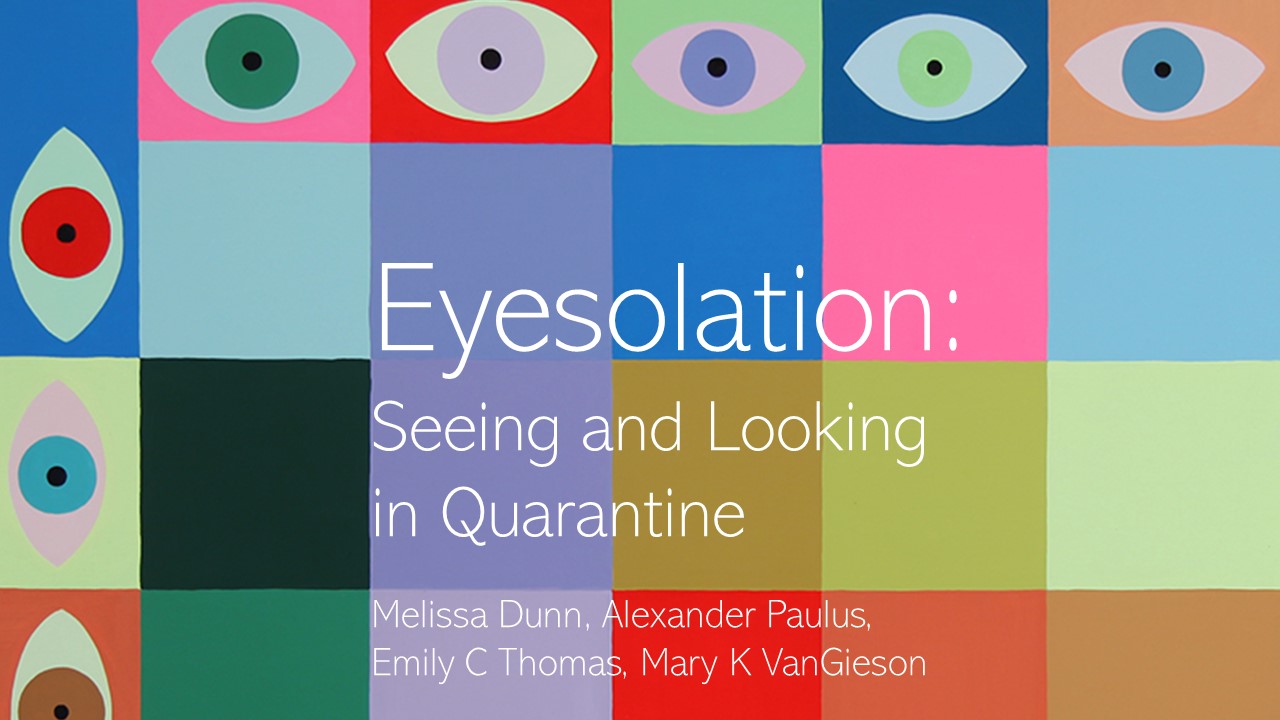 Artists: Melissa Dunn, Alexander Paulus, Emily C. Thomas, Mary K VanGieson
Curated by Katie Clark
Take a few minutes and look around. Have you really seen your surroundings? The place you're in, the people, objects, pets around you? Time alone has required us to wonder: what are we looking at? And are we really seeing it? When people look at us through Facetime and Zoom, are they seeing us the same way as they would in person? How do we look at ourselves? How do we look at art? Do we see ourselves, or the art we look at?
Looking meaning the sense of sight, and seeing meaning letting the things we look at to truly impact us, are different. Eyesolation: Seeing and Looking in Quarantine presents artworks by four Memphis artists, Melissa Dunn, Alexander Paulus, Emily C Thomas, and Mary K VanGieson. Their pieces come together to ask us new questions in this unfamiliar pandemic context. Through painting, sculpting, humor, storytelling these artists inspire seeing rather than looking, with deep attention to how we are changing the ways we use our eyes in quarantine.
The sarcasm in Paulus's figures and titles reveals that humor is often healthy, and VanGieson's She holds an omni-applicable downward gaze that requires viewers to wonder how we express emotion subconsciously. We can all look at these artworks, but actively seeing them gives the artists the agency to change us. Our worlds have shrunken physically, broadened technologically, and we have begun to rely on our eyes as a window into a world of communication. Eyesolation: Seeing and Looking in Quarantine demands us to be vulnerable with these artists, and start seeing when looking, at art, ourselves, and our sometimes scary and always changing world.
Melissa Dunn's studio is in her house in Memphis, TN, where she was born and has spent most of her life. She's exhibits locally and regionally, and teaches drawing and painting at Flicker Street Studio. She regularly volunteers at Carpenter Art Garden, an afterschool art program in Binghampton, and was a founding member of the Artist Advisory Council at ArtsMemphis. She was recently chosen by the Urban Art Commission as a finalist for the Memphis International Airport Concourse B Project.  
Alexander Paulus, from Missouri, has been living in Memphis since 2007. He earned his MFA from the Memphis College of Art in 2009 and has been exhibited across the United States as well as in London, England. He currently is an Assistant Professor at Southwest Tennessee Community College, and has been published in Studio Visit Magazine, the South 2017 edition of New American Paintings, and more.
Emily C. Thomas graduated from NYU's Steinhardt School of Culture, Education, and Human Development with a BFA in 2009 and in 2015 received her MFA from the University of California Santa Barbara. Some of her awards include the Interdisciplinary Humanities Center (IHC) Visual, Performing and Media Arts Award, the Florimbi-Simon Award, and also a doctoral travel grant to the Middle East. Emily is from and is currently working in Memphis, TN.
Mary K VanGieson lives and works in Memphis, TN as artist, educator, storyteller, and "sometime writer." After receiving her BAE from Oklahoma State University, she completed her MFA at the University of Memphis. Among her artistic awards, she has received five teaching awards including Teacher of the Year in Shelby County twice. She has made many generous art donations and her work has been shown in New York, Nashville, and throughout Memphis, notably at the Dixon Gallery and Gardens.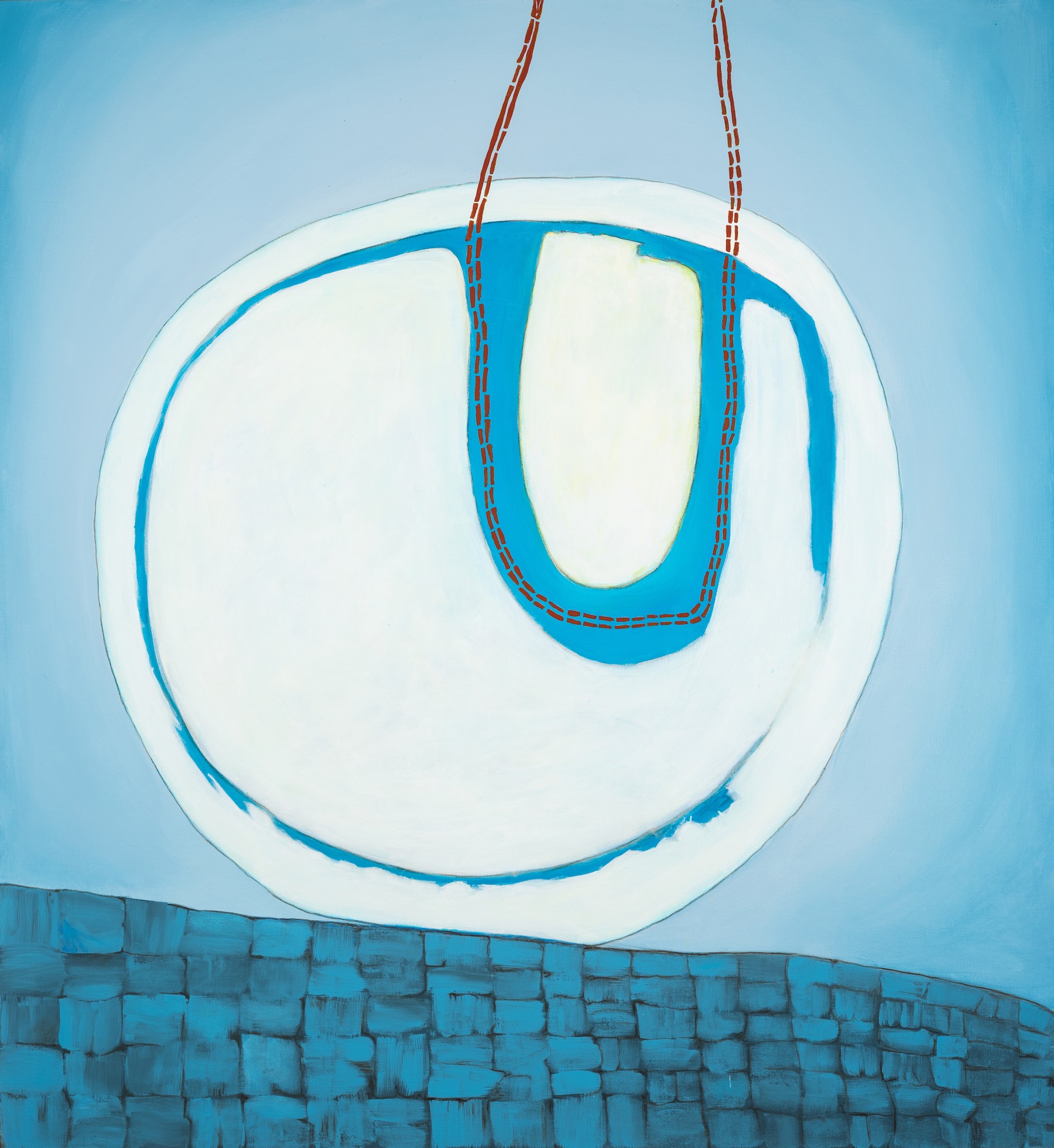 The Missing Piece
How do your eyes feel? Exhausted from looking at the screen? Rest them by looking at, and seeing, The Missing Piece with its cool blues and abstracted shapes. Dunn says, "Underneath the wild mix of emotions I'm feeling during this isolation, grief is by far the heaviest… 'Normal' productivity is replaced by awareness.  This experience may take some time to land in my work and I'm not rushing it at all." This painting requires its viewers to resist the rush and take time to see.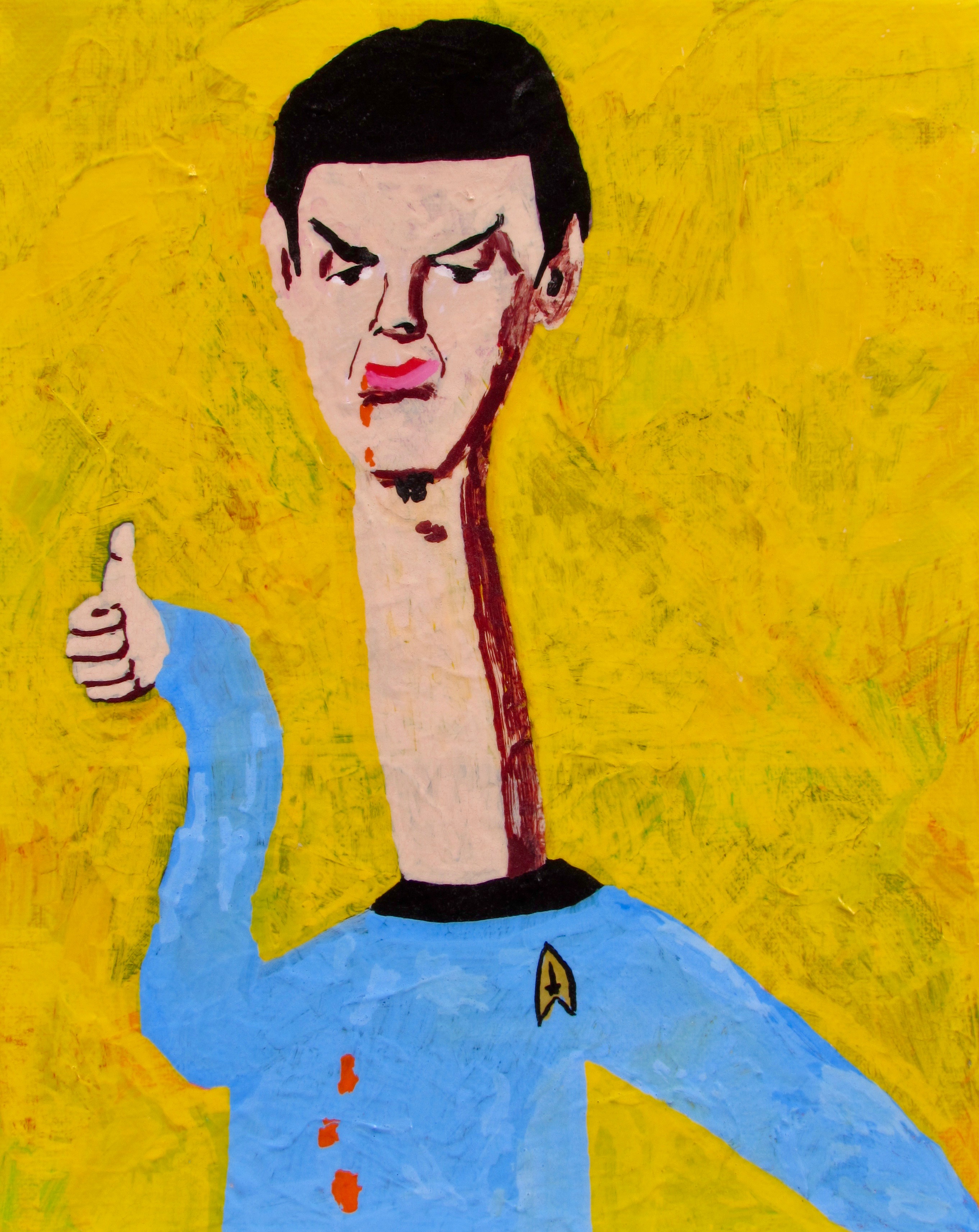 live laugh love and prosper
When alone in quarantine, have you laughed at yourself? Paulus's characters offer humor as a tool to cope, especially in the trauma of the current pandemic. In this painting Spock from Star Trek is doing his best to move through his pain and keep moving forward with his thumb up. When we see ourselves less seriously, we will be able to laugh and press on allowing humor to help alleviate our pain.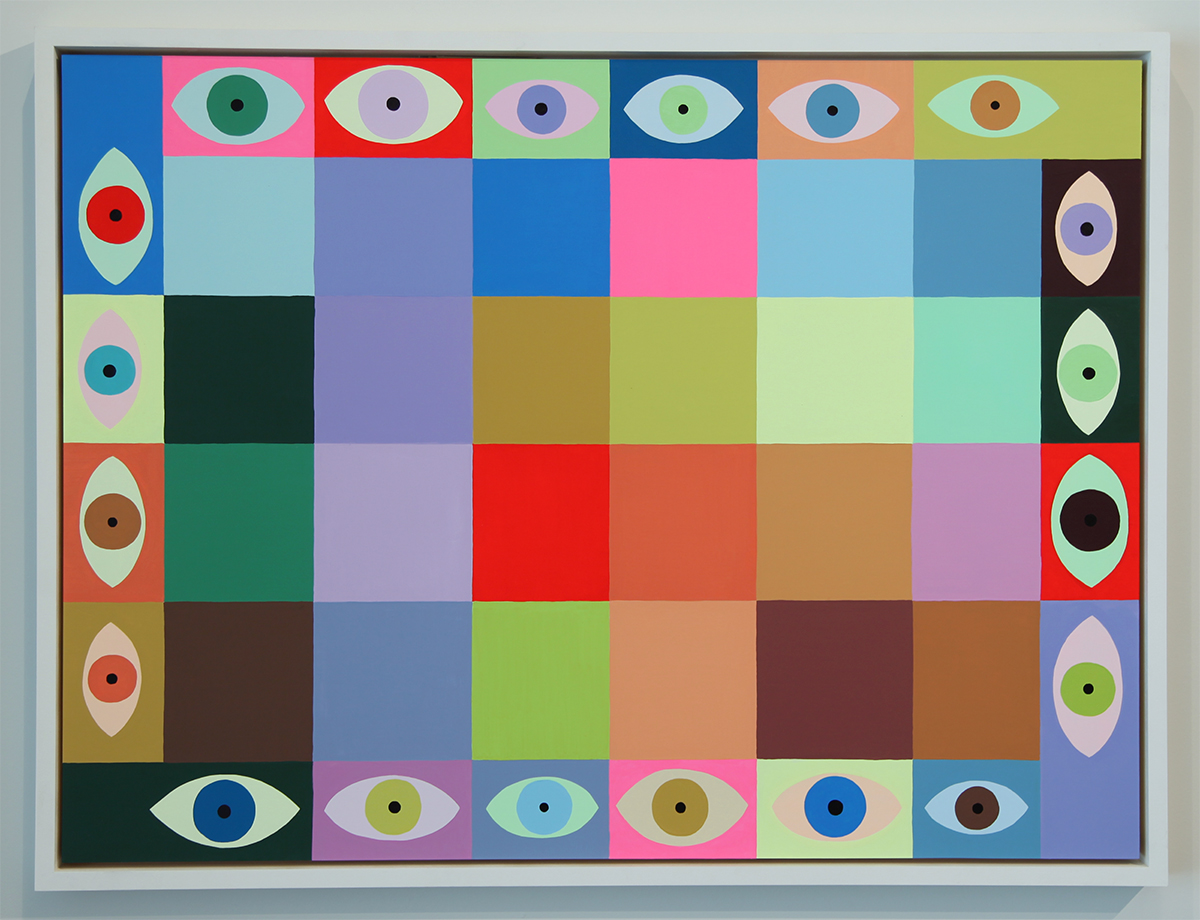 Multi Color Periphery
Do you daydream more often now? Does the world fade away so you can more easily see what you are thinking about? Emily C. Thomas's Periphery paintings open the canvas to be a place of reflection to better see ourselves, our worlds, and maybe even our dreams.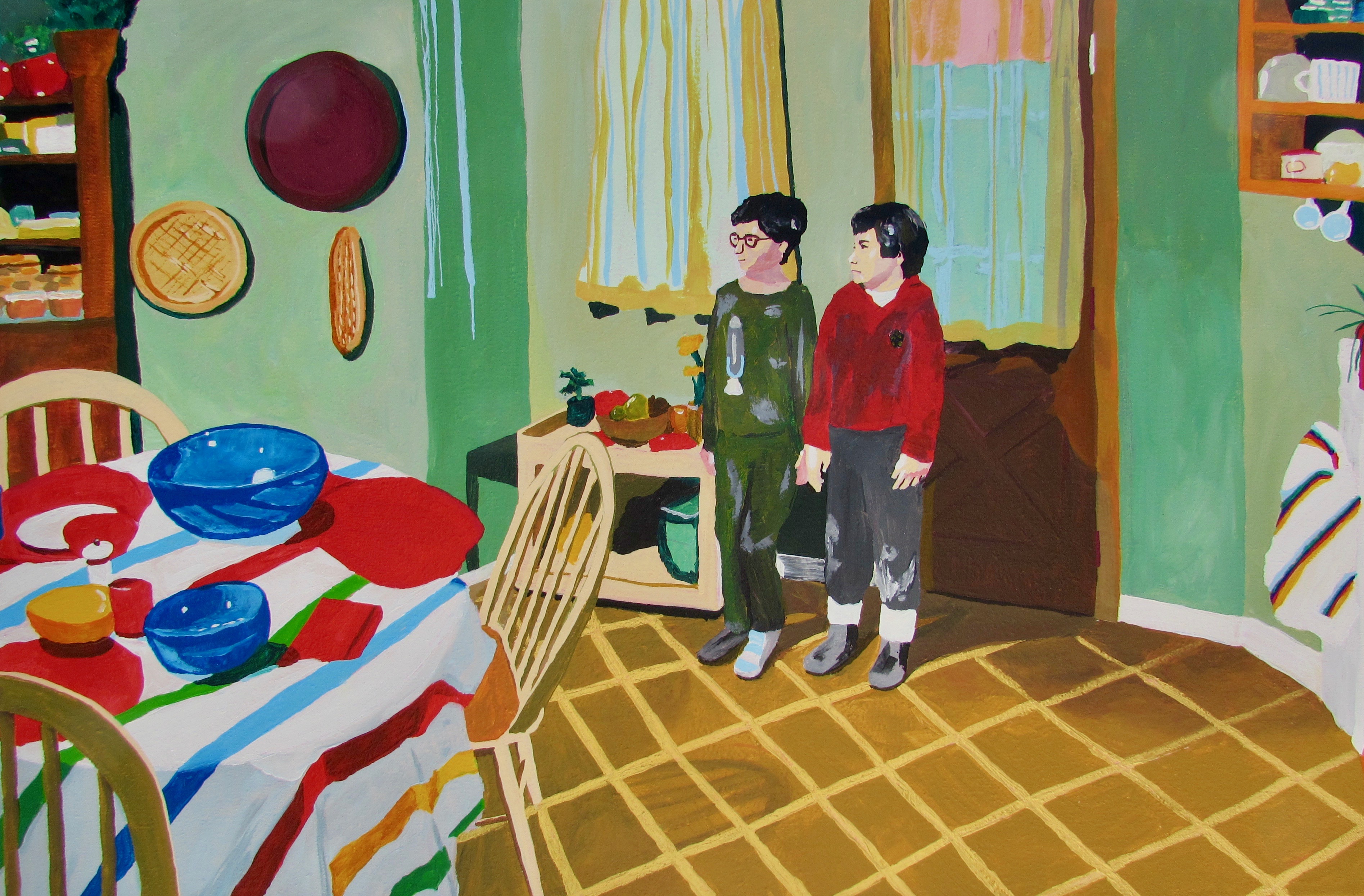 we're all dead welcome to hell
Did you look around? Where are you?
When you take time to see your living space, how do you feel? The linear quality of this work in the floor, the tablecloth, and the walls, create an elongated separation between the viewer and the figures alluding to social distancing.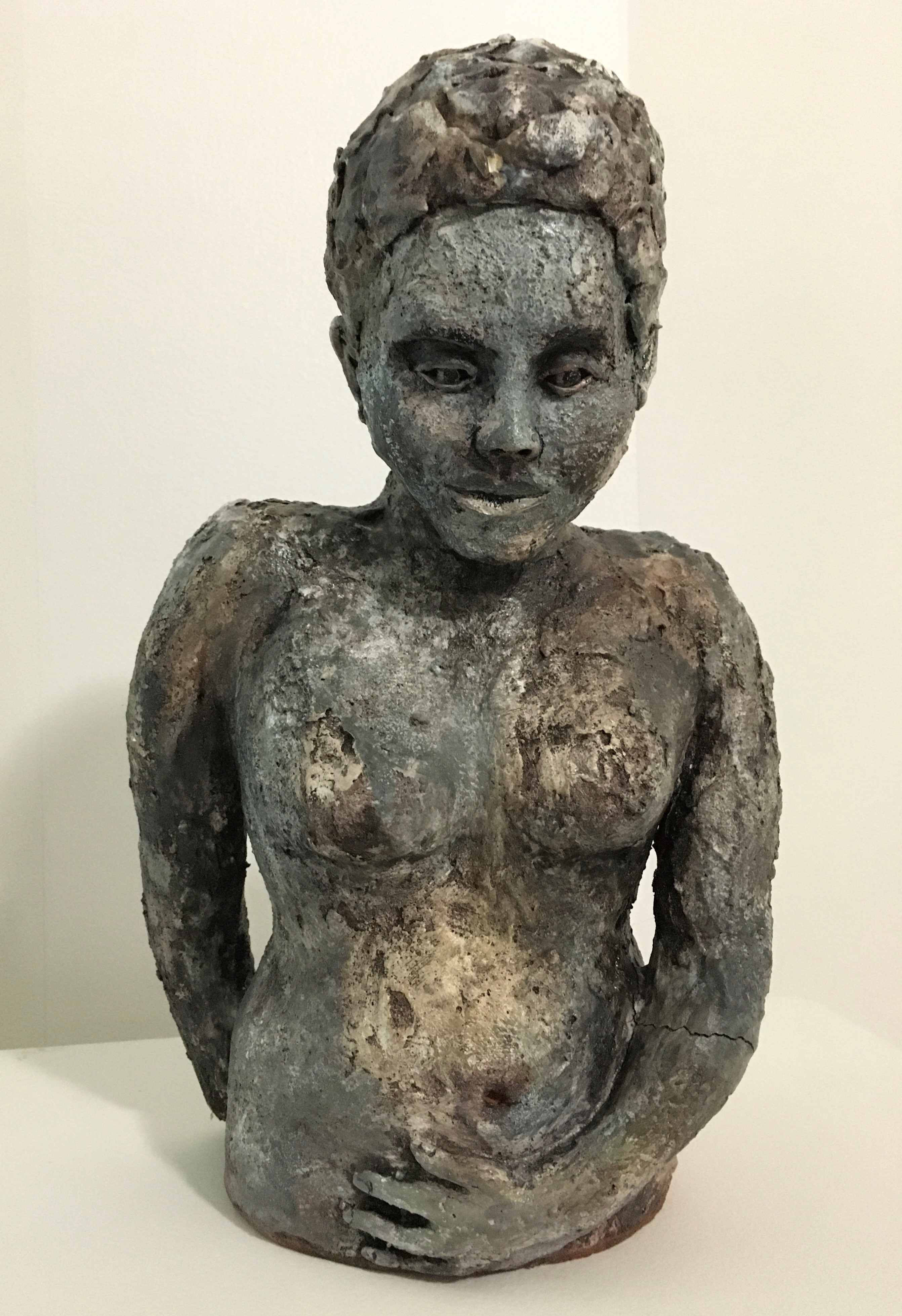 She
How are we seeing the people around us lately, especially with masks? This figure's powerful gaze puts emphasis on the eyes and how eyes have a heavy responsibility to communicate with those who look at and see us.  VanGieson's work makes us aware of the ways we look and see(m) to others.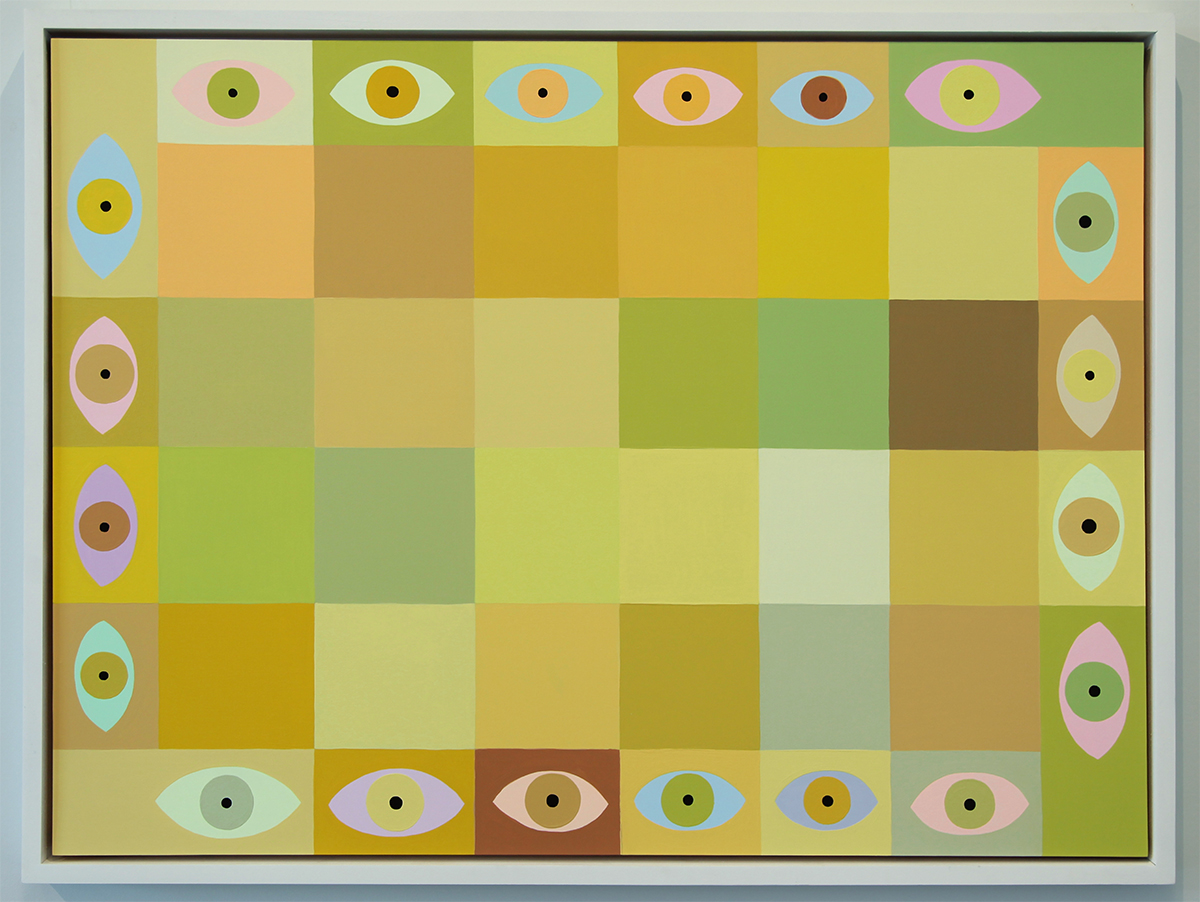 Ochre Periphery
Thomas says her Peripheries are about social media, and "this overlay on our reality where we are both the observer and the object that is being observed at the same time." Have your accounts been more active in isolation? What are you looking at online? Are you really seeing those people behind the screen?
Red Periphery
Thomas's Peripheries spur their viewers to see those around us the way we want to be seen: through a process of authentic exchange, not just views and likes on social media. When we are reconnected with our communities, how will we see things differently?  Will we have a greater appreciation for human connection after being isolation for so long?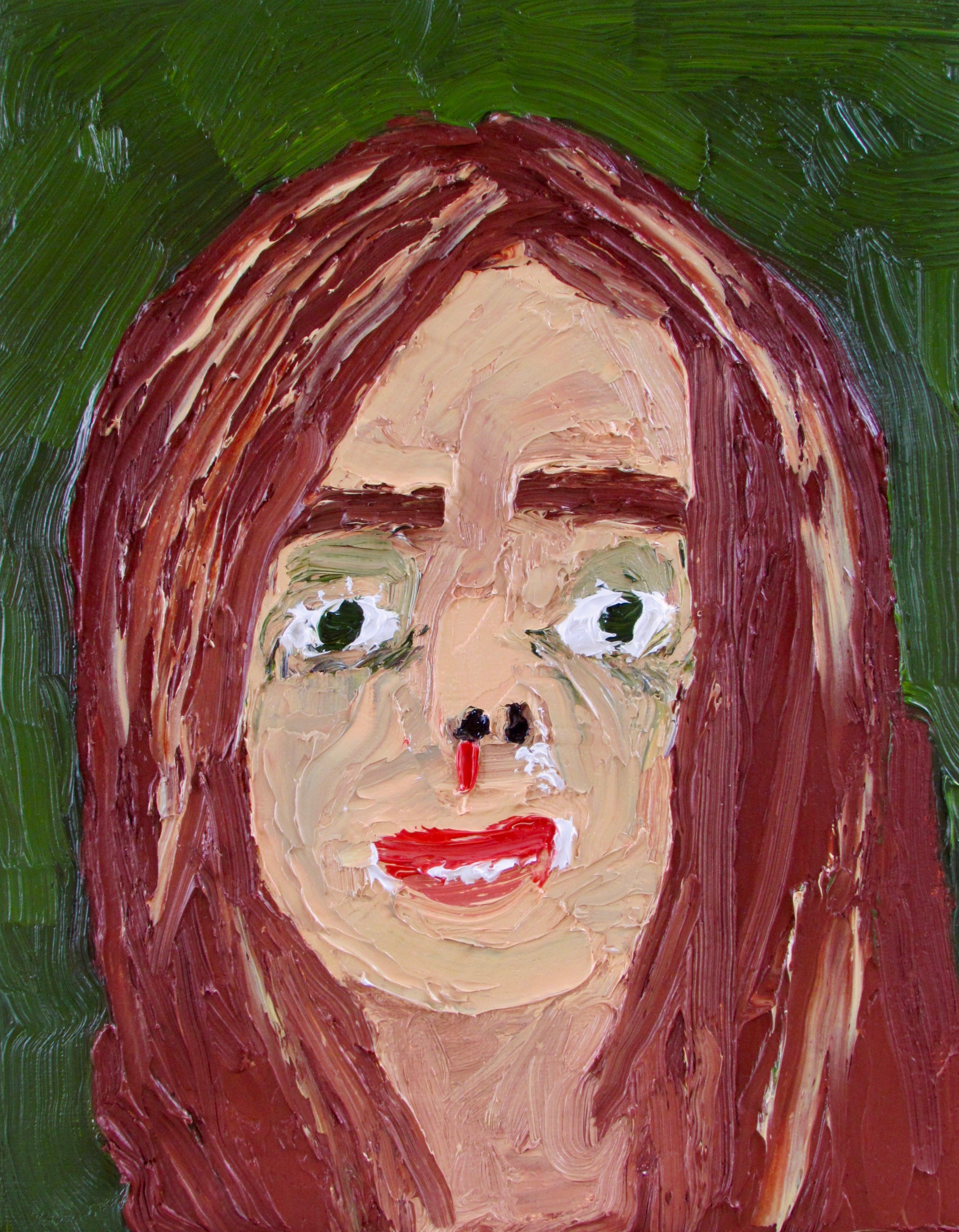 lookin good and feelin good
Paulus says "During this time in isolation, I've been going through a range of emotions. Dipping in and out of sanity on a daily basis."
This dipping also relates to how we are seeing ourselves. With more time alone, comes more time to judge ourselves and our bodies.  Paulus concludes "as long as you have a strong imagination, you can use that to get through really difficult times. Also, thank god for Disney +."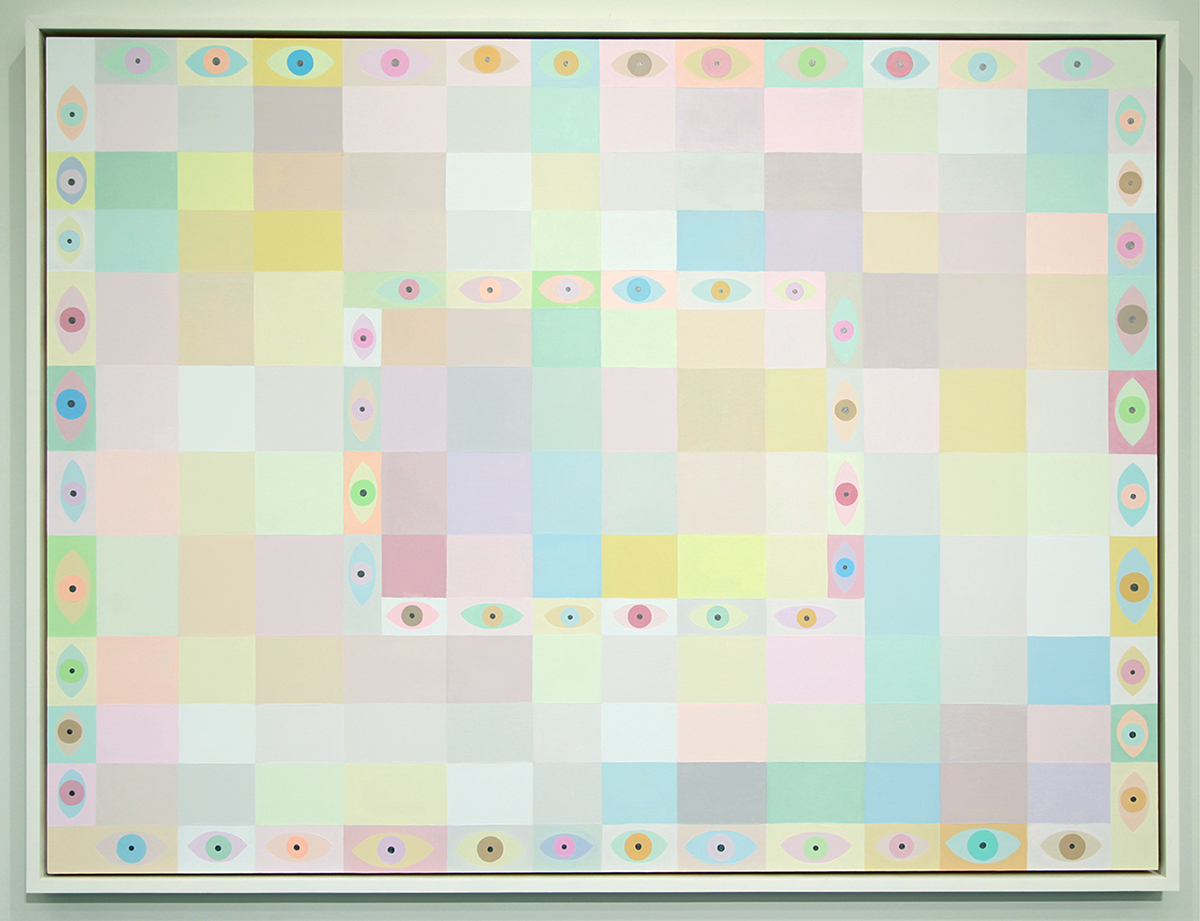 Iridescent Macrocosm
Finally, thinking about how we are seen and how we see, Thomas's two frames of eerie but calming eyes in this Macrocosm invite us to zoom out and consider perspective. This challenging period is a small moment in time that too shall pass.