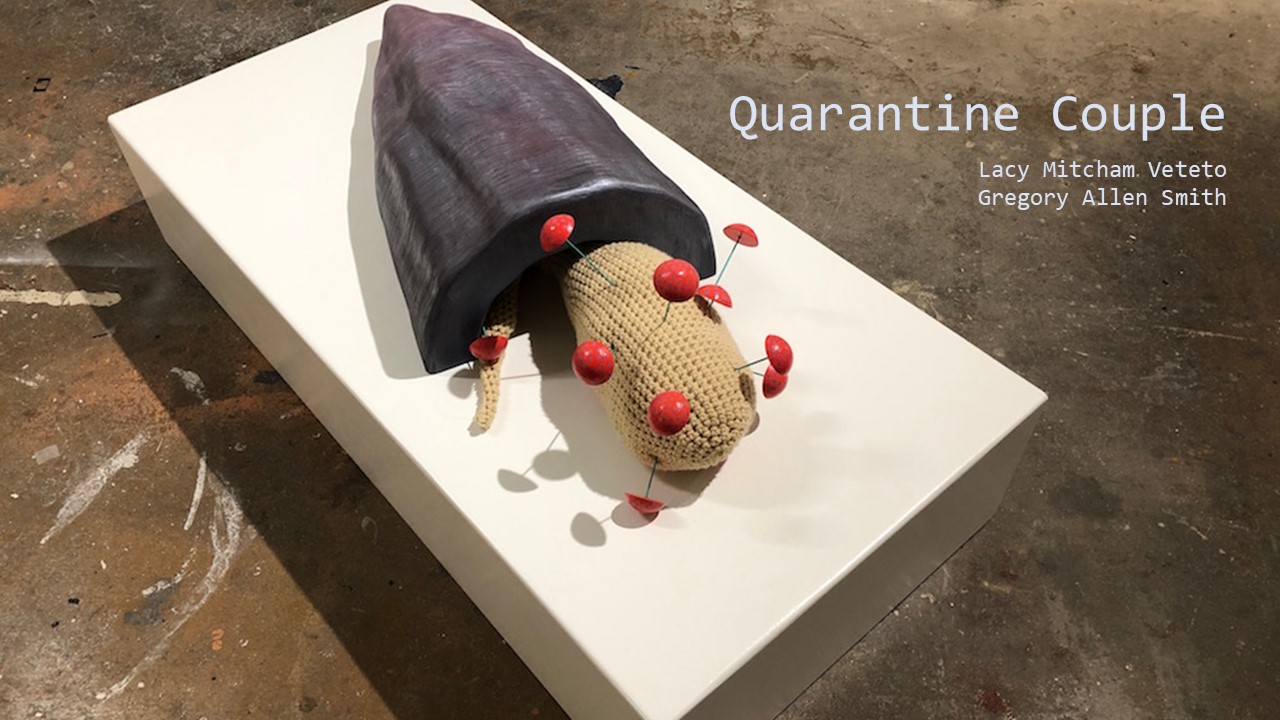 Artists: Lacy Mitcham Veteto & Gregory Allen Smith
Curated by Ben Aquila
Extreme isolation is a daunting task for one person. There is nothing but time to get lost in thoughts and feelings that, outside of unending alone-ness, might be avoided. If this exercise brewing within one person seems difficult, imagine when its compounded and confused by. . . a partner. Good god what is going on there?
Independent Artists, collaborators, and partners Lacy Mitcham Veteto and Gregory Allen Smith help us understand this wild proposition that is occurring with millions of folks in our current moment. Individually, each has been thrown into a time where they are self-analyzing in a crazy active way. For Veteto, this means exploring the layers of her body physically and theoretically-What does it mean to inhabit sheets of gooey matter with holes and roles, and what does it entail to call these layers she? Smith all the while is preoccupied with his intimate care and frustration for the body and its treatment of the ground that supports it. Are people weeds, weed-makers, or both? And how do these weeds manifest? With two intense thought trains going full steam ahead under the same roof, it feels impossible to fit anything else in the room. However, out of their mutual relationship comes a climactic and collaborative object that represents the exciting and maybe hazardous reality of isolating alone and with another. In other words, being a quarantine couple.
Lacy Mitcham Veteto is an artist who works primarily in three-dimensions. Her practice is rooted in sculpture that uses the fragile condition of the body and nature to consider issues of power and vulnerability. Her work has most recently turned to runway fashion in Memphis Fashion Week to make wearable sculptures that inject a sculptural approach to fashion design, and a different audience. In the past year, she also has curated exhibitions that make suggestions of the impacts of various power dynamics and considers this part of her 3D practice. She graduated with her Master of Fine Arts in 2017, and has been an educator at University of Memphis, Rhodes College, University Middle School, Creative Aging and The Dixon Gallery and Gardens. She was also an Arts Accelerator grant awardee through Arts Memphis, and is co-editor of Number Magazine, which is a submission-based regional art publication.
Gregory Allen Smith earned his Bachelor of Science in Mass Communication with an emphasis in Photography from Middle Tennessee State University in 2006. After moving back to Memphis, he completed his Bachelor of Fine Arts degree at the University of Memphis in 2014. Since then, he has held the fulltime position of preparator at David Lusk Gallery.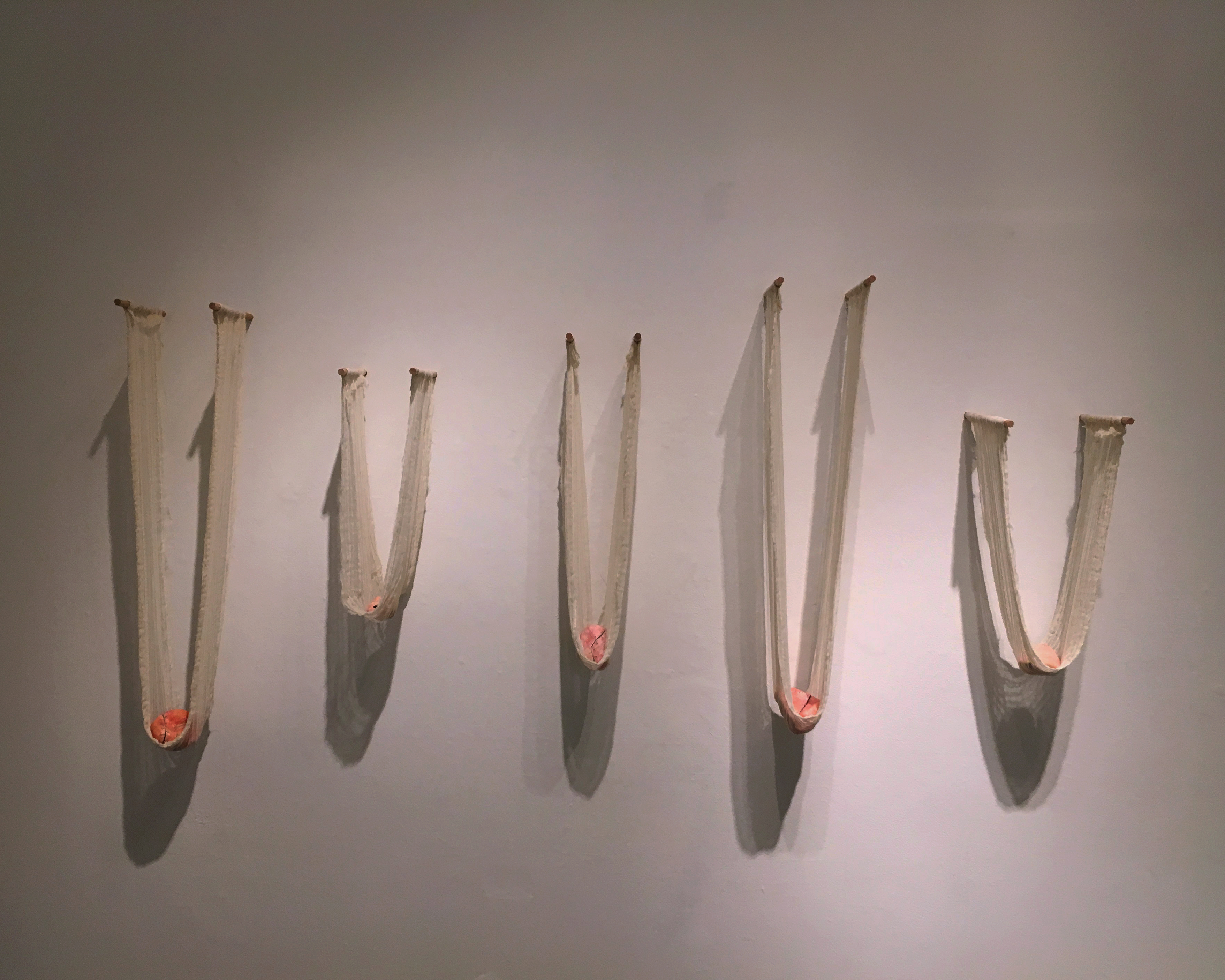 Cradle
Veteto's Cradle behaves as a site connecting the viewer to political and physical functions of the woman. The title and composition are wrapped up in the womb. Feel the dependency radiate off the fleshy nubbins as they snuggle into their mother-cloths. These wrinkled panels of fabric are working hard, constantly bearing the weight and feeling the tension of their children. Beyond this, there is a connection to domestic practice, with the repetition of hanging fabric creeping up on the aesthetic of the laundry line.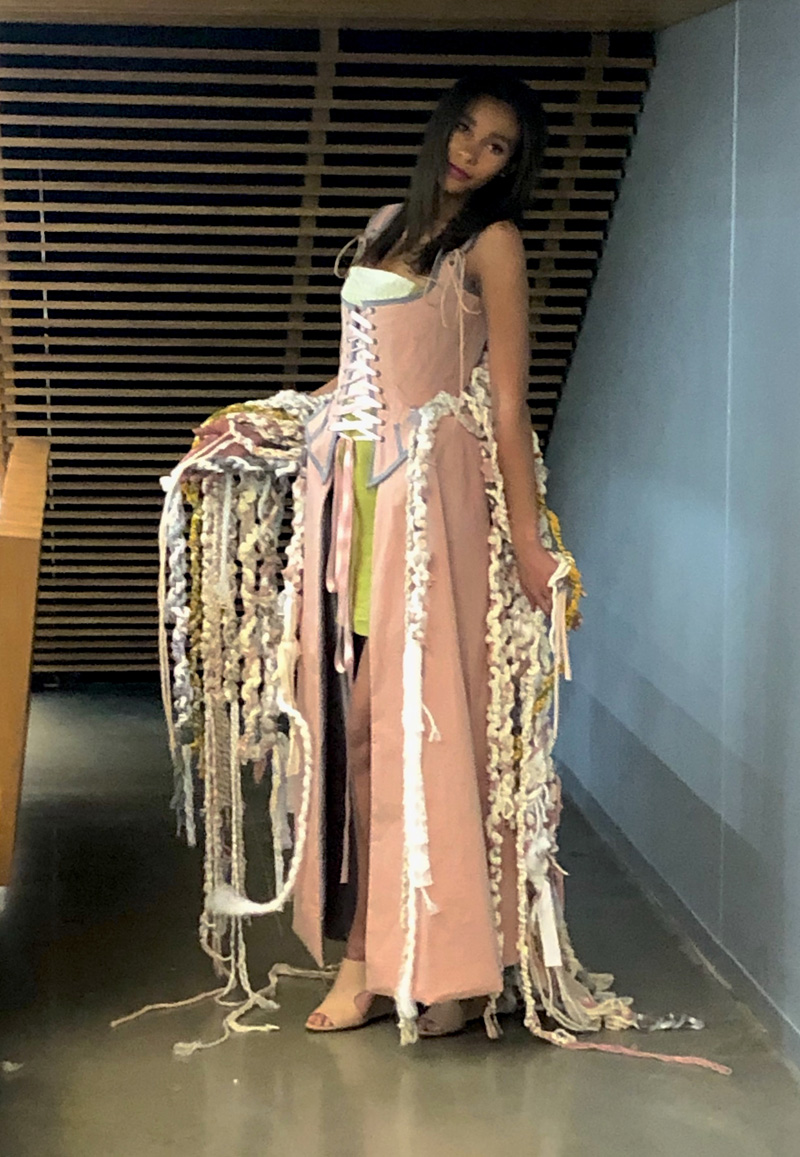 Begonia
Veteto invites a viewer to take a break and play with Begonia. The garment roots itself in high-fashion with its impressive structure and sensitively-springtime color palette. However, this piece is more than a moment of Vogue. Its back train is consumed by fuzzy entrails, pushing thought towards inside-outside and the body. Putting this dress on means bouncing around in a playfully pastel organ.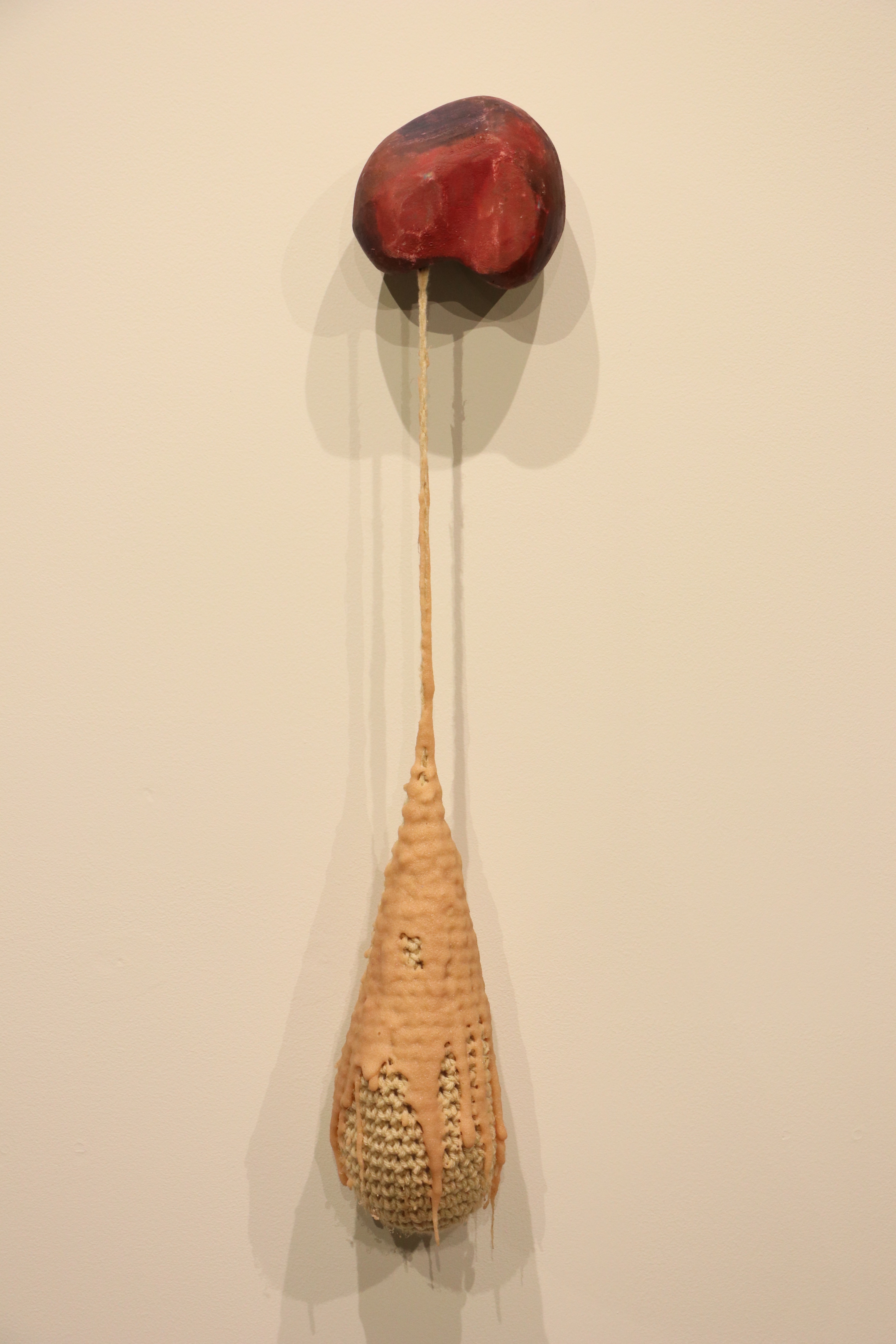 Discharge
More whimsically and grossly anatomical than other pieces by Veteto is Discharge. Moving forward with the inside-outside spirit of Begonia, Discharge takes a more head-on approach—referencing where this idea happens in the artist's own body. Out of the vaginally plump and plum mass comes a thick cream secretion. This fluid line leads to a knit egg orb that has collected much of the goo as a shield. The complicated series of actions present reference sex and birth, but in a fashion that trophies the female as the all-encompassing host to pleasure and creation.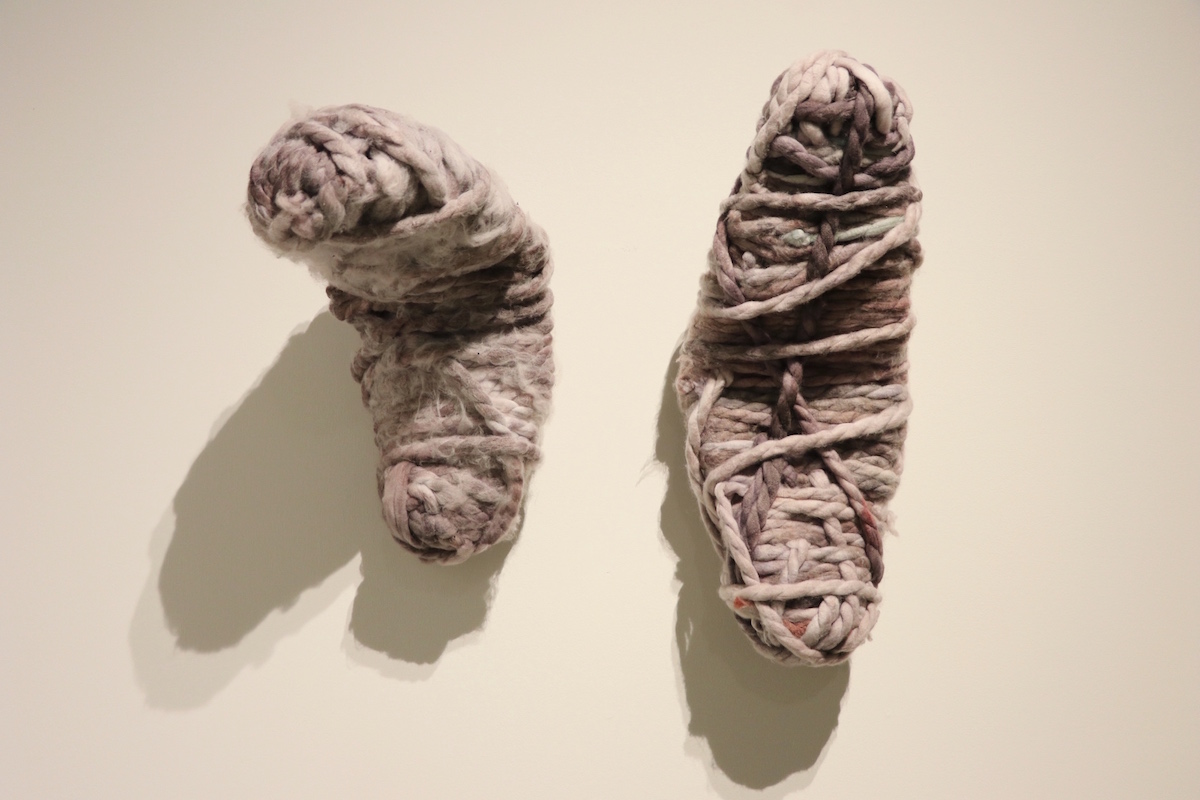 Nod
What happens when something as political, seductive, sensitive, gross, and lovely as the vulva is uniquely abstracted and characterized? Well, Veteto's Nod gives a compelling answer through its two referentially shaped lumps built up from a clunky, raw fiber. The two shapes playfully push out from the wall and hang in a way that hints of an ongoing conversation. The masses are approachable and make the viewer question how the bodies and organs they reference are not as equally and universally loved.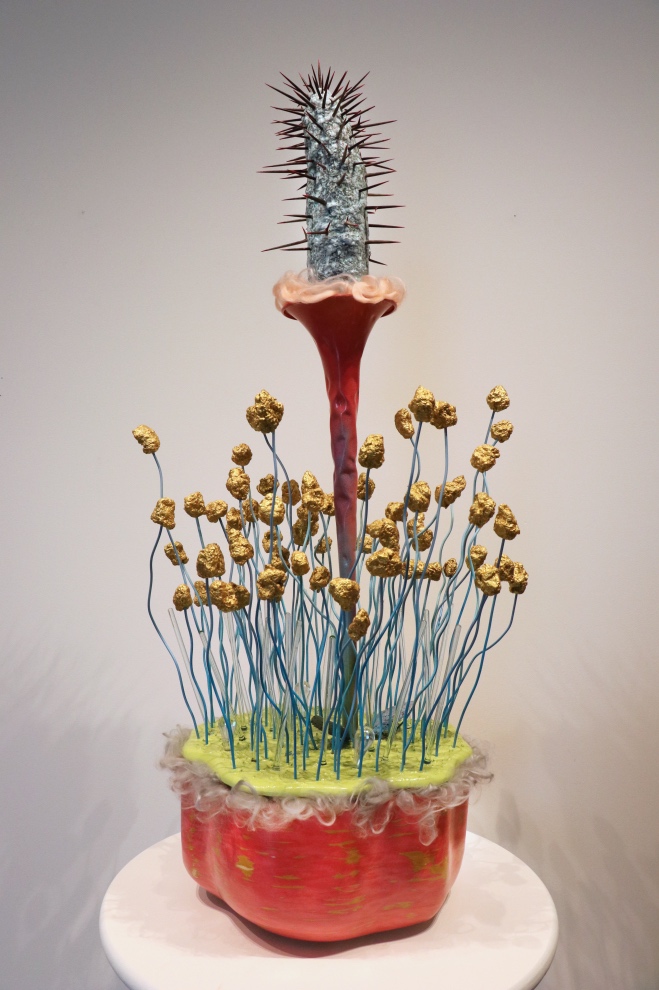 Extraction 1
With Extraction 1, Smith invents a botanical-mechanical mini-scape. Towering above and preventing further growth of smaller, popcorn-like buds is a threatening and overtly phallic emperor organism. Quickly it becomes clear that everything growing up is also sucking down, seeing as any nutrients must come from the runny, neon goo that is surely more a poison than a health benefit. A viewer is left with the certainty that this creation is human in the same way as a nuclear waste site.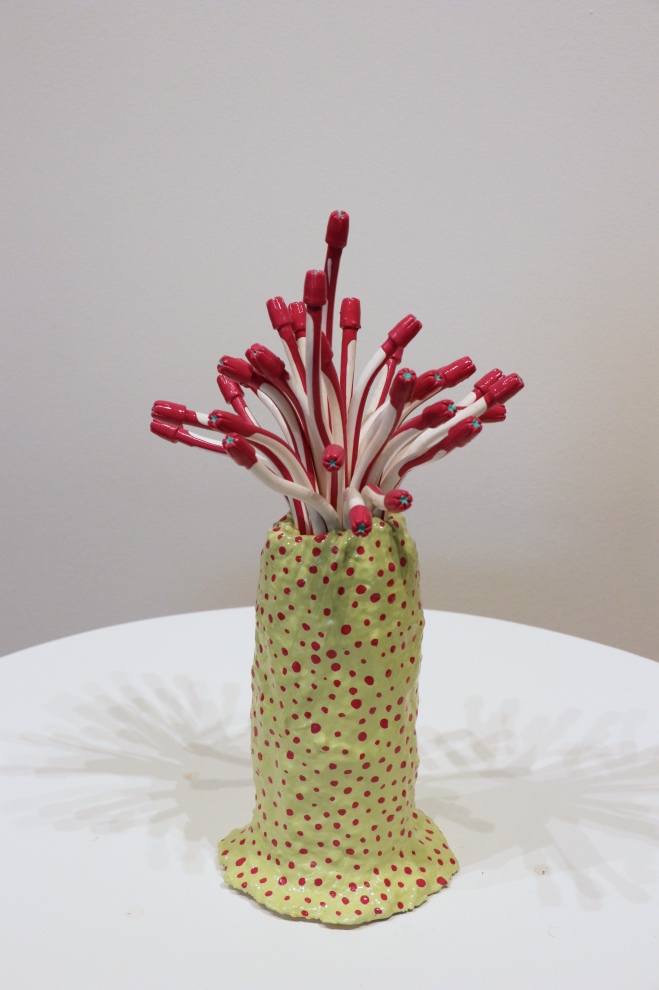 Cultivated 2
While Smith is the original creator of this family of curiously threatening plant-life, they have learned from their father how to make it on their own. With Cultivated 2, the viewer is faced with the reality that these creatures can reproduce. This is cute and silly in that the catheter-like babies are flimsy and whimsy, completely reliant on their polka-dotted mother tube. This is terrifying and threatening in that these man-made and bodily plant-forms will surely spread past the gallery space and infect every inch of ground they cover.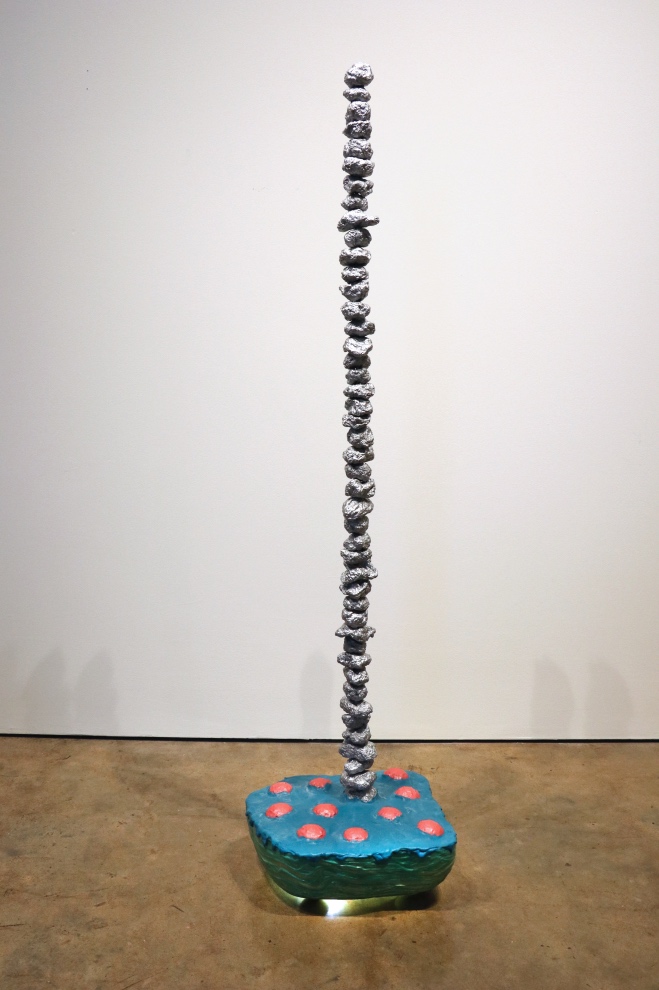 Extraction 2
Smith counteracts his obsession with weeds and spread with the presence of balance in Extraction 2. Coal-like orbs lay on top of each other, perfectly positioned as to assure no one falls off and shatters. There is no question to their relationship with their more botanical sister amalgamations, as what they are centered over is a base made from a chemically neon blue substance infected with red, spherical orbs. In conversation with his other forms, Smith uses Extraction 2 to note that any successful species, even an invasive one, must act on a pendulum that swings between chaotic growth and mindful stillness.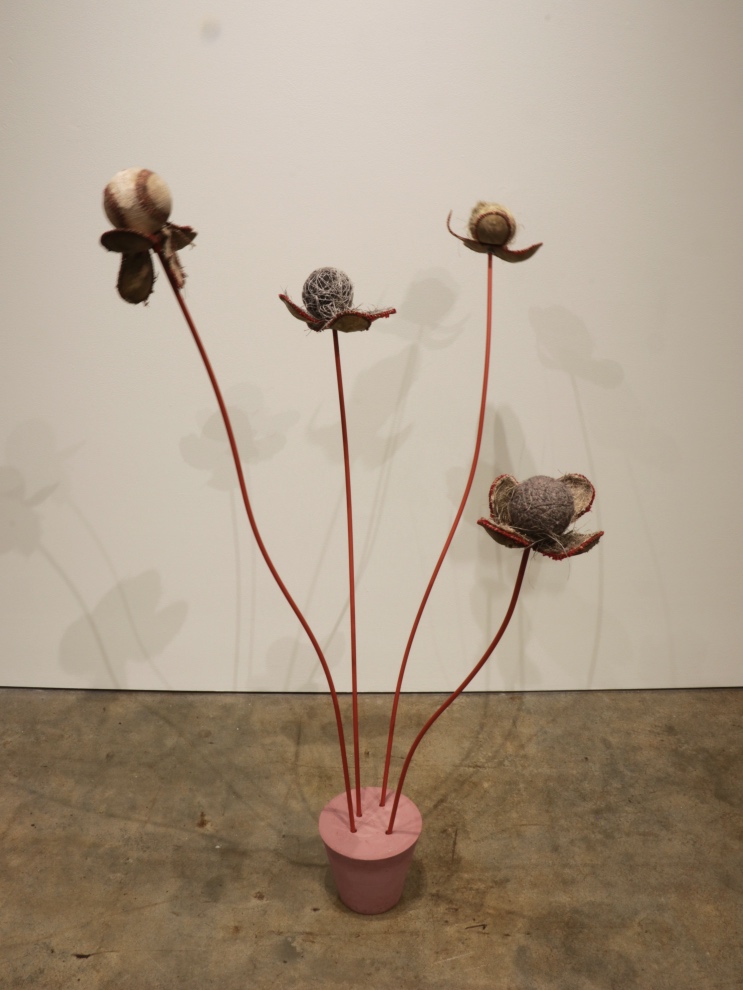 Extraction 6
If there was a lingering question whether Smith's botanicals were of human origin, Extraction 6 squelches it. In fact, more than suggesting humans as reason for their existence, the flesh-colored, freestanding forms hold corroding baseballs in such a way as to hint they are human. With this revelation, questions arise: Is this our future? How much time do we have? What about the earth? and most importantly, Who can we blame for this fate?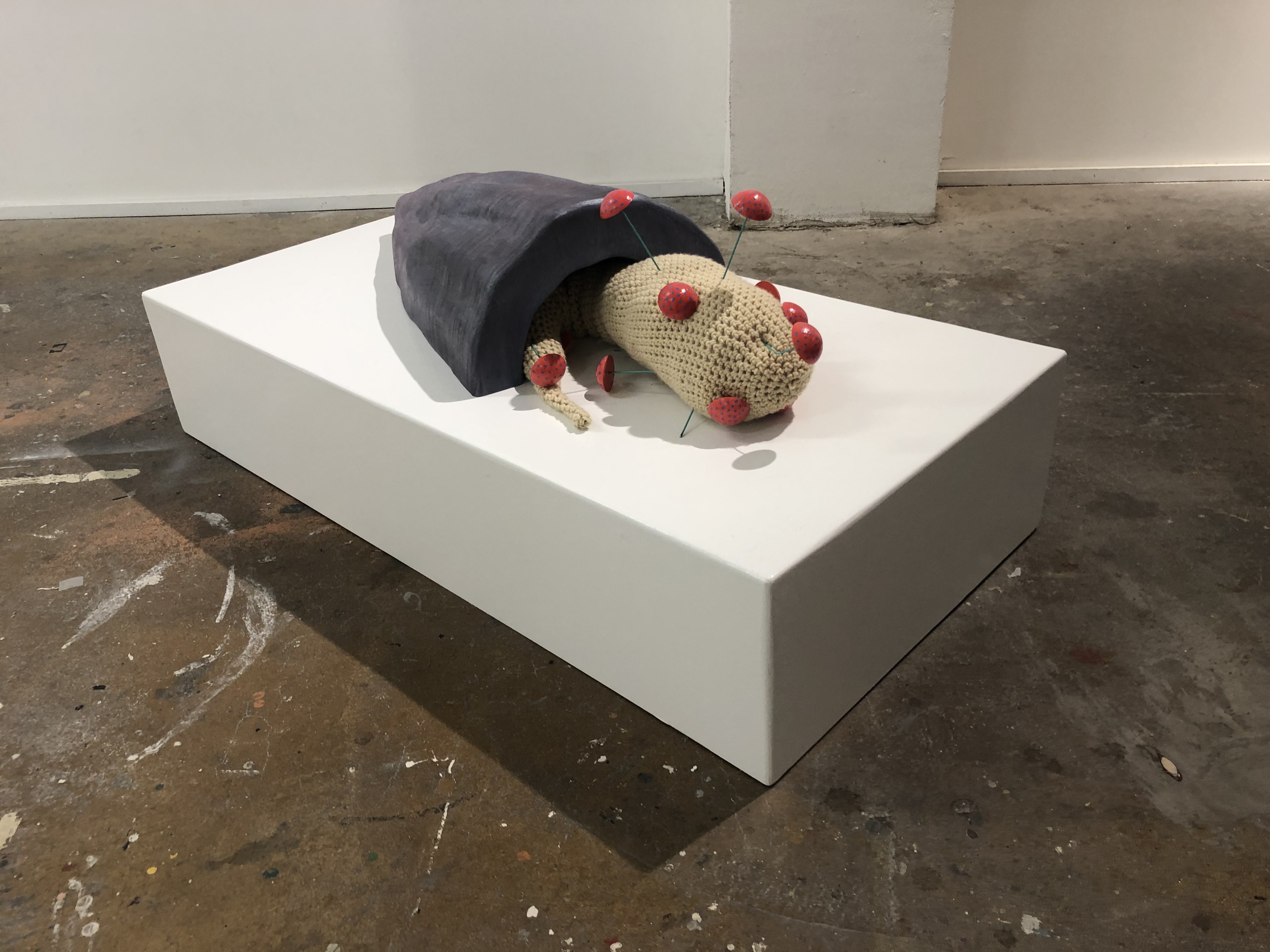 Gimme Shelter
Gimme Shelter documents the collision of an artist concerned with the body as an environment and an artist concerned with the body as responsible for an environment. The knitted, flesh-toned egg sac works in every way Mitcham's pieces have been discussed. However, now it is more of an autonomous character, protected by a shiny cave, manufactured by Smith, in replacement of a womb. Safety can only be found under this shell, as when the egg peeps their head out, they are infested with Smith's infectious weedlings, piercing through the victim's sensitive skin. Through their collaboration a new reality of both artist's work sets in: environments and bodies and the slippage between them both give and receive safety and pain, instigating chaos.