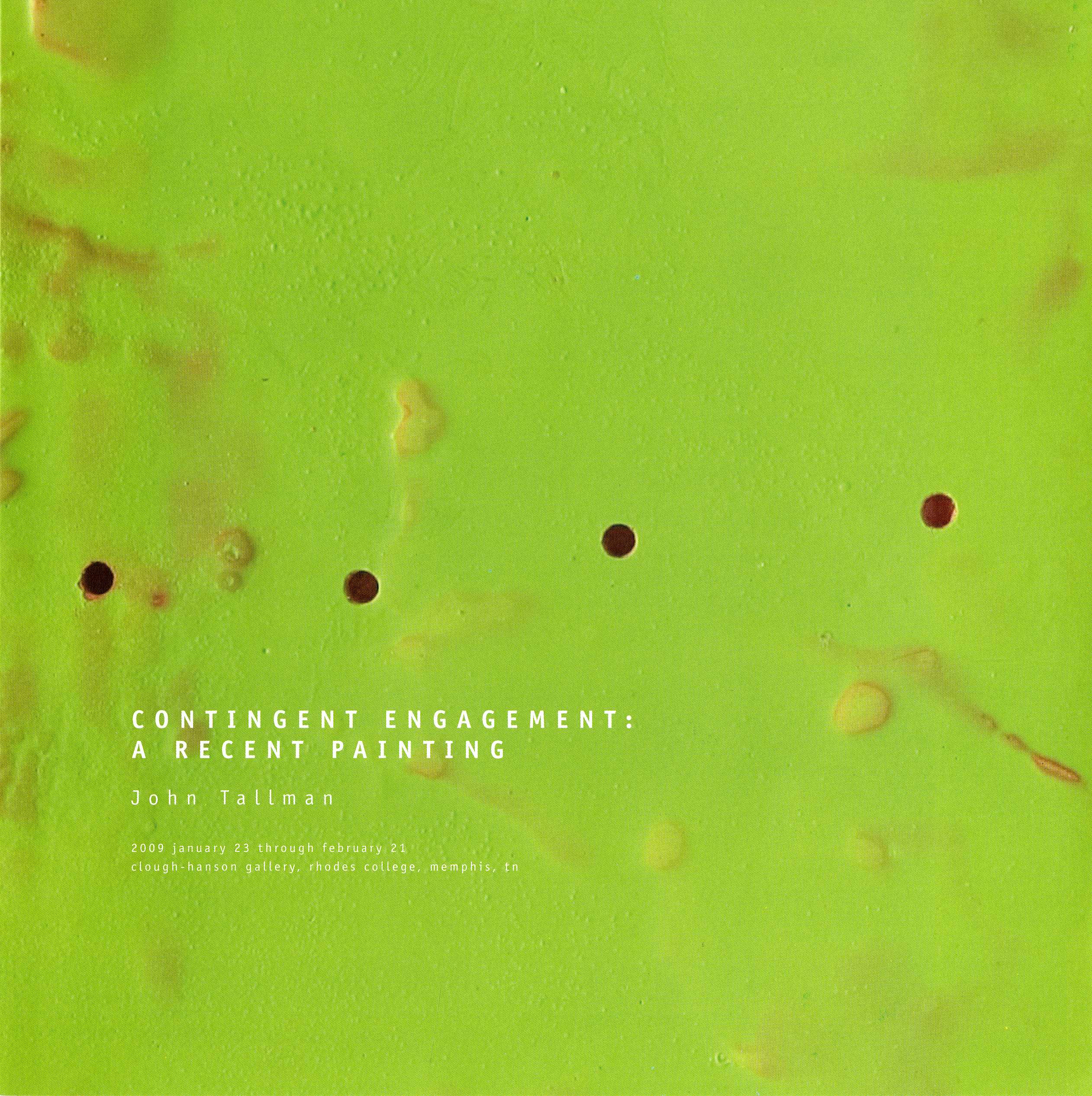 Clough-Hanson Gallery at Rhodes College is excited to announce its third show of the season:  John Tallman, Contingent Engagement:  A Recent Painting.
Contingent Engagement:  A Recent Paintingwill run from January 23 through February 21, 2009.
The artist will present a lecture on his work in Blount Auditorium in Buckman Hall on Thursday, January 22nd at 7 p.m. 
The reception for the show will be held in the gallery from 6 - 8 p.m., Friday January 23, 2009.
For John Tallman's show for Clough-Hanson Gallery at Rhodes College he has focused on the idea of one painting.  Several years before the exhibition at Rhodes College, John Tallman made a rubber mold of a painting he'd completed in 2005.  This untitled, fluorescent red, acrylic on wood painting wasn't one of Tallman's favorites, nor did he consider it a throwaway piece.  In the artist's words, it was "right in the middle, average." But there was something about this slightly off-square surface with its rounded edges that just felt right.  The casual decision to use this painting for a mold started Tallman on a years-long investigation that makes up the body of work for this exhibition.  Here we find him beginning at a not-so-simple point of departure and traveling at nearly an infinite number of directions at once.  Using the mold of this particular painting, he creates a series of resin, plastic, or plaster casts.  These are then used as singular objects, surfaces for painting as well as sites for investigations of a visual language. 
Born in York, Pennsylvania, Tallman went to college at Tyler School of Art in Philadelphia and did his graduate studies at the University of Washington.  Since then he has been included in a number of exhibitions nationally and internationally.  His work was included in Non-Declarative Art at the Drawing Center in New York in the fall of 2007.  He has also shown his work in Belgium, South Korea, the Netherlands, and Australia as well as nationally in New Jersey, Ohio, and Washington.  He will be included in the upcoming exhibition on Tennessee Abstraction at the Cheekwood Museum in Nashville.  John Tallman currently lives in Chattanooga, Tennessee where he is active in the local arts community there. 
If you should have any questions please don't hesitate to contact Gallery Director Hamlett Dobbins at Clough-Hanson Gallery (901) 843-3442, via email at dobbinsh@rhodes.edu.