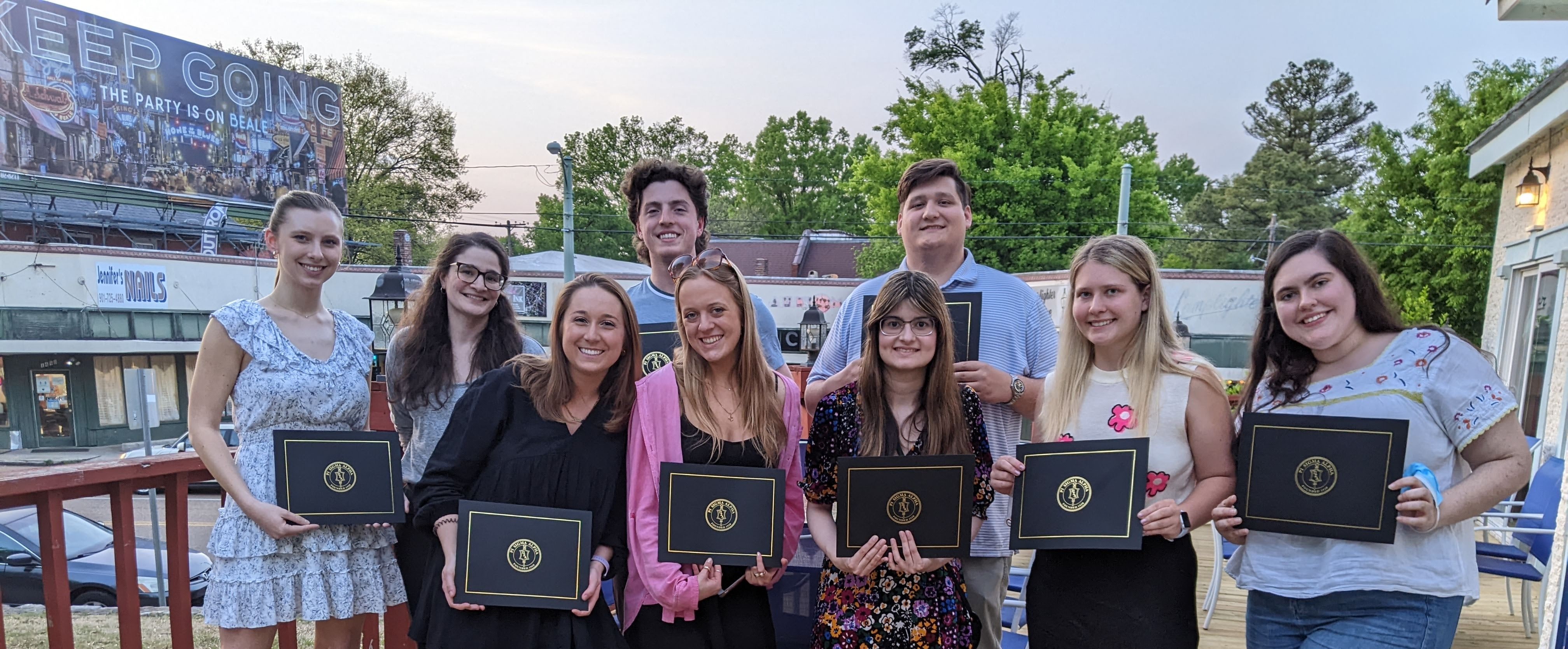 What is Pi Sigma Alpha?
Pi Sigma Alpha seeks to promote excellence in the study of political science through a variety of programs for student members and local chapters
How do I become a part of Pi Sigma Alpha- Tau Delta chapter?
In order to become a member of PSA at Rhodes a student must:
1) have completed at least half of the credits required for a baccalaureate degree at Rhodes College;
2) have completed at least 16 credit hours of work in political science including at least one upper-division course (300- or 400-level) not including POL460;
3) have at least a B average or higher in all courses in political science; 
4) have their overall academic performance place them in the top one-third of their class.
2021-2022 Inductees
Elizabeth Baldwin
Julia Beckel
James Blan
Trey Boyd
Lizzie Carrier
Thomas Cloyd
Emily Haas
Xiaojie Ji
Matthew Kenny
Mariam Khayata
Helena Lykke
Ellie McIntyre
Lauren Moore
Jimmy Mullen
Adaeze Nwabueze
Natalie Smith
Mimi Young
2019-2020 Inductees
Claire C. Barkley
Morgan C. Brown
Jessa E. Barmish
Jackson C. Griffey
Benjamin D. Griffith
Ethan Heilig
Grant A. Hill
Eileen Liu
Matthew J. Mussalli
Alejandra M. Nawrocki
Elizabeth G. Scott
Nathaniel M. Siler
Nikita P. Smith
Chloe N. Tesch
2018-2019 Inductees
Sophia G. Bradford
Isabel E. Celata
Carson A. Cox
Jeanne L. Wilkinson
Katherine N. Bryant
Mary A. Carpenter
Adam C. Cruthirds
Roman J. Darker
Matthew C. Diana
William A. Schramkowski
Shannon E. Tierney
2017-2018 Inductees
Claire C.Barkley
Joseph T. Bartholomew
Meredith R. Clement
Mackenzie T. Vaughn
John G. Bierwagen
Kara N. McCord
Elizabeth K. Lewis
Rebekah D. Birch
Anna D. Baker-Olson
Michael W. Combs
Connor N. Hurley
James P. Schaefer
Devin J. Dunkley
Kelsey L. McClain
Anne P. Healy
Ashley T. Plunk
Alexia N. Spanos
Jon R. Kowalik
Ethan M. Fox
Brady F. John