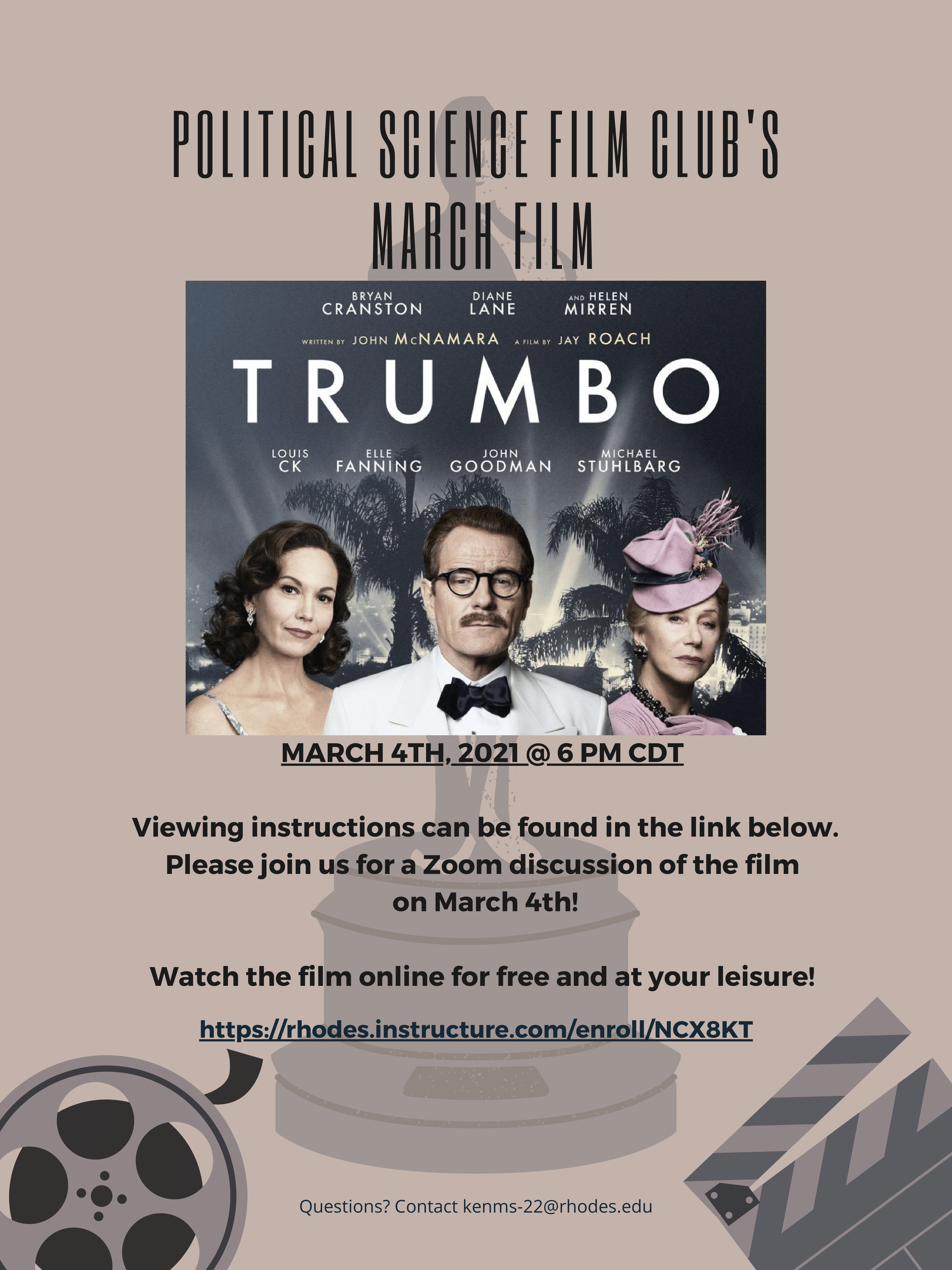 The Political Science Film Club will be hosting a discussion of Trumbo, a 2015 American biographical drama film that follows the life of screenwriter Dalton Trumbo as he and other Hollywood figures navigate public fears of communism under the McCarthy era. The film runs for approximately 2 hours. 
If you are interested, please use the link below to access and watch the film on your own time and at your leisure. Our discussion will take place on March 4th at 6 pm CST via Zoom, which can be found in the same link below. 
Viewing and Discussion Link: https://rhodes.instructure.com/enroll/NCX8KT
If you have any question, please email Matthew (kenms-22@rhodes.edu)
Prior Political Science Film Club Viewings:
November 2020 -  Best of Enemies: Buckley v. Vidal (2015)
'Best of Enemies' is a documentary about the legendary series of nationally televised debates in 1968 between two great public intellectuals, the liberal Gore Vidal and the conservative William F. Buckley Jr.
October 2020 - RBG (2018)
RBG chronicles the career of U.S. Supreme Court Justice Ruth Bader Ginsburg, which spans several decades, and how she developed a legal legacy while becoming a pop culture icon.
March 2020 - Selma (2014)
Historical-drama film based on the 1965 Selma to Montgomery voting rights marches.
February 2020 - Vice (2018)
American biographical comedy-drama film that follows Dick Cheney on his path to and time as Vice President of the United States.
November 2019 - Good Night, And Good Luck (2005)
Historical drama depicting the conflict between veteran radio and television journalist Edward R. Murrow and U.S. Senator Joseph McCarthy of Wisconsin.