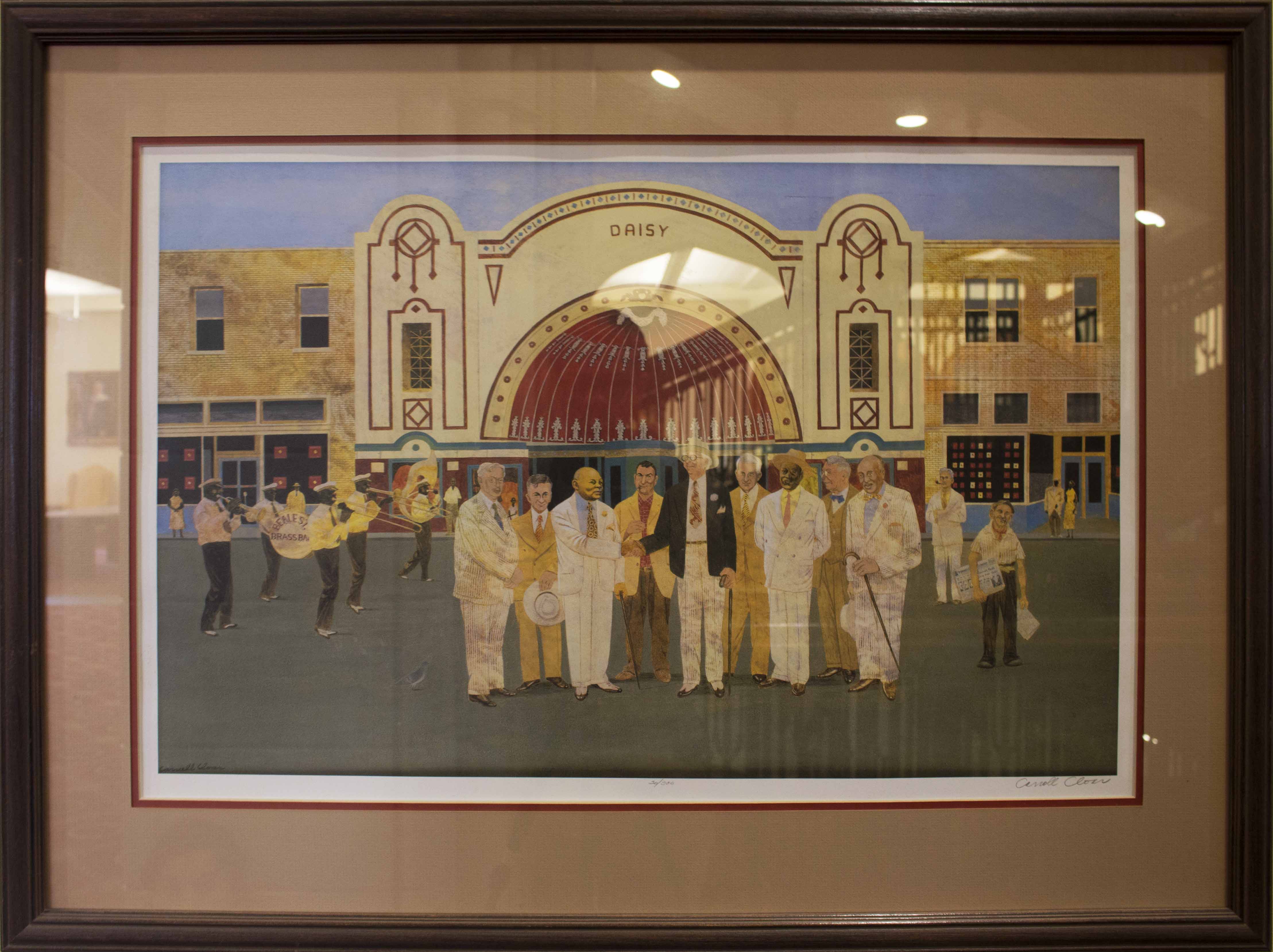 This limited edition signed print of Cloar's original 1964 painting depicts an imaginary scene: a meeting of key members of Memphis society, with William Christopher Handy (left) and Edward Hull Crump (right) shaking hands in the center. Handy, the "Father of the Blues," and Crump, a former mayor, represent the cultural and political aspects of the city unifying in front of the Old Daisy Theater on Beale Street. Although this handshake serves as a symbol of integration between the figures, the scene is only a fictional part of Cloar's vision of the South in the 1940s, which in reality would have faced rampant racial discrimination before the advent of the civil rights movement.
As a member of Rhodes College's Class of 1934, Cloar also included college President Dr. Charles E. Diehl on the far left side of the group, who was responsible for bringing the College to its current Memphis location. Diehl's presence in this meeting suggests that the artist envisioned Rhodes as an essential institution in the city and establishes its place in the fabric of Memphis history.
Additional examples of Cloar's work can be found above the water fountains to the left and elsewhere in Barret Library.
Represented in this painting from left to right are:
Dr. Charles Diehl, former president of Rhodes College;
Watkins Overton, former Memphis mayor;
W.C. Handy;
Logan "Shifty" Hipp, welterweight fighter;
E.H. Crump;
Clarence Saunders, founder of the Piggly Wiggly grocery chain;
Lt. George Washington Lee, Republican leader;
Kenneth McKellar, U.S. Senator, Honorary Alumnus '42;
Arthur Halle, Sr, Cotton Carnival founder;
Clark Porteous, journalist, editor of Collierville Herald, Alumnus '34;
Monk Cassata, well-known Memphis street vendor.