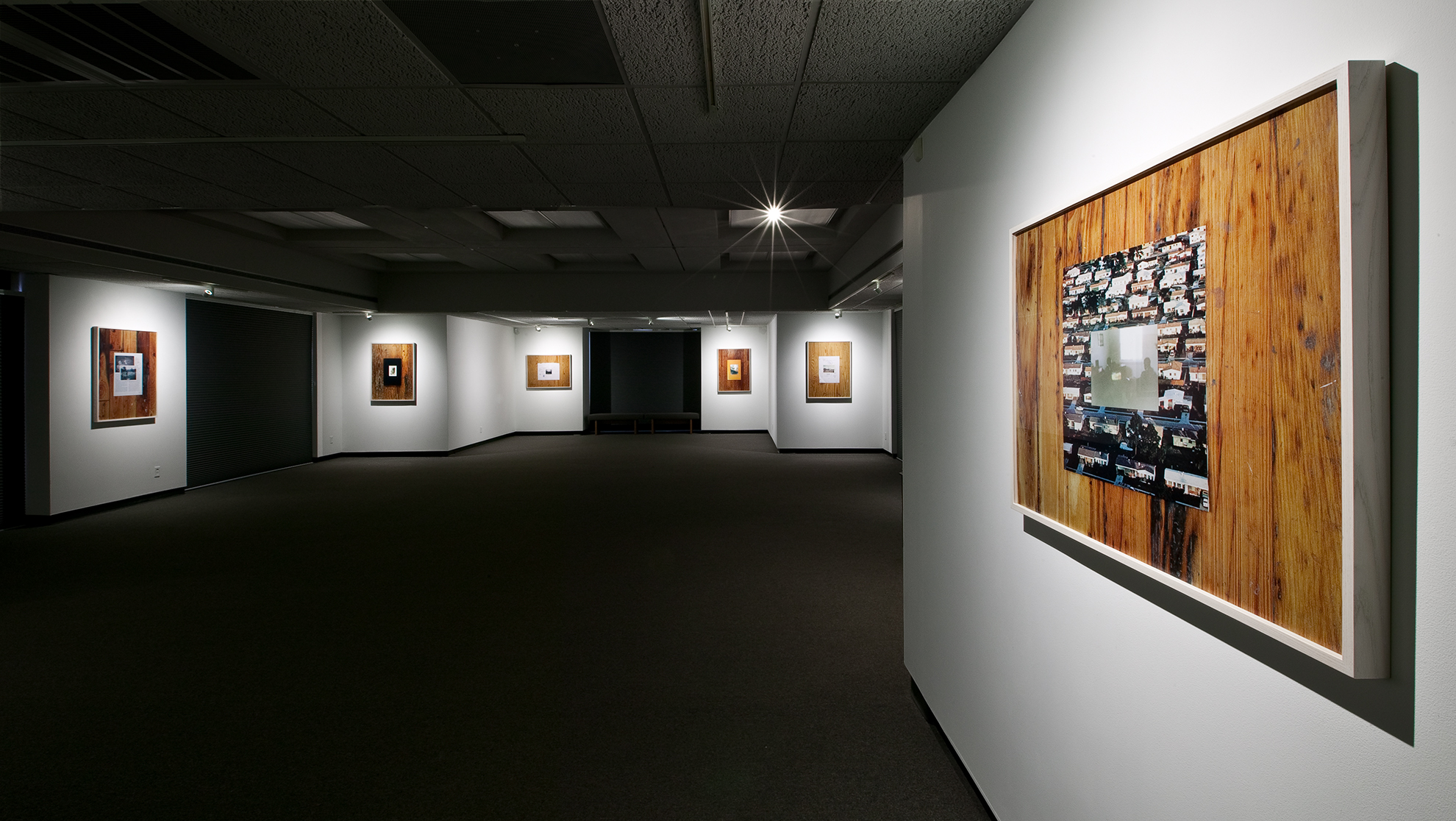 Leslie Hewitt: Riffs on Real Time will run from October 30 through December 7, 2009
The artist will give a free lecture on her work on Thursday, October 29th at 7 pm in Blount Auditorium in Buckman Hall on the Rhodes College campus.
  
The opening reception for the exhibition will be held on Friday, October 30th from 6-8 pm.
  
Leslie Hewitt's photograph Riffs on Real Time (2 of 10) 2002-2005 was a standout from as from the hugely popular Taking Aim: Selections from the Elliot L. Perry Collection at Clough-Hanson Gallery in 2007.  Her solo show at Rhodes College will present a complete selection from her most recent Riffs on Real Time series (2008).  Each of the photographs in the series presents a documentation of a three layer collage or a temporary sculpture.  Intentionally using the most straight forward and seemingly neutral means to present the information, she works with an even hand, like an archivist documenting evidence.  The artist has a strict editing process, leaving her with a distinct visual language that could parallel a poet writing a haiku.  In this case, her three phrases become a stack of three visual layers.  The first and closest layer in the composition usually presents a found snapshot, followed by an intermediate layer that usually features a common historical object like a book, a map, or a page torn from a magazine.  The final layer in each of the photographs is a hardwood floor on which the two other objects rest creating a trompe l'oeil visual effect.  The artist's Riffs on Real Time uses found objects as a way to describe the way photographs and other historical objects at once document our lives and shape our understanding of the world.  Hewitt's photographic variations prompt viewers to reconsider associative power in art.  With deceptively simple set of tools, Hewitt creates work that is at once wonderfully poetic and deeply engaging.
Leslie Hewitt received her undergraduate education from The Cooper Union and went on to do her graduate studies in visual art at Yale University.  She is currently an artist in residence at The Radcliffe Institute for Advanced Study at Harvard University.  She was a participant in the prestigious Artist in Residence programs at the Studio Museum in Harlem in 2008 and the Museum of Fine Arts Houston, Core ProgramShe was included in the 2008 Whitney Biennial and the recipient of the 2008 Art Matters research grant to the Netherlands. A selection of recent and forthcoming exhibitions include the Museum of Modern Art in New York; the Studio Museum in Harlem; Artists Space in New York; the High Museum in Atlanta, GA; the Hessel Museum of Art in Hudson, NY; Project Row Houses in Houston; and LA><ART in Los Angeles. Hewitt's work is in the collection of the Museum of Modern Art, New York, NY.
Clough-Hanson Gallery is located inside Clough Hall on the Rhode College campus.  The gallery is open from 11 a.m. until 5 p.m. Tuesdays through Saturdays.  The gallery is closed on Sundays and Mondays.  Admission to the gallery is always free.  
  
If you should have any questions please don't hesitate to contact Gallery Director Hamlett Dobbins at Clough-Hanson Gallery (901) 843-3442, via email at dobbinsh@rhodes.edu.