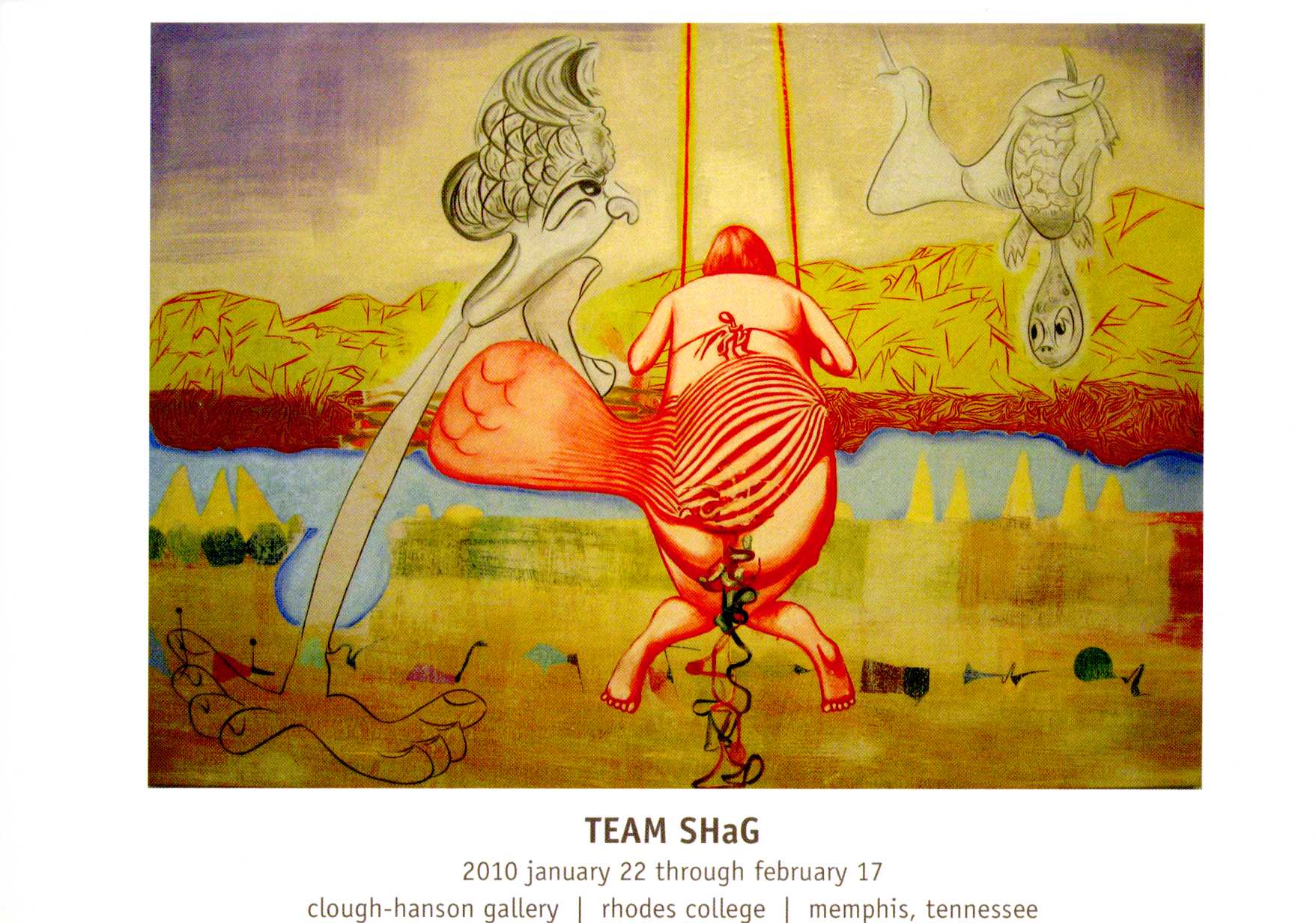 TEAM SHaG: Collaborative paintings by Amy Sillman, David Humphrey, and Elliott Green.
TEAM SHaG will run from January 22 through February 17, 2010.
David Humphrey and Elliott Green will give a free lecture on their collaborative work on Thursday, January 21st at 7 pm in Blount Auditorium in Buckman Hall on the Rhodes College campus.
  
The opening reception for the exhibition will be held on Friday, January 22nd from 6-8 pm. 
The paintings in the exhibition are from a series of collaborations done by longtime friends Amy Sillman, David Humphrey, and Elliott Green.  In considering collaboration, one could think of a studio practice like a conversation.  If you are in the studio working on a piece, it's not at all unlike talking to yourself, you have some general idea of where the conversation is going to go.  But once you start a conversation with two other people, there's no telling where the conversation could go.  It could jump from last week's episode of Fresh Air, to the best hot wings in town, to who would win in a fight between an gorilla and a lion.  The process is not only a natural way for artists to have a visual conversation with one another, it is also a great way for one artist to get into the head of another artist.  The process forces the participants to try to figure out a middle ground between two or three personal aesthetics.  It grants permission for the artists to try out new ways of working and allows them to make changes or adjustments to the paintings started by their friends.  They can supplement or edit according to their own particular agenda.  TEAM SHaG's process is simple enough.  Each artist starts with an even number of canvases.  For example, if one starts out with six, they would pass three off to each of the other two artists once they've started an image and so on.  Once the paintings reach a certain critical mass, the three artists meet to discuss the status of the paintings.  If adjustments need to be made they are discussed and finished.
The three collaborators are internationally known artists in their own right.  Amy Sillman is the Co-Chair of Painting at the Milton Avery Graduate School of the Arts at Bard College.  She is represented by Sikkema Jenkins & Co in New York, Susanne Vielmetter Gallery in Los Angeles, and Galerie Carlier-Gebauer in Berlin. In 2008 the Hirshhorn Museum and Sculpture Garden in Washington DC and the Tang Teaching Museum at Skidmore College in Saratoga Springs  teamed up to present Directions: Amy Sillman, Third Person Singular.  Additionally she's been included in exhibitions at the Whitney Museum of American Art; Brooklyn Museum; New Museum of Contemporary Art; Aldrich Contemporary Art Museum, Ridgefield, Connecticut; Museum of Modern Art, Bologna.  Amy Sillman: Works on Paper, a monograph on a decade of her drawings, was published in 2006.   David Humphrey also shows at Sikkema Jenkins & Co in New York as well as Solomon Projects in Atlanta.  Last year he was awarded the prestigious Rome Prize at the American Academy in Rome and is a Senior Critic and the Yale School of Art.  He is also active as a curator and Blind Handshake, a book collecting his reviews and essays was published last fall.  David Humphrey lives and works in New York City.  Elliott Green has had solo exhibitions at Postmasters in New York, NY; Krannert Art Museum, Champaign, Fawbush Gallery in New York, and Hirschl & Adler Modern in New York.  Green has been awarded a number of grants including a Pollock-Krasner Grant, The Peter S. Reed Foundation Grant, the Marie Walsh Sharpe Foundation Grant, and the John Simon Guggenheim Foundation Fellowship.  TEAM SHaG's work has been featured in a number of shows including I-Space at the University of Illinois, Chicago in 2006, Lafayette College in Easton, Pennsylvania in 2005, at the Aldrich Museum of Contemporary Art, Ridgefield, Connecticut; Team SHaG in 1998 and at Postmasters, New York in 1997. 
Clough-Hanson Gallery is located inside Clough Hall on the Rhode College campus.  The gallery is open from 11 a.m. until 5 p.m. Tuesdays through Saturdays.  The gallery is closed on Sundays and Mondays.  Admission to the gallery is always free.  
 
If you should have any questions please don't hesitate to contact Gallery Director Hamlett Dobbins at Clough-Hanson Gallery (901) 843-3442, via email at dobbinsh@rhodes.edu.