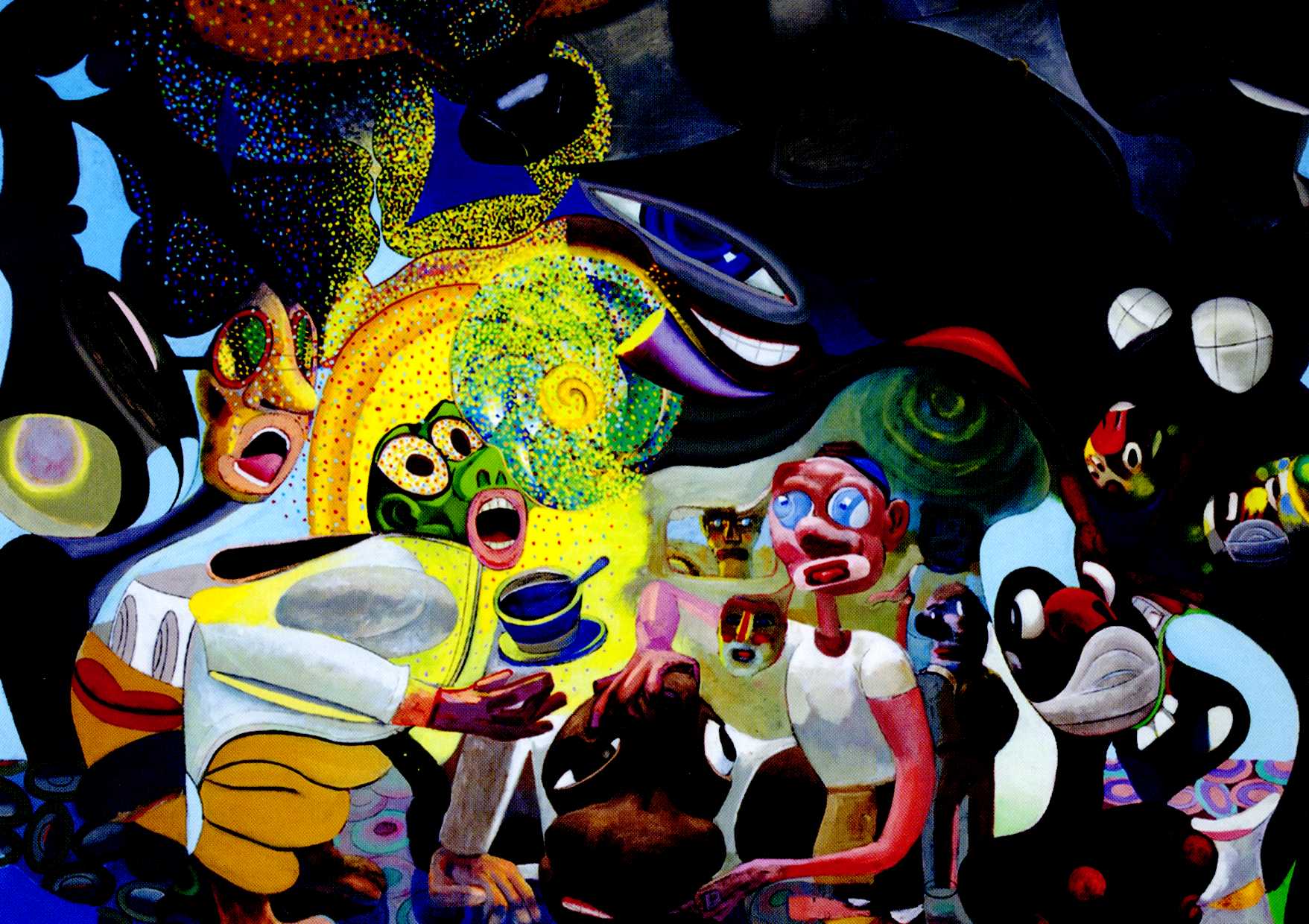 Peter Williams: Recent Works will run from February 26 through March 24. (Please note: the gallery will be closed from March 13 through 22 for spring break.)
 
Peter Williams will give a free lecture on his work on Thursday, March 25th at 7 pm in Room 051 of the Barrett Library on the Rhodes College campus.
  
The CLOSING reception for the exhibition will be held on Friday, March 26th from 6-8 pm.  
Peter Williams' is a painter's painter.  His lush paintings draw from a mix of influences that include but are certainly not limited to: art history, current world history, and the artist's personal iconography.  These paintings are a way for the artist, who identifies himself as a storyteller, to address autobiographic issues particular to his position in the world as, in his words, "a large, black man who is handicapped."  Through painting he is able to build upon rich traditions that are rooted in portraiture, narrative, and allegory.  During his nearly twenty years living in Detroit he made work that dealt directly with what the artist saw as a kind of institutional racism that was built into the structure of the post-industrial city.  In 2004 he left his position at Wayne State University to teach at the University of Delaware in Newark.  His work since then has dealt with the complex issues of being a person who feels like a Detroitian and is not yet a Delawarean.  The artist's work shows him dealing with the feelings and emotions of growing older in the post 9/11 America. 
Peter Williams did his undergraduate studies at the Minneapolis College of Art and Design and received his MFA from the Maryland Institute College of Art in Baltimore.  Mr. Williams has won a number of awards including fellowships from the Joan Mitchell Foundation, the Ford Foundation as swell as the McKnight Foundation.  His work is in the collection of the Whitney Museum of American Art in New York, The Detroit Institute of the Arts in Detroit as well as the Walker Art Center in Minneapolis.  In 2002 he was included in the prestigious Whitney Museum of American Art's Biennial exhibition.  His work has been shown at the Yerba Buena Art Center, Detroit's Museum of Contemporary Art, the Cranbrook Art Museum, and the Center for Contemporary Art in New Orleans.  His work has also been in New Art Examiner and Art in America.  
 
Clough-Hanson Gallery is located inside Clough Hall on the Rhode College campus.  The gallery is open from 11 a.m. until 5 p.m. Tuesdays through Saturdays.  The gallery is closed on Sundays and Mondays.  Please note: the gallery will be closed from March 13 through 22 for spring break.  Admission to the gallery is always free.  
  
If you should have any questions please don't hesitate to contact Gallery Director Hamlett Dobbins at Clough-Hanson Gallery (901) 843-3442, via email at dobbinsh@rhodes.edu.