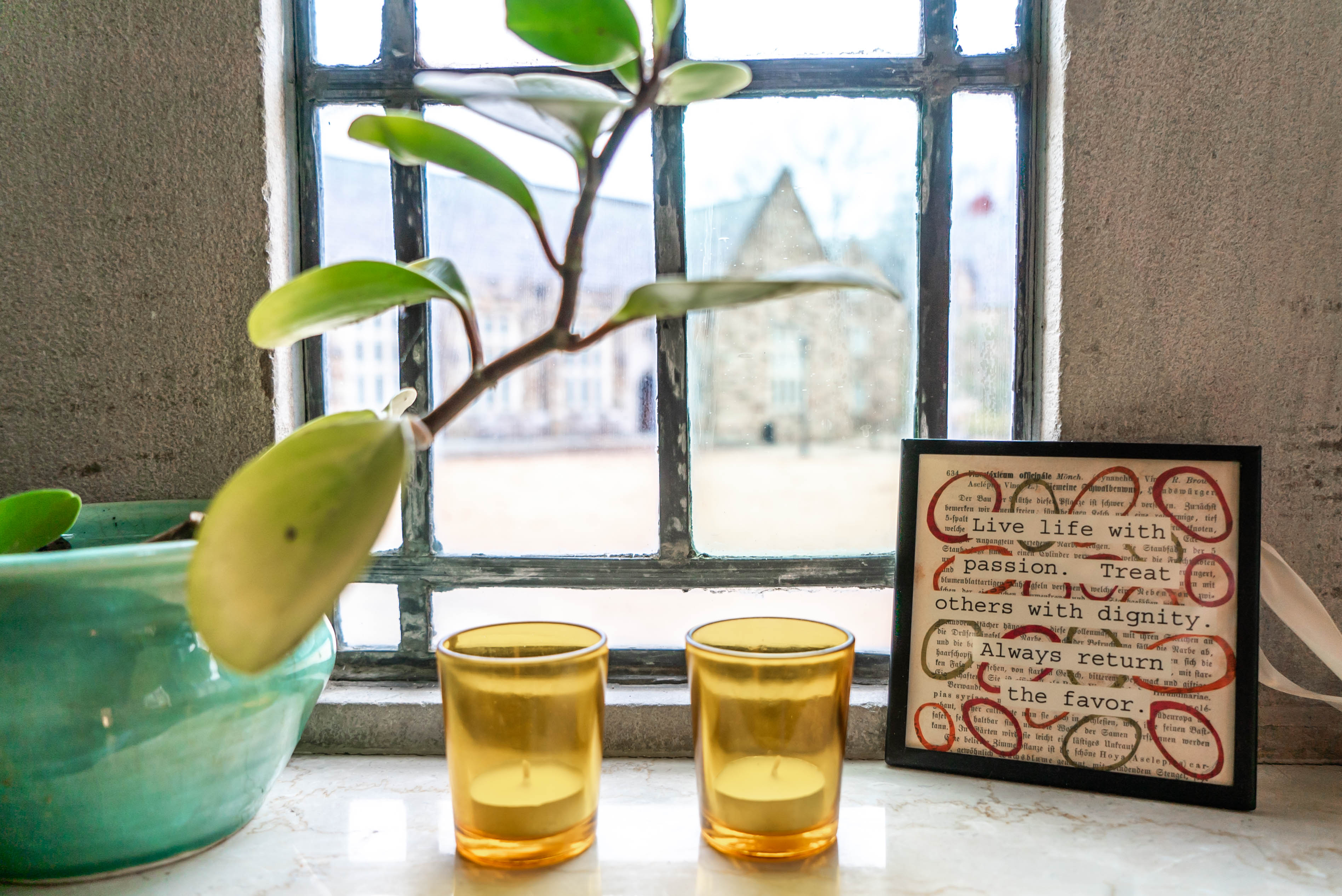 A Message from the Counseling Center in Response to Recent Events:
We stand in solidarity with Asian, Asian American, and Pacific Islander communities in the face of the most recent attacks and expressions of anti-Asian bias and hate. These acts, in the context of the global pandemic, the insurrection on the U.S. Capital, and acts of racial violence against African Americans, are undoubtedly impacting the mental health and well-being of our Rhodes community. Direct and indirect exposure to such events can be troubling, concerning, and traumatizing and result in many emotional reactions. As always, if you are in distress, please know we are here to help. Students may contact the Student Counseling Center at any time by calling 901-843-3128.
Even months after the tragedy of George Floyd's death, there continue to be regular examples of the systemic racism that is deeply rooted in many aspects of our society. Events such as the Atlanta shootings; Breonna Taylor, Jacob Blake, and Tamir Rice rulings; the overrepresentation of people of color in COVID-19 hospitalizations; and Amy Cooper, the White woman who called the police on a Black birdwatcher, Christian Cooper, alleging she was being threatened all represent the reality of racism that is embedded in our society. In addition to this, the show of white supremacy that was demonstrated at the U.S. Capitol has led to a rising awareness of the life and death implications of this dangerous ideology that is, unfortunately, intricately woven in the fabric of our nation's historical beginnings and this current time. 
With this awareness, the Rhodes Student Counseling Center continues to pledge to be an active campus presence working alongside others in an ongoing effort in our community to dismantle the systemic racism and injustice that persists in our nation. We also commit to doing our own work to dismantle the white supremacy that we have learned and to, out of our own processes around this, be able to engage our clients in this work as needed and appropriate. 
We recognize that members of our community, students of color, and in particular Black and African American community members, may continue to actively experience responses to these ongoing acts of racism and domestic terrorism as they occur and for any length of time after. It is normal to experience a wide range of emotions following experiences of witnessing or experiencing trauma or traumatic events. Some of these emotions can include disbelief, sadness, anxiety, anger, hopelessness, and guilt. Our actions and behaviors can subsequently be impacted by these emotional responses as well.  We can experience a lack of motivation, fatigue that is not helped by sleeping, a lack of interest in activities or connections with others that we once enjoyed, or increased use of substances (e.g., food, alcohol, caffeine, drugs) to soothe ourselves and our emotions. This is valid and normal as well.
We are committed to providing affirming and supportive care to all of our students who have been impacted by trauma and who may be experiencing understandable difficulty with managing it. We wish to be advocates in your healing journey. We will do this through the following opportunities during the semester: offering a racial trauma support group for any interested students that will be held each week via Zoom; offering individual counseling services; and offering consultation and outreach programming based on these issues.   
Please call (901-843-3128) or email (counseling@rhodes.edu) to set up a time to speak with one of our counseling center clinical staff for more information. 

Sincerely, 
The Rhodes Student Counseling Center Team 
In this video series, the Student Counseling Center staff offer ideas for coping with the impact of COVID-19 and for engaging in positive wellness practices and self-care during this time.   
Student Counseling Center:  COVID-19 Update
The Rhodes College Student Counseling Center recognizes that this is a time when members of our community may be experiencing a range of emotions in response to the impact of COVID-19 on our lives. There are many unknowns and a great deal of change. We wanted to make sure that you know that we are available for support of our students even if they are not currently on campus. 
Please call us at 901-843-3128 or email us at counseling@rhodes.edu, and we will connect you with a counselor who can talk with you about your needs and options for services and recommendations.
Due to licensing laws, Student Counseling Center staff are only permitted to provide counseling services to students who are in Tennessee.  Teletherapy sessions for in-state students will be offered through a secure online platform.
Students who are out-of-state who experience a need for mental health support are strongly encouraged to seek support in your local community.  Student Counseling Center staff are available to assist in the process of getting connected in the community, or you can check in with your nearest college or university counseling center to request a list of local providers. 
Given the stress that many of us may be experiencing at this time, we would like to offer the following information about coping and some resources that could help.
The Great Unknown: 10 Tips for Dealing with Uncertainty
Most people are creatures of habit. When things go as planned, we feel in control. But when life throws a curveball, it can leave us feeling anxious and stressed. For many Americans life feels particularly uncertain lately, with an unconventional presidential administration, social protests in the news and uncertainty in the aftermath of natural disasters such as hurricanes and wildfires.
Findings from the most recent American Psychological Association Stress in America Survey highlight other common ways that uncertainty stresses us out.  No one can avoid the unexpected. But these simple steps can help you better face life's uncertainties.
Be kind to yourself. Some people are better at dealing with uncertainties than others, so don't beat yourself up if your tolerance for unpredictability is lower than a friend's. Remind yourself that it might take time for the stressful situation to resolve, and be patient with yourself in the meantime.
Reflect on past successes. Chances are you've overcome stressful events in the past – and you survived! Give yourself credit. Reflect on what you did during that event that was helpful, and what you might like to do differently this time.
Develop new skills. When life is relatively calm, make a point to try things outside your comfort zone. From standing up to a difficult boss to trying a new sport, taking risks helps you develop confidence and skills that come in handy when life veers off course.
Limit exposure to news. When we're stressed about something, it can be hard to look away. But compulsively checking the news only keeps you wound up. Try to limit your check-ins and avoid the news during vulnerable times of day, such as right before bedtime.
Avoid dwelling on things you can't control. When uncertainty strikes, many people immediately imagine worst-case scenarios. Get out of the habit of ruminating on negative events.
Take your own advice. Ask yourself: If a friend came to me with this worry, what would I tell her? Imagining your situation from the outside can often provide perspective and fresh ideas.
Engage in self-care. Don't let stress derail your healthy routines. Make efforts to eat well, exercise and get enough sleep. Many people find stress release in practices such as yoga and meditation.
Seek support from those you trust. Many people isolate themselves when they're stressed or worried. But social support is important, so reach out to family and friends.
Control what you can. Focus on the things that are within your control, even if it's as simple as weekly meal planning or laying out your clothes the night before a stressful day. Establish routines to give your days and weeks some comforting structure.
Ask for help. If you're having trouble managing stress and coping with uncertainty on your own, ask for help. Psychologists are experts in helping people develop healthy ways to cope with stress. Find a psychologist in your area by using APA's Psychologist Locator Service.
                                                                      — Updated October 2017; reviewed October 2019.
                                                                           Source: American Psychological Association at
                                                                           https://www.apa.org/helpcenter/stress-uncertainty
Active Minds
Recognizing the challenges faced by students everywhere during these unique circumstances, Active Minds has created a special online hub for students to support their mental health during COVID-19.