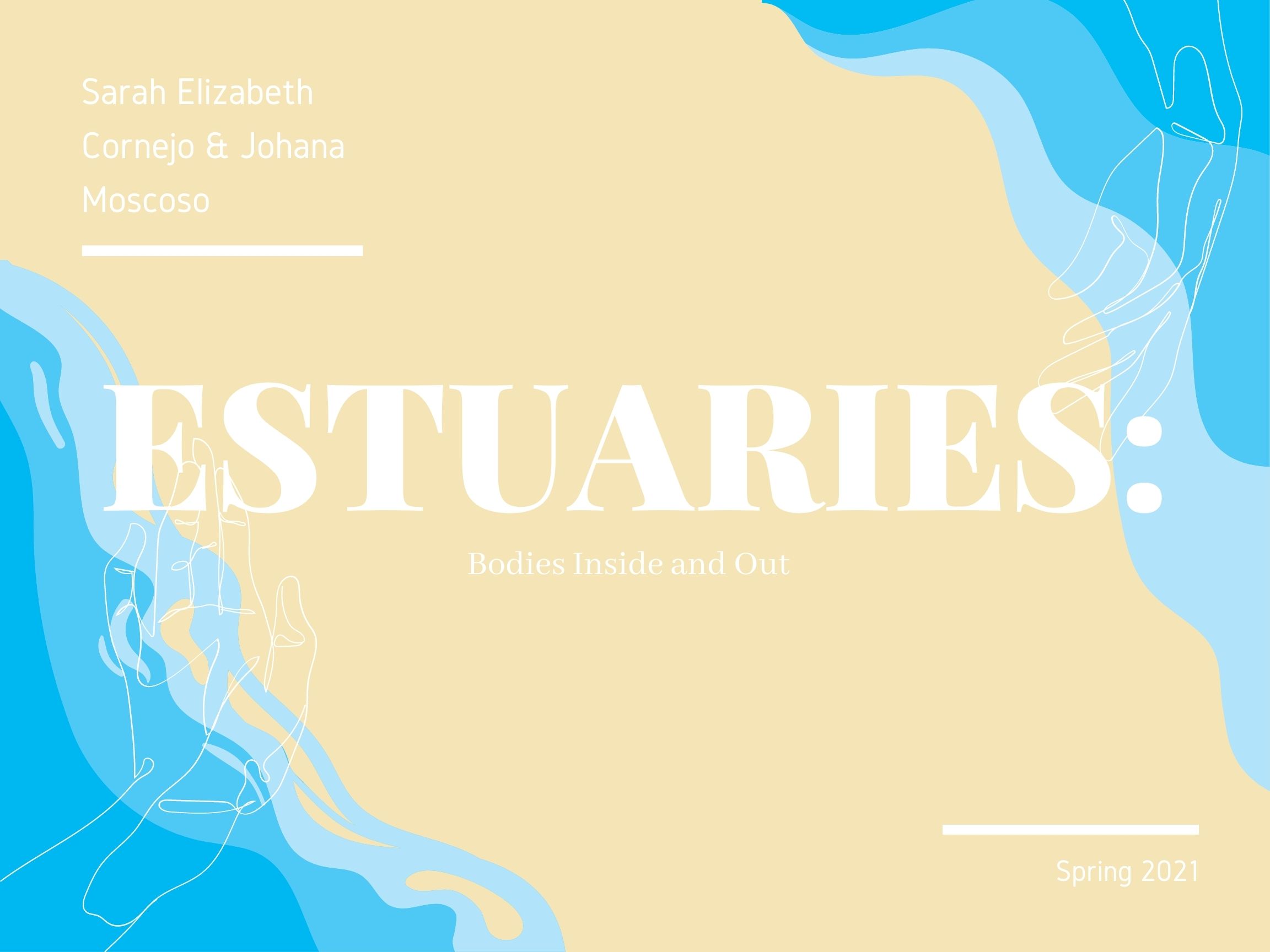 Artists: Sarah Elizabeth Cornejo and Johana Moscoso
Curated by Fatima Leal
Water estuaries are geographical meeting points where rivers travel to meet the ocean. The idea of an estuary as a converging location serves for the visualization of humans' physical uniting points. Following estuaries' converging quality, their image serves to merge our physical realities. Throughout life, our bodies serve as a home, diary, or mannequin, and much like geographical estuaries, they continue to constantly change. From our bones, and extremities, to what we wear on top of our skin, it all takes part in our physical reinventions. This exhibit is an exploration of our internal and external changes. Specifically, Estuaries explores the human body inside and out, its attires, dimensions, and appearances in past and future scopes.
Estuaries follows the work of Sarah Elizabeth Cornejo and Johana Moscoso in a corporeal reimagination. Both Sarah Elizabeth Cornejo, and Johana Moscoso, are Latinx artists whose works explore transformations of physical existences into new realities. Sarah Elizabeth Cornejo works with organic and discarded materials to explore bodies that refuse easy categorization. Much like geographical estuaries, her works displays a physical convergence between the human and natural worlds. Her organic compositions keep their natural aspects, while retaining an essential humanity. It is through her work's exploration that bodies are reimagined in futuristic existences. Her new corporeal representations converge with the earth proposing a future where human's bodies gain an organic projection.
Johana Moscoso embroiders colorful stories in a variety of mediums including fabric. Her transformed pieces of clothes do not only carry stories of previous owners, but also of herself. This way, her cotton embroideries transform clothes into historical logs of autobiographical nature. Her works in this exhibit are reminiscent of the journey made by estuary rivers to meet the ocean. With the clothing she embroiders she sows migratory maps, the journey taken by Ingrid, the late protagonist of her new series of work, records of her physical changes.
At the end of this exhibit, the viewer is invited to evoke the image of a geographical estuary and apply its converging principle to its works. The consideration of discarded organic materials, and the transformation of garments merge the materials' past existences and their reimagined futures. Sarah Elizabeth Cornejo's works present a future which converges human bodies and the natural world, while Johana Moscoso's pieces ruminate on a past which merges clothing with memories and geographical records. Both meeting points reached exploring the physical aspects of human bodies ranging from permanent, like bodies, to ephemeral, such as clothes.
Artist Bios
Sarah Elizabeth Cornejo is an interdisciplinary artist based in Memphis, TN. Her work proposes a futuristic mythology for humanity where humans have evolved into hybrid beings with animals and insects, challenging notions of human exceptionalism by disrupting the binaries between humanity, mammality, technology, and animacy. She is currently a co-founder and co-curator of BASEMENT, a provisional artist-run space in Chapel Hill, NC. Her work has been shown throughout the eastern United States and internationally including the Mint Museum, Ackland Art Museum, and Duke University among others. She received her MFA in Interdisciplinary Studio from UNC-Chapel Hill, and her BA in Studio Art and English Literature from Davidson College. She is currently a ten-month resident at Crosstown Arts and 2021 New Public Sculpture Fellow with the Urban Arts Commission in Memphis.
Johana Moscoso is a Colombian American multi-media artist based in Memphis, TN. Her work explores co-narratives of South and North American cultures from a subjective point of view. Her stitching and embroidering create abstract maps that trace the time, labor and nostalgia of the artist and her family's migratory journeys. She has shown internationally and participated in various residencies, her most recent body of work is called The Ingrid Lopez Project and was made possible through The Puffin Foundation LTD that she received in 2019. Other of her awards include the Individual Artist Program Grant, from the City of Chicago Department of Cultural Affairs & Special Events in 2016, the Arts/Industry Artist in Residency at Kohler in 2017, and the Foundation for Contemporary Arts Emergency Grant from New York, NY, in 2019. She received her MFA from Savannah College of Art and Design and her BFA from Pontifica Universidad Joveriana in Bogota Colombia.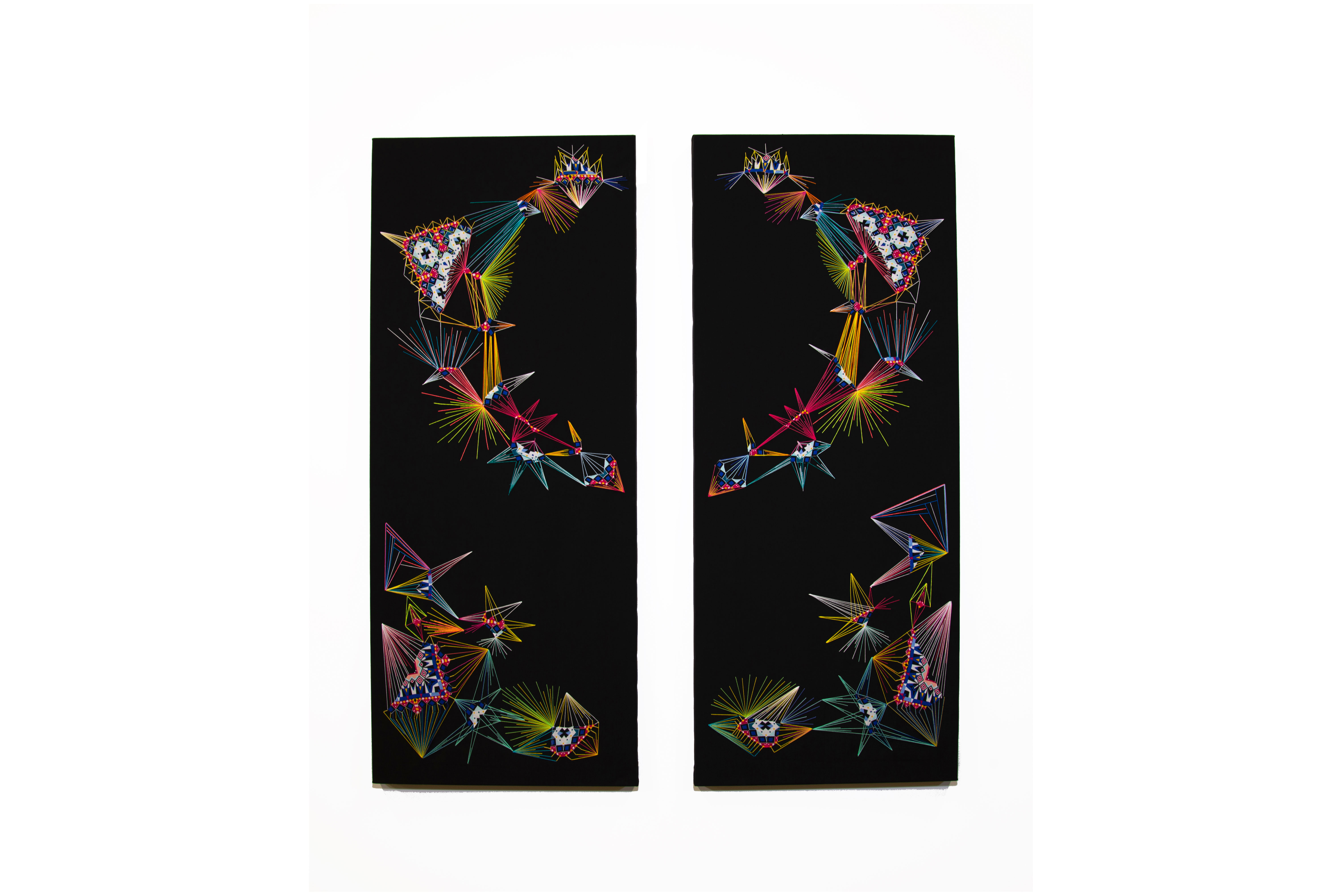 Dos vestidos de Ingrid/ Two Ingrid's Dresses
The dynamic created by the two pieces of garment present a dual existence. Here, Johana acknowledges the duality of the body, its conscious and physical sides that compose humanity. The mirror dynamic plays with the idea of human sides and the many layers that make us up.
La dinámica creada por estas dos predas presenta una dualidad de existencia. Aquí, Johana reconoce la dualidad corpórea, sus lados consciente y físico que componen a la humanidad. La dinámica de espejo juega con la idea de los lados humanos y las muchas capas que nos construyen.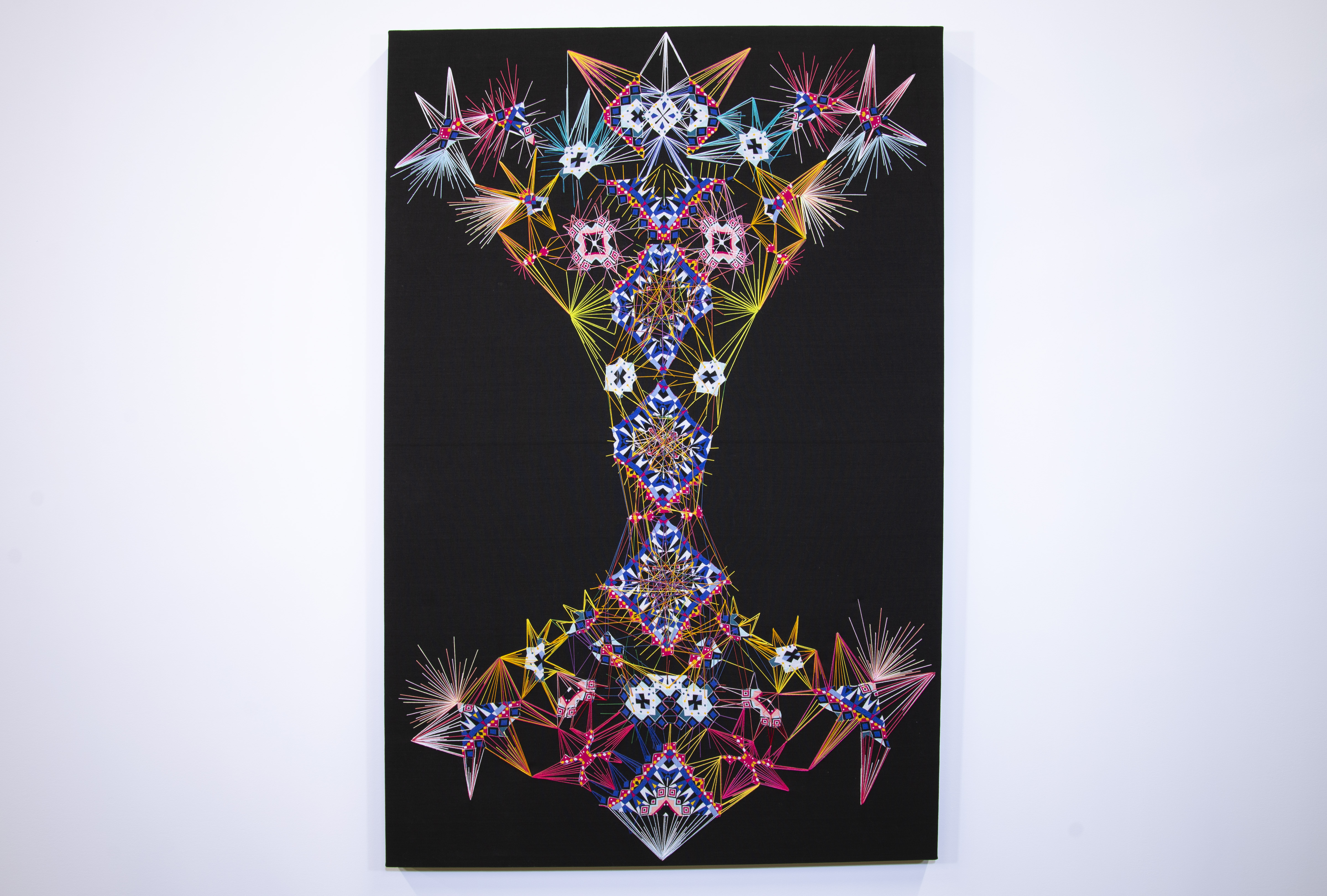 El vestido de Ingrid 2/ Ingrid's Dress 2
Reminiscing of the human body, Johana embroiders shapes that reimagine the human torso. From top to bottom, it includes shoulders, a narrow waist, and ends with the hips for a contemplation of our physical reality. This piece also evokes the downstream flow of an estuary river on its vertical composition.
Recordando el cuerpo humano, Johana borda figuras que reimaginan el torso humano. De arriba abajo, incluye hombros, una cintura estrecha y termina con las caderas en una contemplación de nuestra realidad física. Esta pieza también hace alusión a la corriente viajante de un rio de estuario por su composición vertical.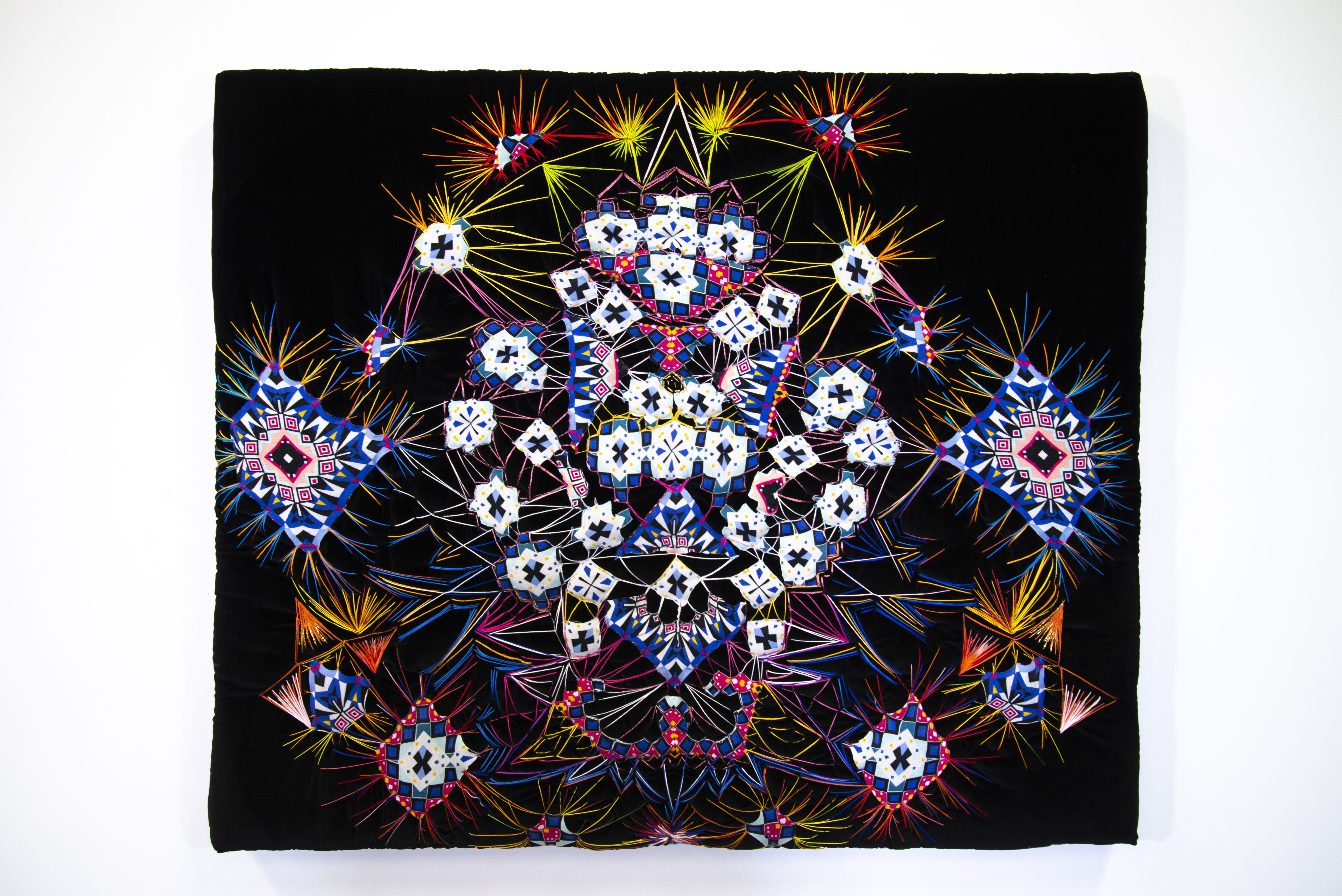 El vestido de Ingrid 1/Ingrid Dress 1
The extended flatness and horizontality of this piece does not only continue to distribute pieces of Ingrid's memory, in that it has pieces of her dress, but also explore images of geographical maps. Mirroring maps on their horizontality, the piece begins to record Ingrid's migration. This piece could also be interpreted as a mental map in the connected explosions of color that are memories, the inside composition of the body.
El plano extendido y la horizontalidad de esta pieza no solo continúa distribuyendo pedazos de la memoria de Ingrid, pero también explora imágenes de mapas geográficos. Haciendo eco a mapas geográficos en su horizontalidad la pieza empieza a registrar la migración de Ingrid. A su vez, esta pieza puede ser interpretada como un mapa mental con sus explosiones coloridas siendo recuerdos, invocando la composición interna del cuerpo.
La blusa de Ingrid 1/ Ingrid's Blouse 1
As a contrast to previous pieces, the white backdrop to this piece makes it stand out from the rest. The opposite and complementary quality of white makes the blouse not only stand for physical differences that make the image of us, but also give a close look to our inside private side not often shared.
Como contraste de piezas previas, el fondo blanco de esta hace que resalte de entre las demás. La cualidad opuesta y complementaria del blanco hace que la blusa no solo resalte como las diferencias físicas que hacen la imagen de nosotros, pero también nos da una vista a nuestros lados íntimos que no compartimos frecuentemente.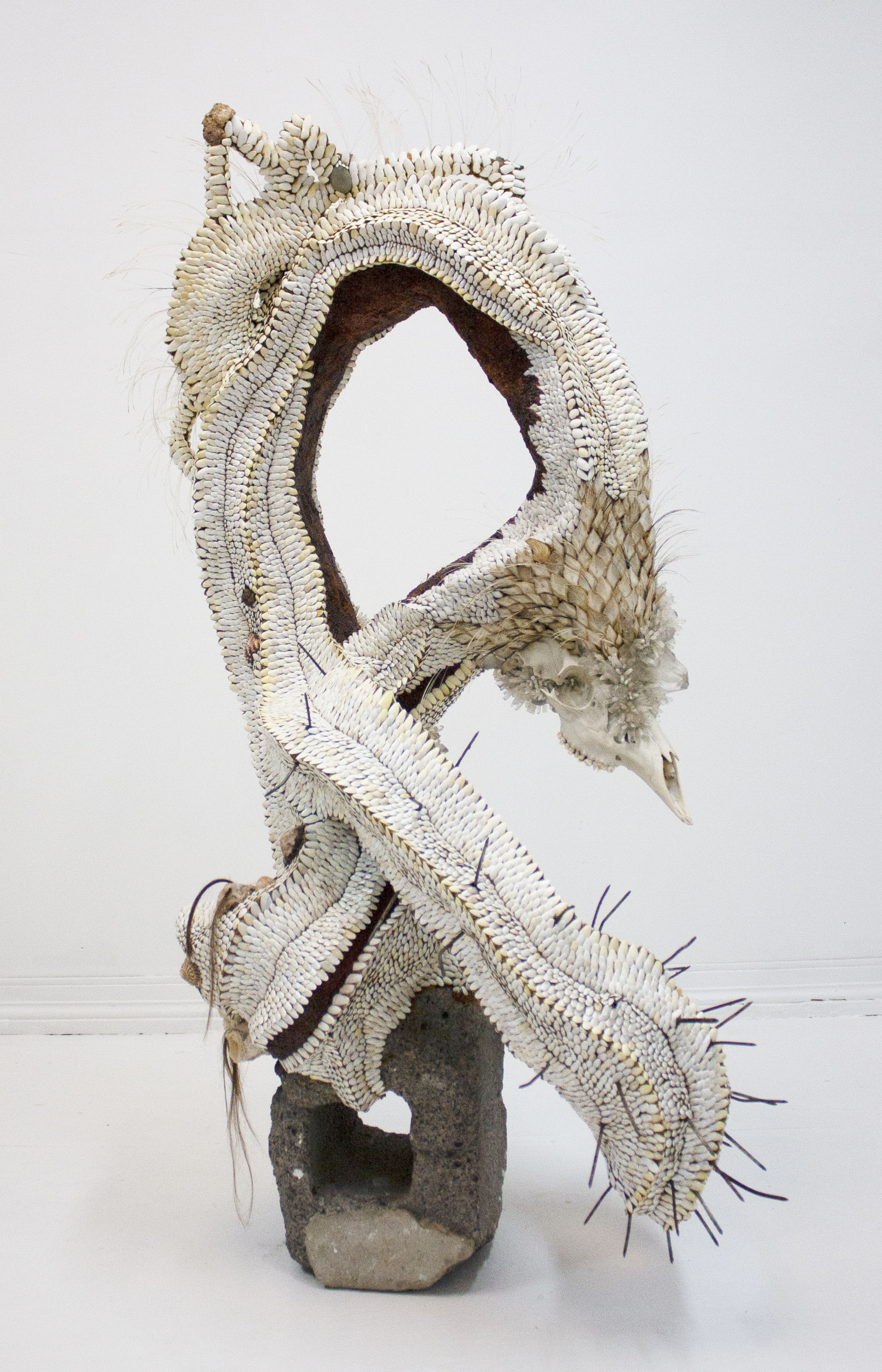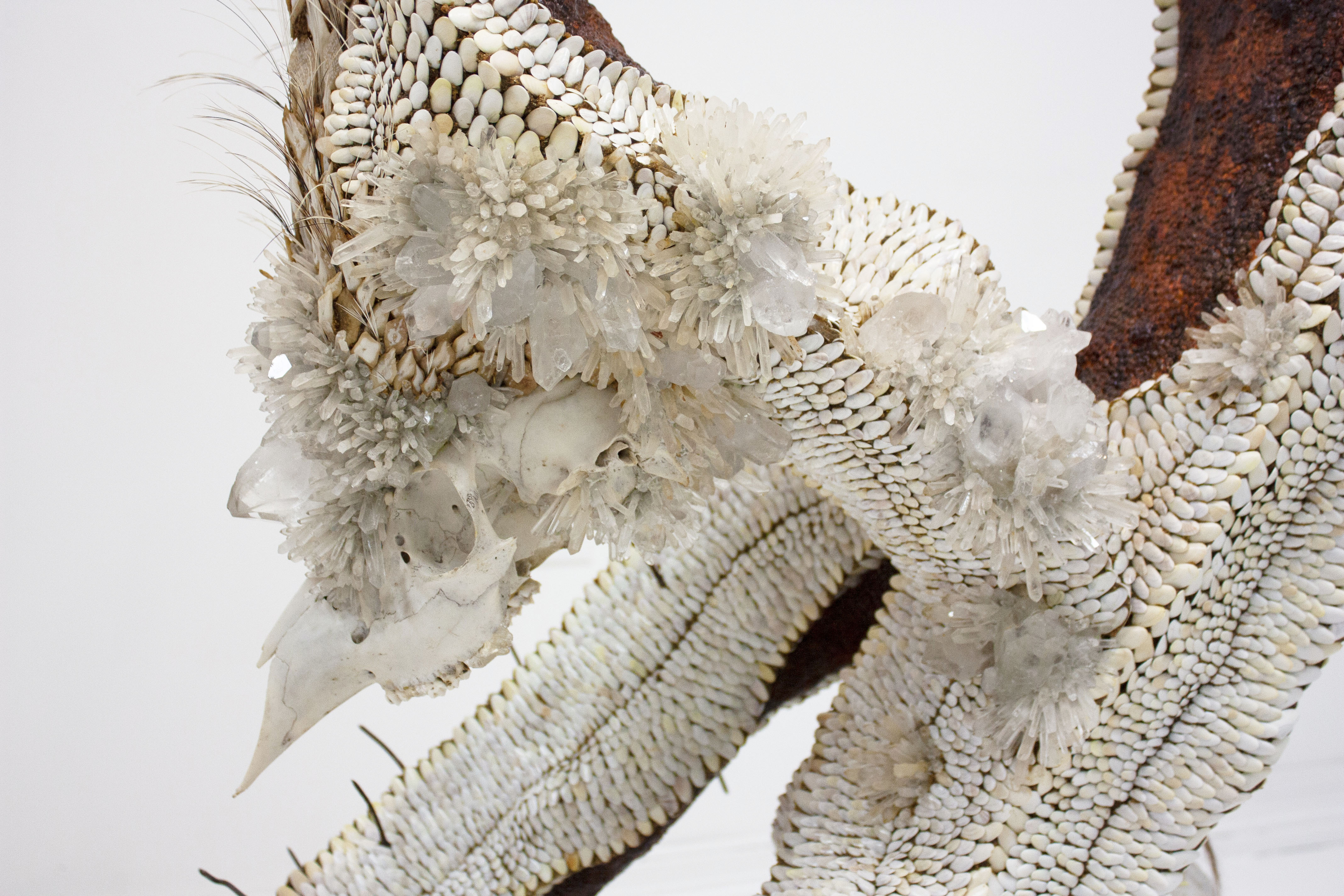 Kin/Kindred
Sarah Elizabeth Cornejo had this first piece as a part of her series "She Who Rattle Like Serpents." Here she introduces the idea of creation. The serpent like structure evokes the biblical origin story which explores the creation of the first human bodies. Its sand floor connects back to oceans, to the biological idea that all life evolved from them.
Sarah Elizabeth Cornejo primero tuvo esta pieza como parte de su serie de trabajos "She Who Rattle Like Serpents". Aquí introduce la idea de creación. La estructura parecida a una serpiente evoca la historia de creación bíblica que explora la creación de los primeros cuerpos humanos. Su piso de arena conecta con los océanos, a la idea biológica de que toda la vida provino de ellos.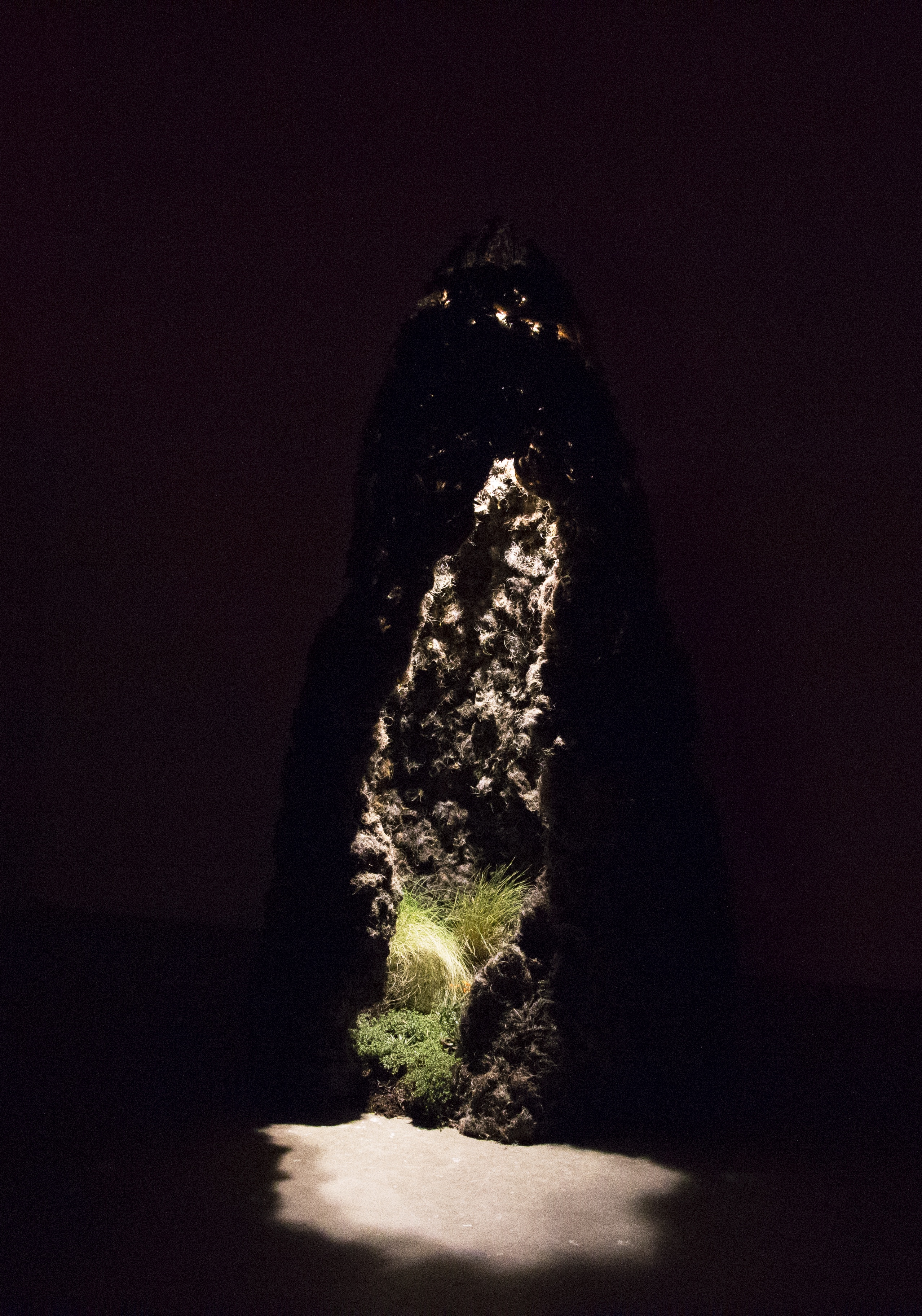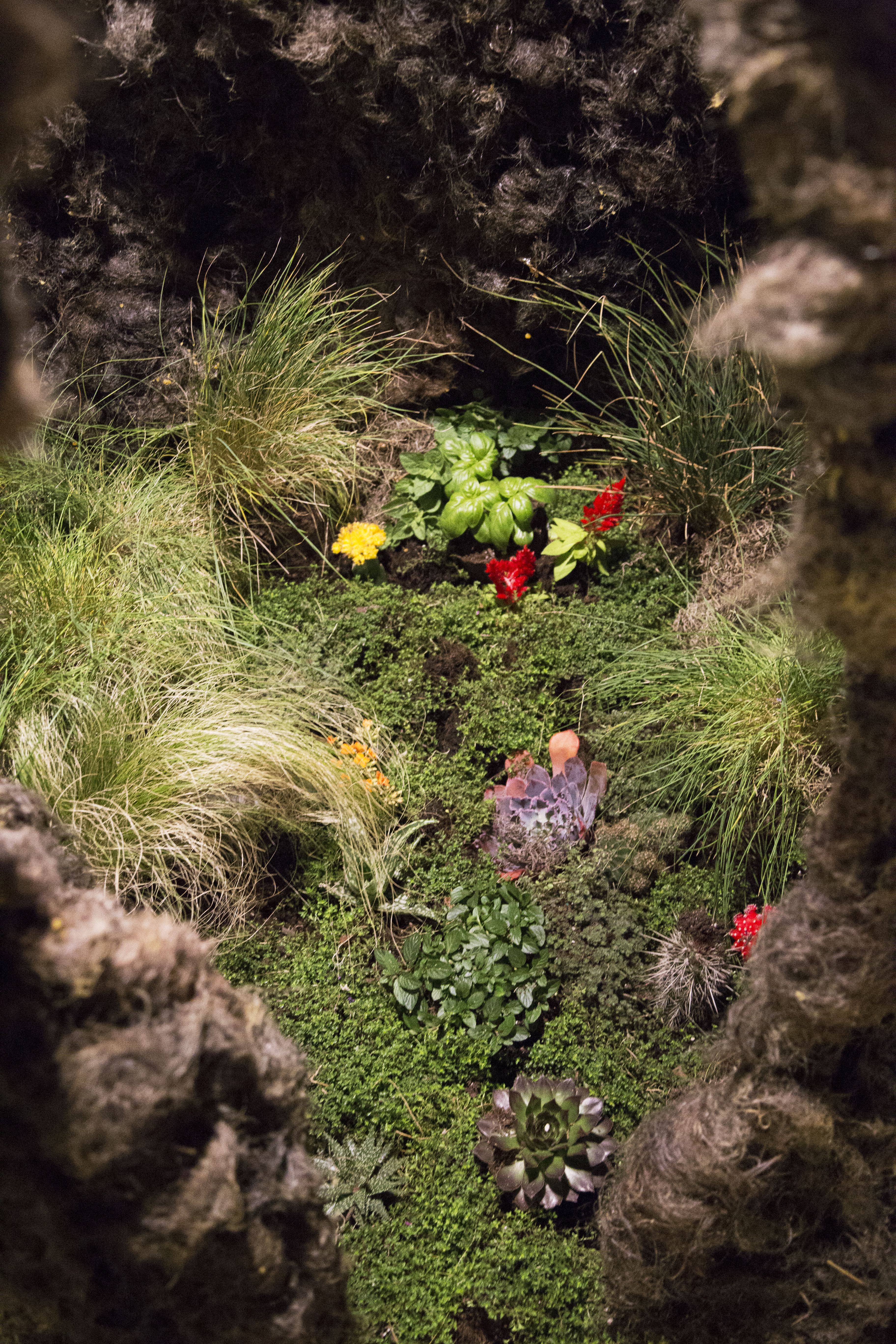 The Room of My Own
Driven by her frustration of the traditional depiction of pink vulvas, Sarah Elizabeth reimagined a more authentic anatomical part. In this piece, the artist invites viewers to contemplate, but not step in. With a live garden inside, she keeps the body's vital quality and echoes care practices in its required watering, trimming, and attention needed after every exhibit presentation.
Impulsada por su frustración ante la representación tradicional de vulvas rosas, Sarah Elizabeth diseño una pieza anatómica mas autentica. En esta pieza, la artista invita al espectador a contemplar, pero no entrar. Con un jardín vivo por dentro, la pieza conserva la cualidad vital del cuerpo y hace eco de las practicas de cuidado personal por la necesidad de regar, cortar, y atención requerida después de cada exhibición.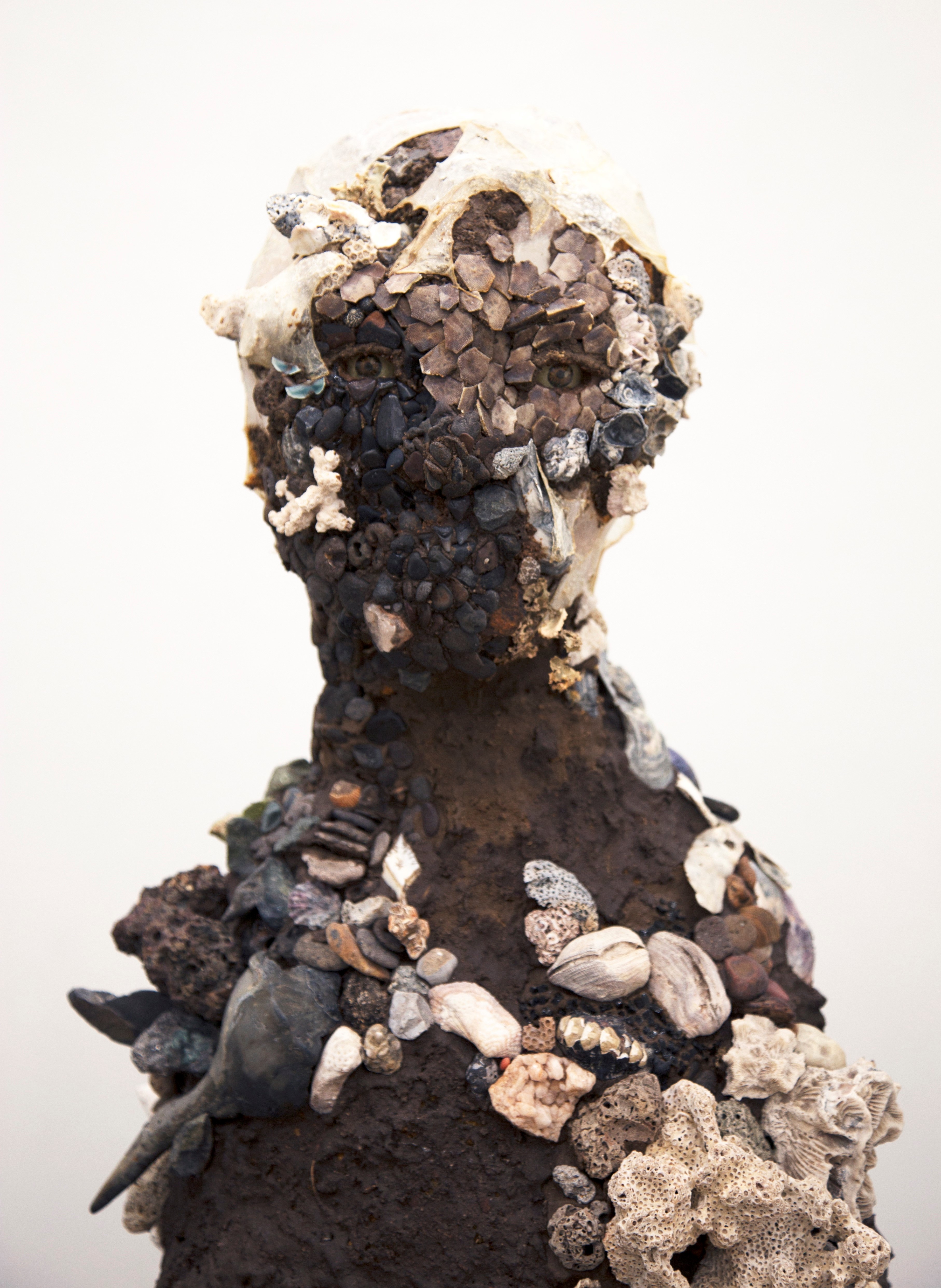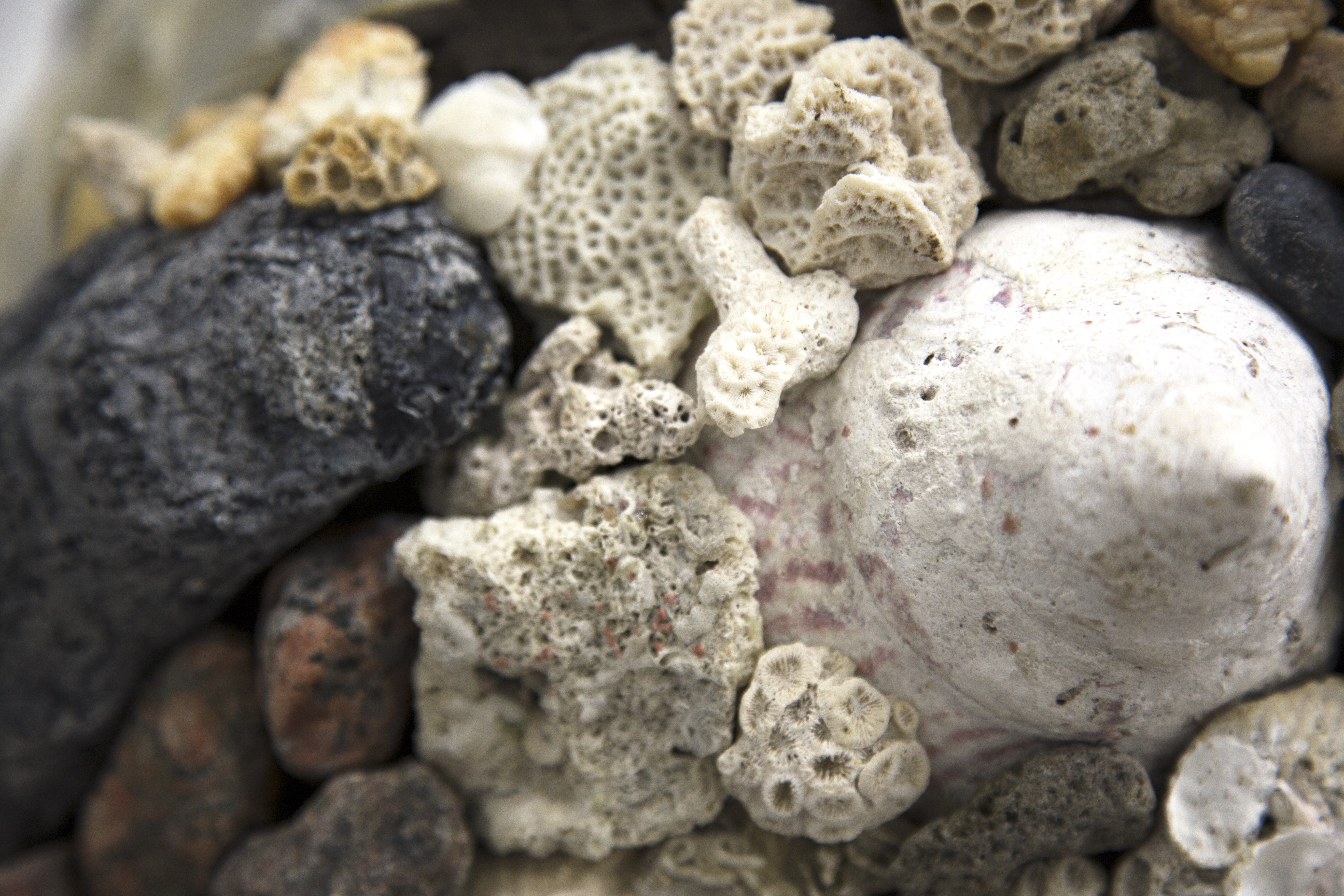 Úrsula
Úrsula was Cornejo's first reimagined body. Its shell, coral, and barnacle incrustations return to the idea of physical origins in ocean waters. This sculpture shares her name with one of the characters of Gabriel Garcia Marquez novel, 100 Years of Solitude. The character becomes an omniscient figure, rightful predictor of human change.
Úrsula fue el primer cuerpo reinventado de Cornejo. Sus caparazones, corales y moluscos incrustados regresan a la idea de orígenes físicos en el océano. Esta escultura comparte su nombre con uno de los personajes de la novela de Gabriel García Márquez, 100 Años de Soledad. El personaje se convierte en una figura omnisciente, predictora del cambio humano.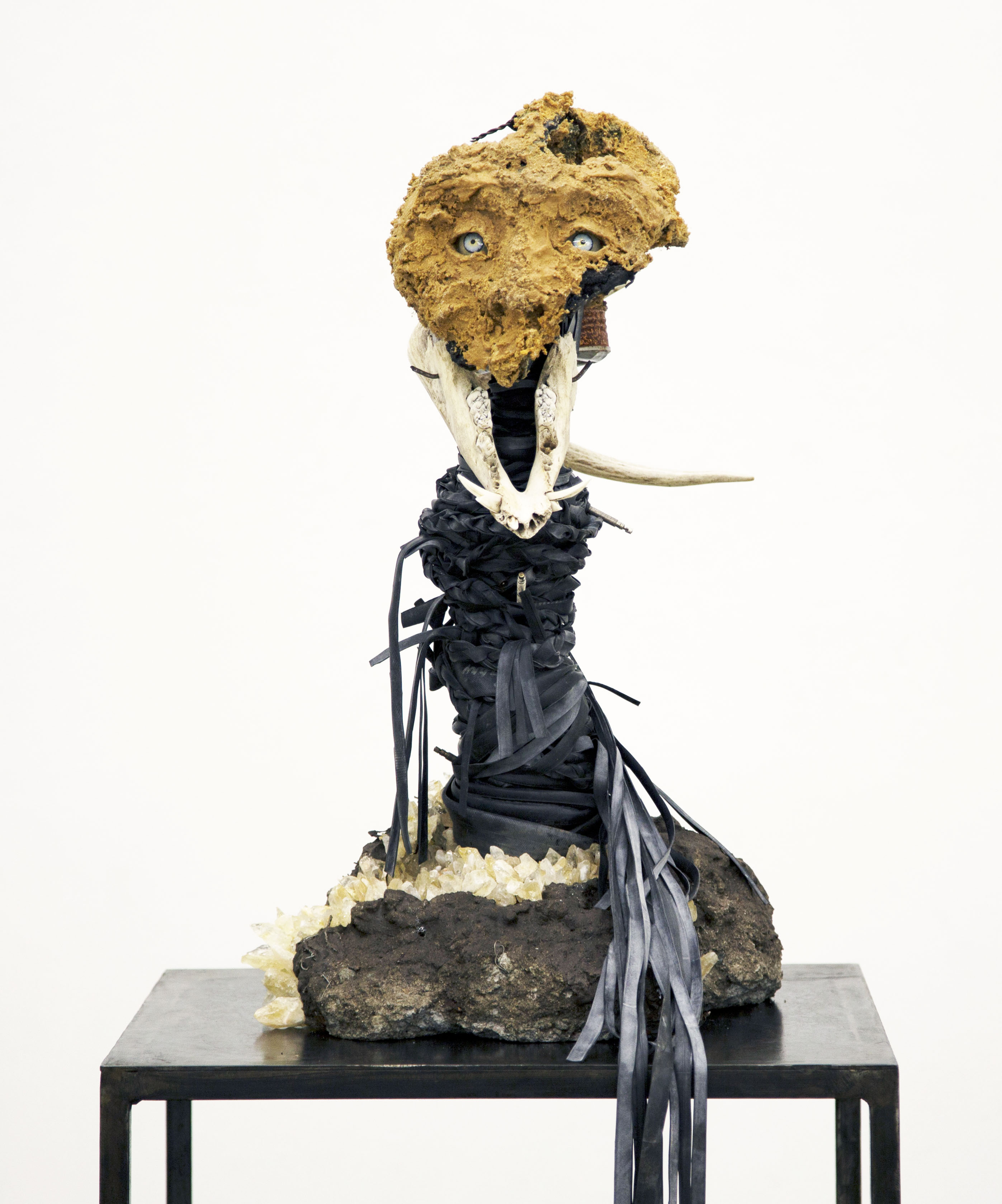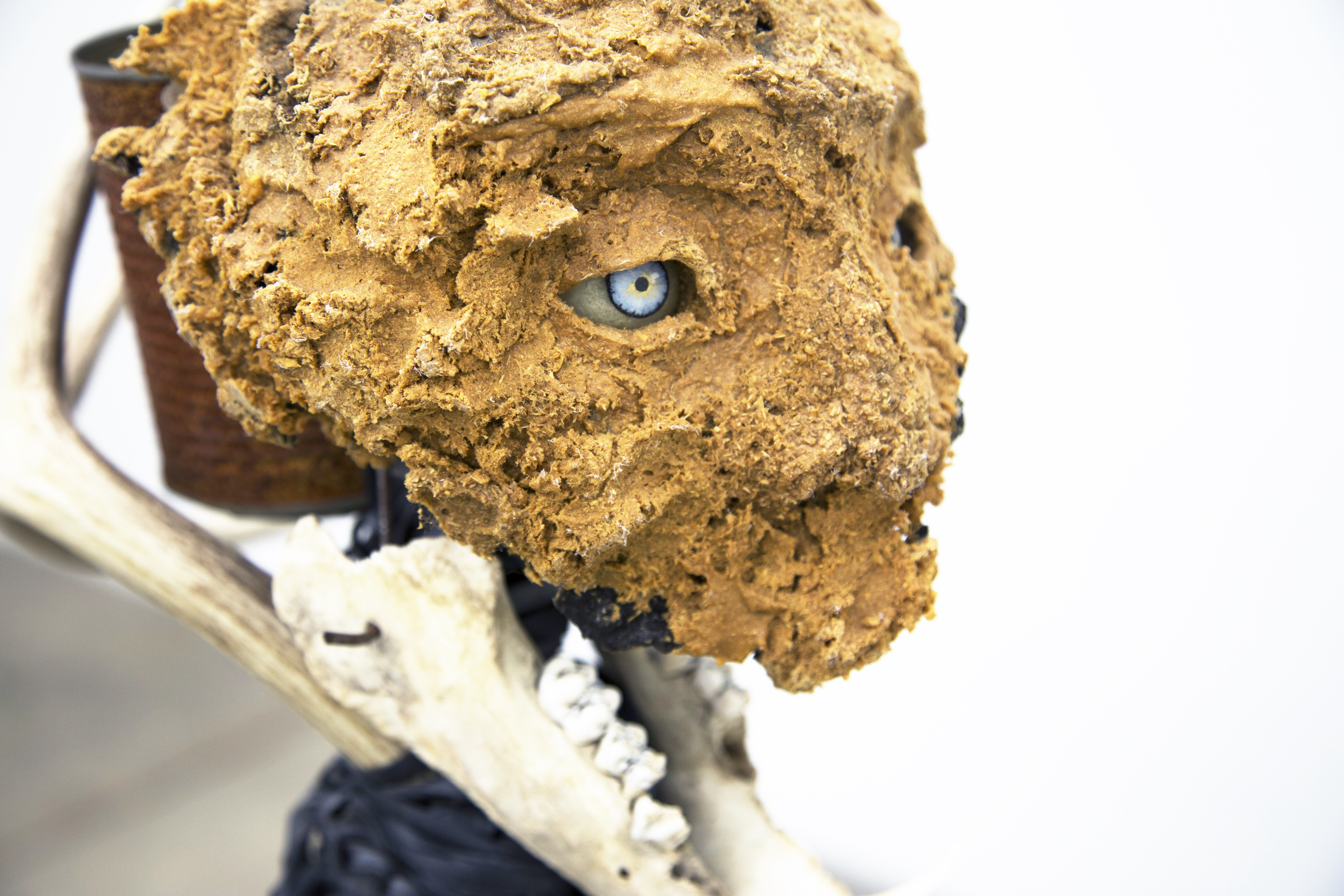 Lucille
Lucille's physical structure, while reminiscent of the human body, cannot be categorized as one. The exposed bone reminds us of our composition while allowing us to contemplate a converging future of organic structures in a different human projection.
La estructura física de Lucille, mientras que alude al cuerpo humano, no puede ser categorizado como uno. El hueso expuesto nos recuerda de nuestra composición interna mientras que nos deja contemplar un futuro convergente de estructuras orgánicas en una proyección humana diferente.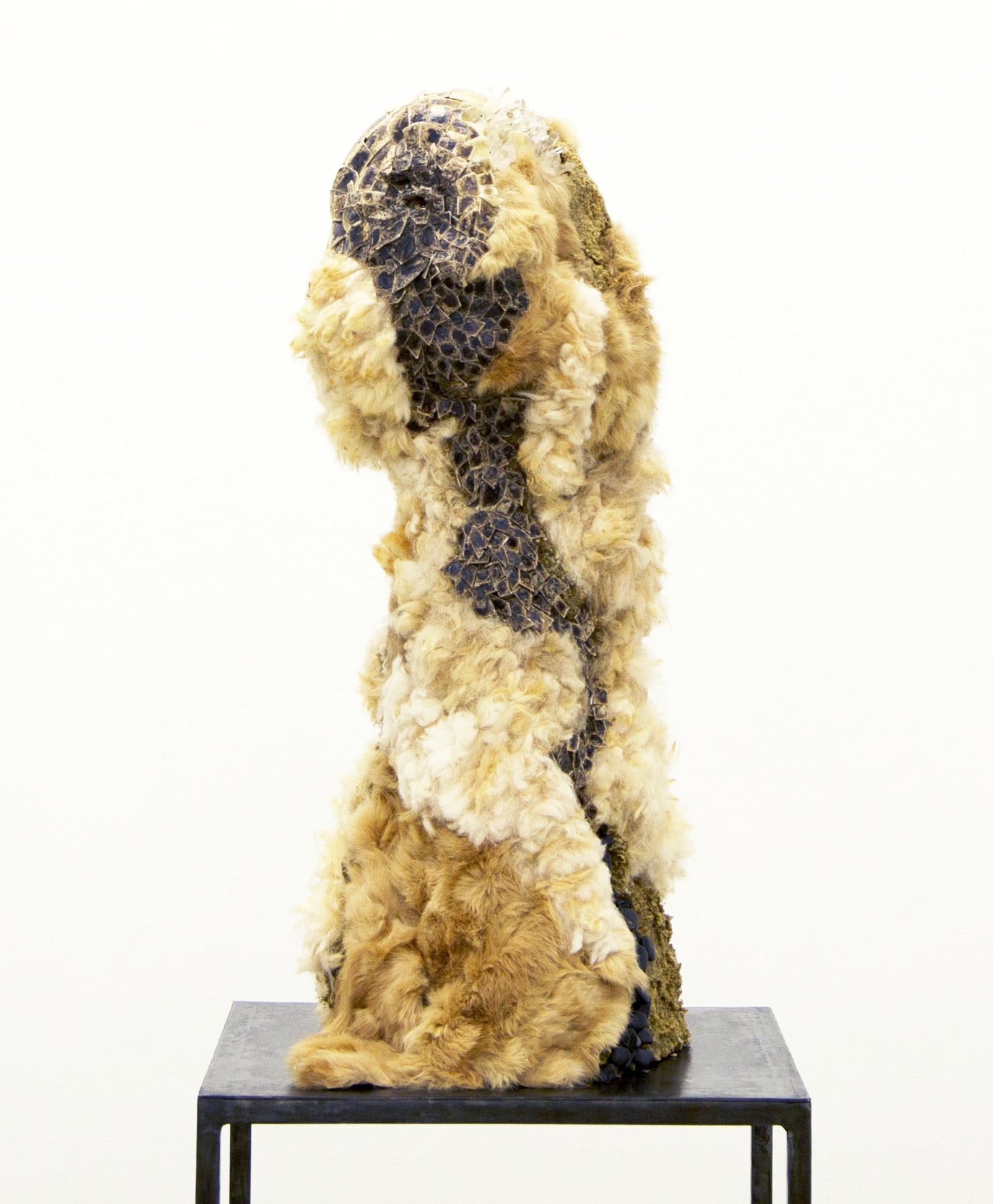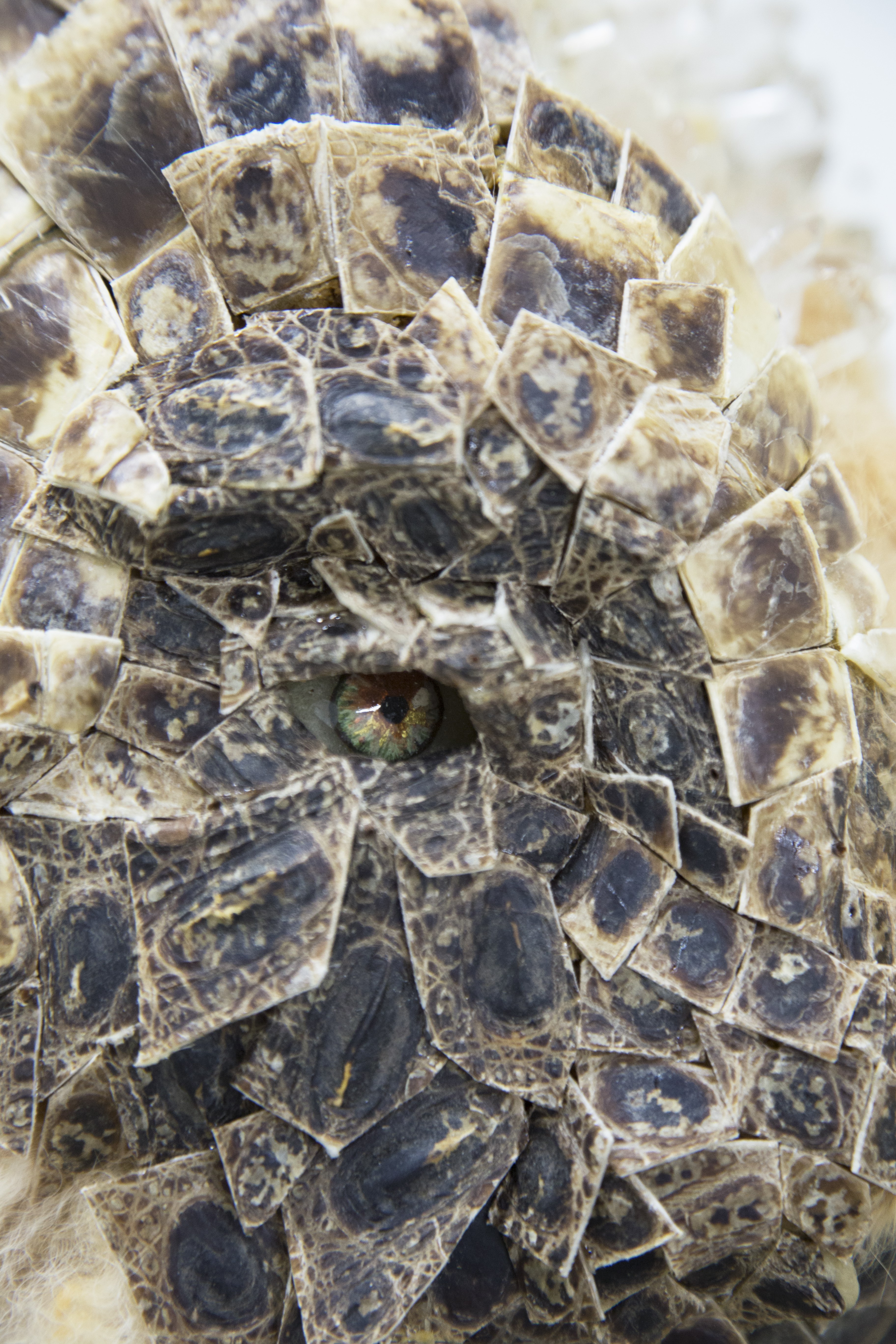 Malady
Why is eye contact such an intimate human experience? Holding eye contact fosters empathy. As Sarah Elizabeth wanted, all her sculptures have realistic epoxy eyes to draw viewers into a resounding experience and be deeply implicated in new bodies.  
Malady is the first sculpture to lose an eye furthering the body's converging with the natural world and away from the human.  
¿Por qué es el contacto visual una experiencia íntimamente humana? Sostener contacto visual crea empatía. Así como Sarah Elizabeth quería, todas sus esculturas tienen ojos realistas para acercar al espectador e implicarlo íntimamente en nuevos cuerpos. Malady es la primera escultura que pierde uno de sus ojos convergiendo el cuerpo con el mundo natural y alejándolo de lo humano.
Estuarios: Cuerpos por Dentro y por Fuera
Sarah Elizabeth Cornejo y Johana Moscoso
Los estuarios son puntos de unión geográfica, lugares donde ríos viajan y se reúnen con el océano. La sola idea de un estuario como un lugar convergente sirve para la visualización de puntos de unión humana. Siguiendo la cualidad convergente de los estuarios, la imagen sirve para conectar nuestras realidades físicas. A lo largo de nuestras vidas, nuestros cuerpos sirven de hogar, diario, o maniquí, y así como los estuarios geográficos, están en cambio constante. Desde nuestros huesos y extremidades, hasta lo que usamos por encima de la piel, todo forma parte de  nuestras reinvenciones físicas. Esta exhibición es una exploración de nuestros cambios internos y externos. En específico, Estuarios explora el cuerpo humano por dentro y por fuera, sus vestimentas, sus dimensiones, y sus apariencias en planos pasados y futuros.
Estuarios sigue el trabajo de Sarah Elizabeth Cornejo y Johana Moscoso en una reimaginación corpórea. Ambas, Sarah Elizabeth Cornejo y Johana Moscoso, son artistas Latinx cuyo trabajo explora transformaciones físicas a nuevas realidades. Sarah Elizabeth Cornejo trabaja con materiales orgánicos y descartados para construir cuerpos que resisten la fácil categorización. Muy como los estuarios geográficos, su trabajo demuestra la fusión física entre el mundo natural y el humano. Sus composiciones orgánicas mantienen un aspecto natural mientras que retienen su esencia humana. Es por medio de la exploración de sus trabajos que cuerpos humanos son reimaginados en existencias futurísticas. Sus nuevas representaciones corpóreas convergen con la tierra y proponen un futuro donde los cuerpos humanos adquieren una proyección orgánica.
Johana Moscoso borda historias coloridas en una variedad de medios incluyendo la tela. Sus piezas de ropa transformadas no solo guardan historias de sus dueños originales, pero también de ella misma. De esta manera, sus tejidos de algodón transforman ropa en registros históricos de naturaleza autobiográfica. Sus trabajos en esta exhibición evocan la travesía realizada por los ríos de estuarios para desembocar en el océano. Con las prendas que borda, Johana muestra mapas migratorios, el viaje realizado por Ingrid, la protagonista de su nueva serie de trabajos, registros de sus cambios físicos.
Al final de esta exhibición, el espectador está invitado a evocar la imagen de un estuario geográfico y aplicar su principio convergente a los trabajos mostrados. La consideración de materiales orgánicos, y la transformación de prendas fusionan la existencia pasada de los materiales y sus futuros reimaginados. Los trabajos de Sarah Elizabeth Cornejo presentan un futuro que converge los mundos humanos y naturales, mientras que las piezas de Johana Moscoso cavilan en un pasado que integra prendas con recuerdos y registros geográficos. Ambos puntos convergentes alcanzados mediante la exploración de aspectos humanos extendiéndose desde permanentes como los cuerpos mismos, hasta efímeros como las prendas de vestir.
Artist Bios
Sarah Elizabeth Cornejo es una artista interdisciplinaria que radica en Memphis, Tennessee. Su trabajo propone una mitología futurística para la humanidad donde los humanos han evolucionado a ser criaturas hibridas parecidos a animales e insectos, retando previas nociones del excepcionalísimo humano irrumpiendo los binarios entre el humanismo, lo mamífero, la tecnología y la animalidad. Actualmente, es cofundadora y cocuradora de BASEMENT, un espacio provisional manejado por artistas en Chapel Hill, Carolina del Norte. Su trabajo ha sido exhibido a lo largo del Este de Estados Unidos e internacionalmente incluyendo el Museo Mint, el Museo de Arte de Ackland, y la universidad de Duke entre otros. Recibió su Máster en Bellas Artes en Estudios Interdiciplinarios de UNC-Chapel Hill y su Licenciatura en las Artes en Artes Visuales y Literatura en Ingles de Davidson College. Hoy en día es una residente de diez meses en Crosstown Arts y 2021 Nuew Public Sculpture Fellow con la Comisión de Artes Urbanas en Memphis.
Johana Moscoso (nacida en Bogotá, 1981) es una artista colombo-estadounidense que actualmente vive y trabaja en Memphis, Tennessee. La obra de arte de Moscoso explora las co-narrativas de las culturas sudamericanas y norteamericanas desde un punto de vista subjetivo. Sue tejido y bordado crean mapas abstractos que trazan el tiempo, la labor, y la nostalgia del artista y los viajes migratorios de su familia. Ha exhibido internacionalmente y participado en varias residencias, su cuerpo de trabajo mas reciente es llamado el "Proyecto de Ingrid López" y fue hecho posible mediante la Puffin Foundation LTD que recibió en el 2019. Otros de sus premios incluyen la beca Individual Artist Program, del Departamento de Asuntos Culturales & Eventos Especiales de la ciudad de Chicago en el 2016, la residencia Arts/Industry en Kohler en el 2017, y la beca de emergencia de la Foundation for Contemporary Arts de Nueva York, NY, en 2019. Recibió su Master en Bellas Artes del Savannah College of Art and Design y su Licenciatura en las Artes de la Pontifica Universidad Joveriana en Bogotá, Colombia.