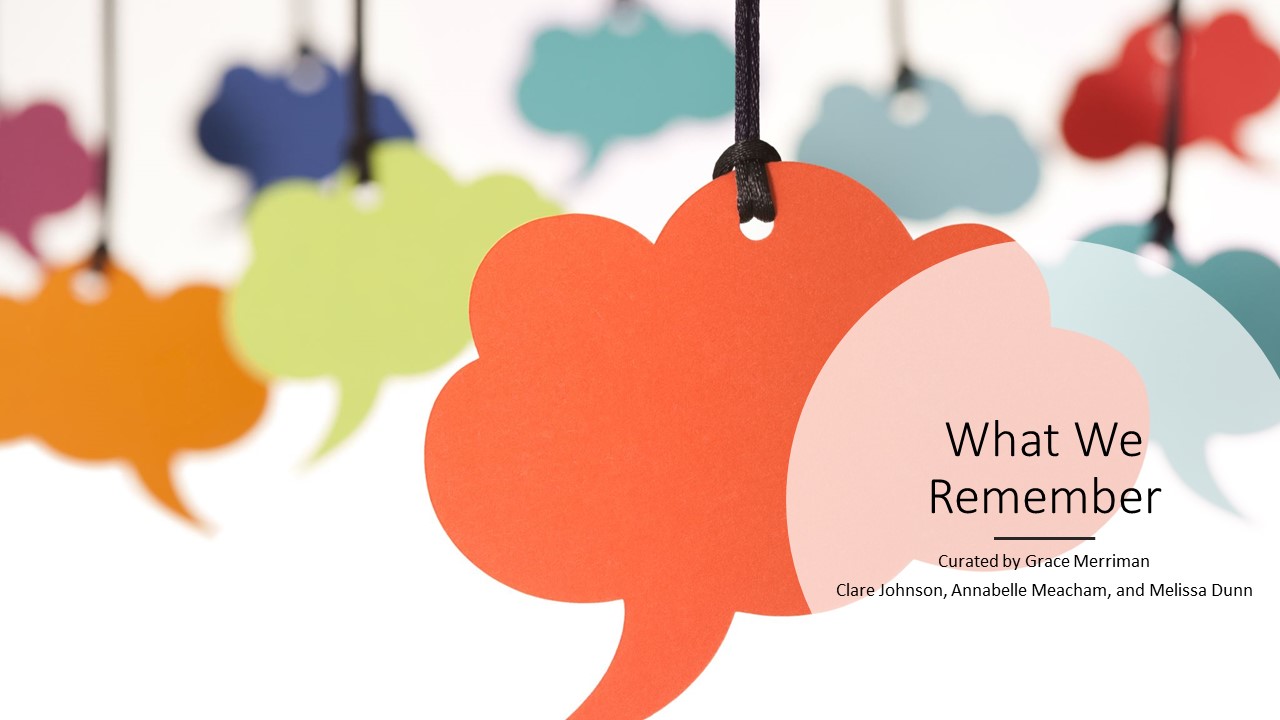 Artists: Clare Johnson, Annabelle Meacham, and Melissa Dunn
Curated by Grace Merriman
We all have moments we wish we could relive, memories we wish we could recall with greater clarity, and dreams we wish we could share. Sometimes these memories are distant and vague; other times, they feel detailed and immediate. Art is able to breathe life into the worlds of dreams, imagination, and memory, providing access to emotions, places that have slipped away, and experiences that are only real to us. We constantly search for the appropriate form with which to capture and share our imaginings. This process of making memory visible and tangible is specific, diverse, and personal.
What We Remember follows the work of Clare Johnson, Annabelle Meacham, and Melissa Dunn, documenting their unique approaches to making visible that which only exists in their minds. Johnson's work demonstrates her struggle to relive past moments and experiences, as she evokes places and feelings that cannot truly be pinned down or accessed with perfect recollection again. Meacham's work dwells in the realm of the unconscious, as she attempts to convey her vivid dreams with clarity and honesty. Relying on acrylic paint, photoshop, stamps, and fabric, Meacham strives to let the viewer see what she sees. Dunn's work illustrates the process of remembering through slow, sustained, physical repetition.  She relies on her body and muscle memory to reproduce the forms, shapes, lines, and colors of her drawings onto her canvases. What appears on the canvases of these three artists is the physical manifestation of the act of remembering—their unique effort to relive past moments, record their dreams, and recommit a motor task. 
The experience of remembering is nuanced and personal to each artist. It can be at once physical, emotional, overwhelming, agonizing, efficient, and joyful. The nine works on display offer glimpses into the way careful manipulation of color, shape, space, and visual form can translate and illustrate memories and the emotions tied to them. Though these images are grounded in the memories of the artists and how they learned from their experiences, they tell stories on their own terms. What We Remember invites viewers to think curiously and intimately about their unique processes of remembering; do you choose to remember a dream, a place, an experience, or a task? Consider how it feels, how it looks, and how it often requires more than just the mind.  
Artist Biographies

Clare Johnson
Instagram: @clare.e.johnson
www.clarejohnson.com
(206) 707-2372
clare_e_johnson@yahoo.com
Clare Johnson is a dyke-identified writer/artist originally from Seattle. She's never had gallery representation, but has exhibited in diverse community settings, including Seattle writing center Hugo House, Storefronts Seattle, Lauderdale House's queer art competition (London) and Guy's Hospital (London), where her 35-drawing project about childhood asthma is permanently displayed. Other major projects include a 2017 production of Our Town combining handmade art and erasure poems from Thornton Wilder's script into gesture-responsive animations on a giant 360-degree screen; her ongoing Post-it Note Project (drawing/writing a memory on a post-it each night for 12+ years), excerpted online in Seattle Review of Books from 2017-2020 with monthly lyric essays; and designing a participatory coloring sheet mural on a dumpster for a neighborhood celebration with a Seattle low income housing group. Publications of her work include Poetry Northwest, Shake The Tree, Raven Chronicles, and Roses, a book pairing Rilke poems with her drawings. In addition to a 2020/21 Hugo House writing fellowship, she's currently engaged in 3 community projects in Seattle: poster art for regional transit, temporary public art for the AIDS Memorial Pathway in a city park, banners exploring community elders' memories around water for a public utilities site, and more participatory art decorating fencing around a Tiny House Village for people transitioning out of homelessness.
Annabelle Meacham
https://lrossgallery.com/artists/annabelle-meacham/
http://annabellemeacham.com/
"My art is about my dreams, my relationship with nature, and the relationship my viewers feel with the images I give them." – Annabelle Meacham
Artist Annabelle Meacham has led a far-flung life. Raised in large cities, including London, and widely traveled, she loves that she now lives in Memphis. After obtaining a BA in Business from Florida State University, she studied as a full-time student for three years at the Memphis College of Art. Her paintings are represented by Linda Ross Gallery, and she has shown in numerous exhibitions locally and across the country. Some of her one-person shows have been at the Dixon Gallery and Gardens (Memphis TN), Duke University, the Savannah College of Art and Design, and the University Museum in Oxford, Miss. Her most recent public commissions were the 2013 Memphis River Arts Festival poster, and the 19 paintings that decorate the Emergency Waiting Room in the new Le Bonheur Children's Hospital in Memphis.
Melissa Dunn
https://www.melissadunn.net/
Melissa Dunn's studio is in her house in Memphis, TN, where she was born and has spent most of her life. She's exhibits locally and regionally, and teaches drawing and painting at Flicker Street Studio. She regularly volunteers at Carpenter Art Garden, an afterschool art program in Binghampton. She was recently awarded a public art commission by UrbanArt for the newly renovated Memphis International Airport. In September 2021 she'll start a three month residency at Crosstown Arts.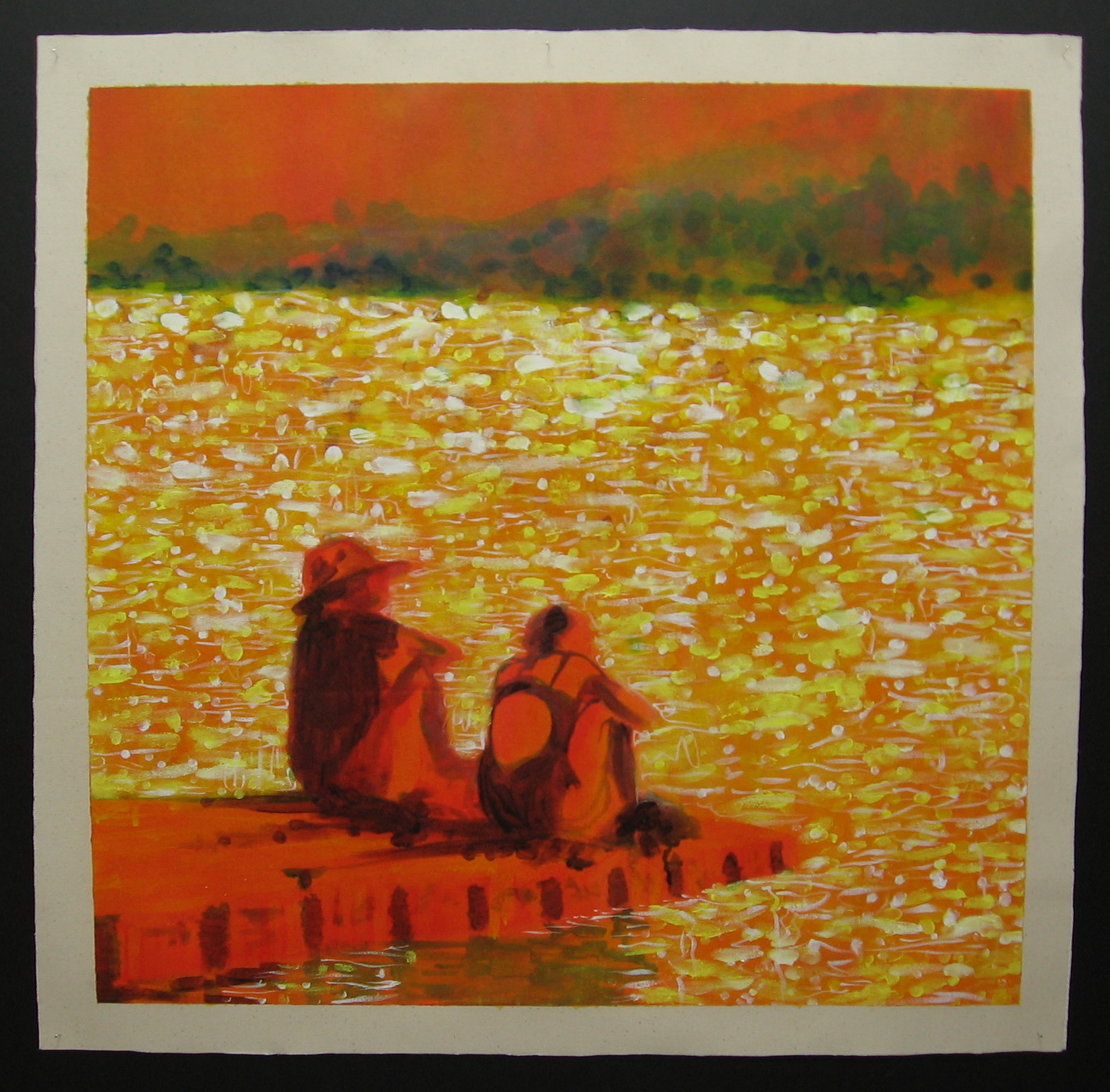 sandy bottom
Hovering in between the now of painting and the then of the depicted painting, Johnson acknowledges the physical and psychological impact of wavering in between layers and spaces. Painting is an intensely personal experience, at once physical and emotional, as she recalls memories, yet what her viewers bring to the paintings is equally as meaningful to her and important to the finished work.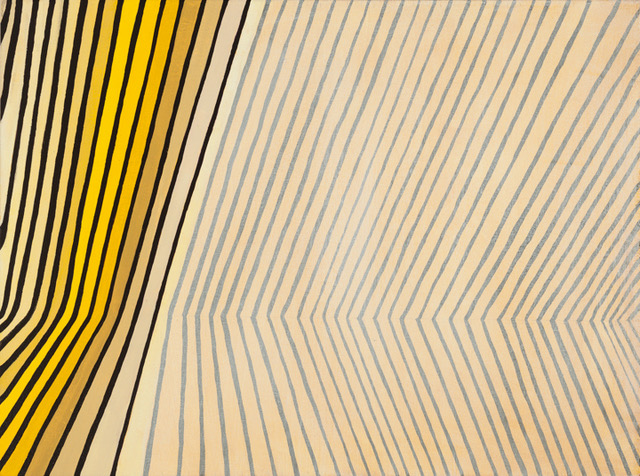 Slow Time, Ordinary Time
Slow Time, Ordinary Time demonstrates how yellow changes with the slightest variation in color. Focusing on repetition and pattern, Dunn seeks to accomplish a simple effect that moves beyond the edge of the canvas, conveying depth through line, pattern, and space.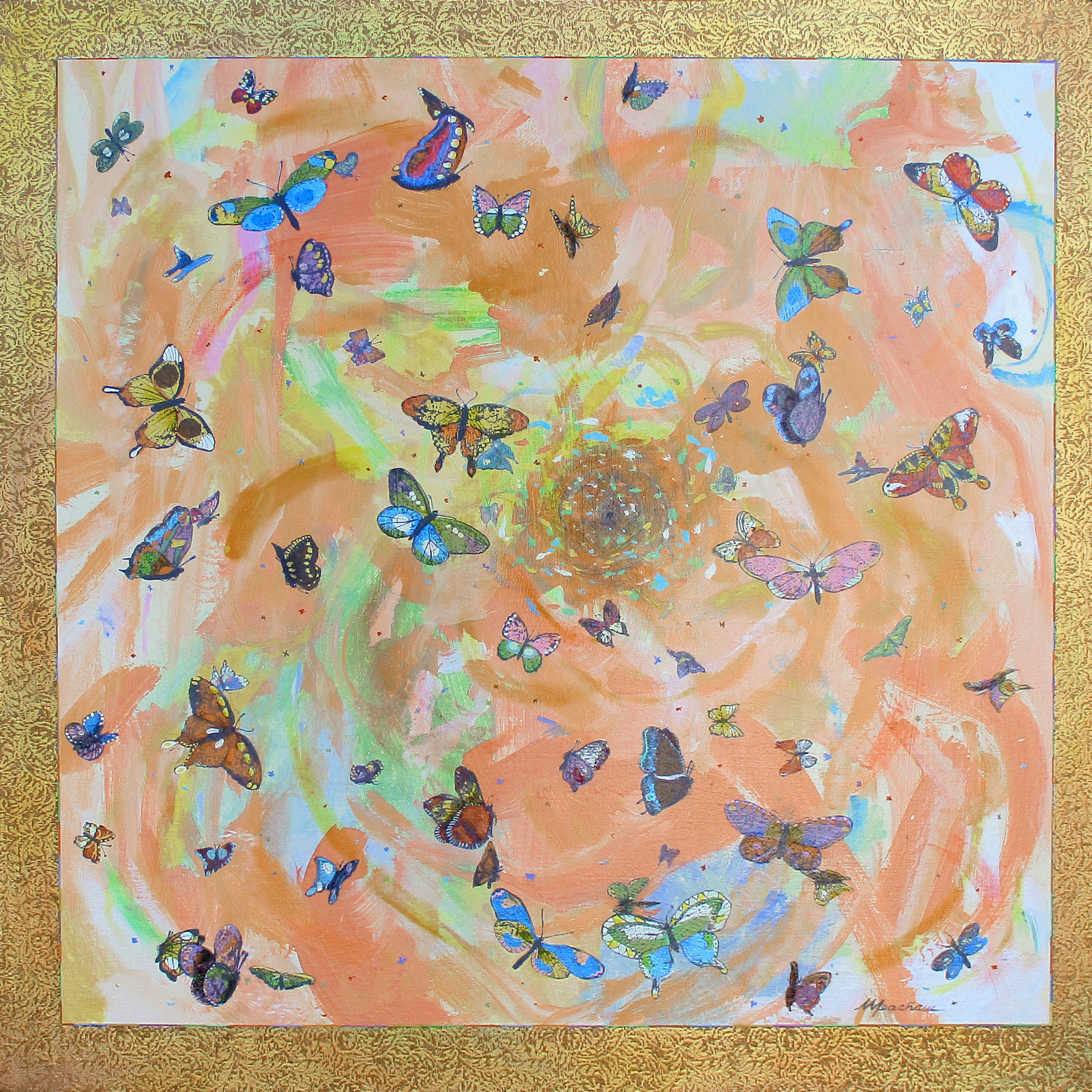 The Creation Story
The Creation Story filters representations of forms and colors form the natural world through Meacham's experience of dreams and imagination. The rapid, wide brushstrokes and imaginative colors emphasize Meacham's attempt to translate the visions she sees in her head into shape and color. This tradition of working through dreams is not uncommon in the history of art and are still important today. Meacham is inspired by the large rock wall paintings in Australia's West Arnhem Land, painted in the recently identified Maliwawa style, which depict floating human and animal forms in a time known as the Dreaming, an era in Aboriginal beliefs associated with Creation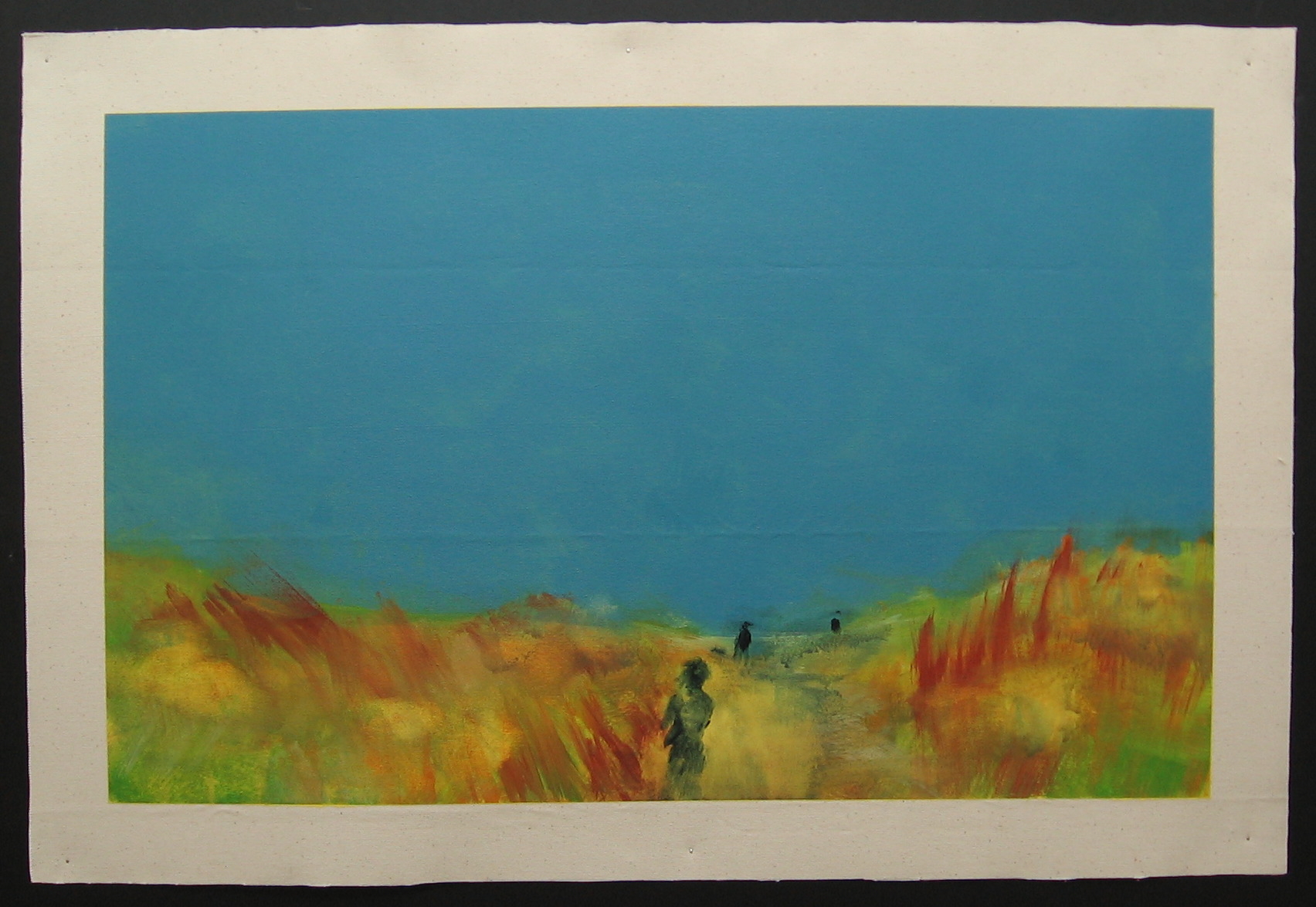 the last one there
Although Johnson's paintings are her honest attempt to capture and share her memories and the circumstances that led to her paintings, she holds space for the viewer's own memories to find expression and for each piece to encompass nuance and possibility on its own. "More than being just a picture of a simple moment, I think of these as representing a kind of emotional time travel—something we all do invisibly inside ourselves all the time, but don't really have space to honor our loud or in our physical realm."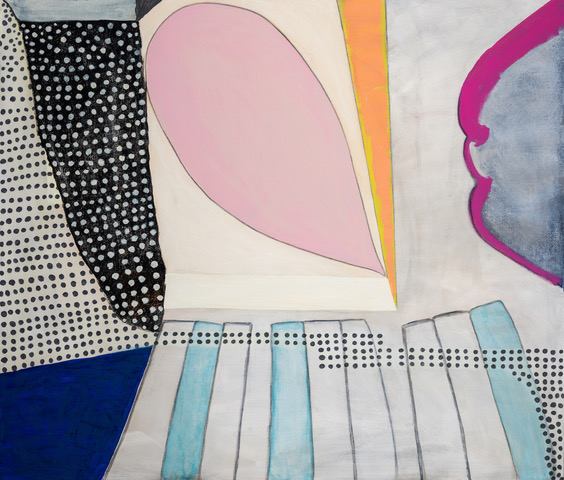 Doing or Being
Doing or Being is one of the few paintings where Dunn did not use one of her drawings but built the composition as she painted it. Dunn sees the world through shapes, focusing on the relationships that are revealed when shape comes in contact with color, pattern, and placement. What connects Dunn's work is its prioritization of color, drawing color sources from old photographs, to a piece of wallpaper, to YouTube drag makeup tutorials.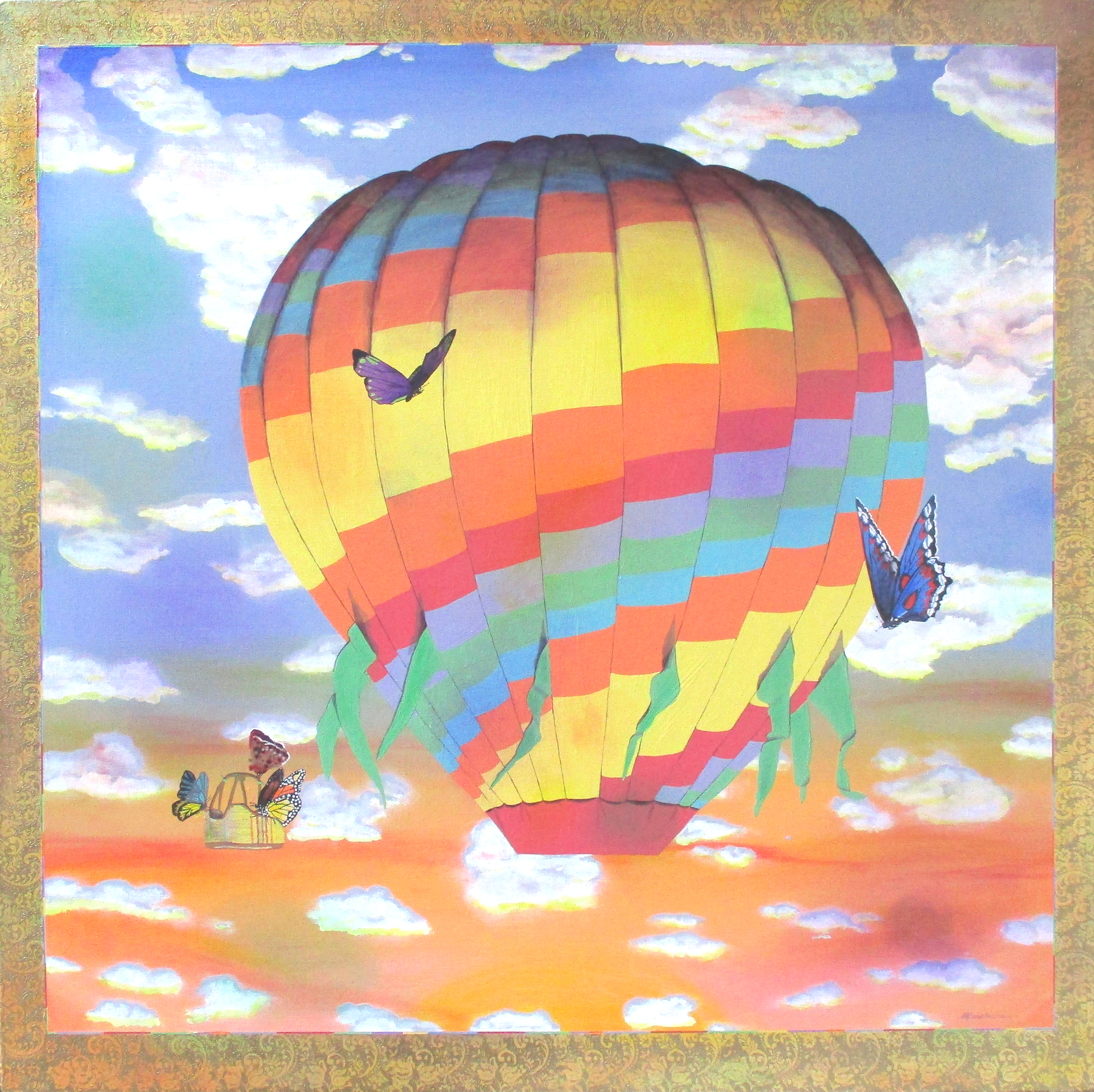 Evening and the Anticipation of Dreams
Using photoshop, recreating digital images of her drawings, and manipulating images from online sources, Meacham strives to create the shapes, colors, and forms she sees in her dreams, allowing viewers to see what she sees.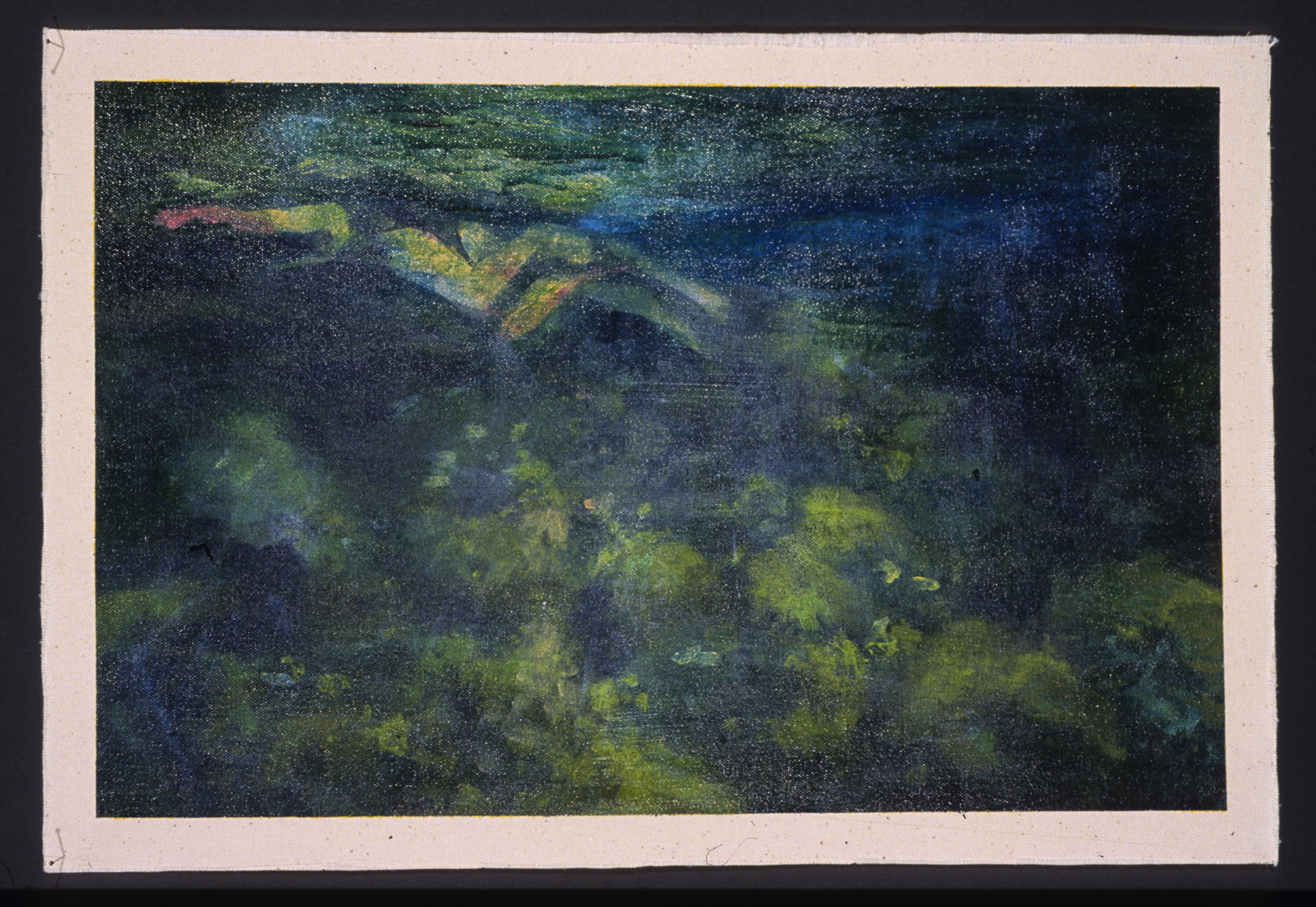 the grown ups
For Johnson, the flat, unsupported canvas allows her to evoke places and feelings while working within the medium's limitations. "It lets me show the edges of things, like a photo, where we know something is beyond the image—it continues, unlike the complete image-world of most paintings." With this perspective, we can see the edge where paint stops and meets blank canvas. Erased or covered-over layers bleed through, hinting at colors and choices that would otherwise be hidden. "This is my way of letting the past of the painting exist as well as its finished, final form."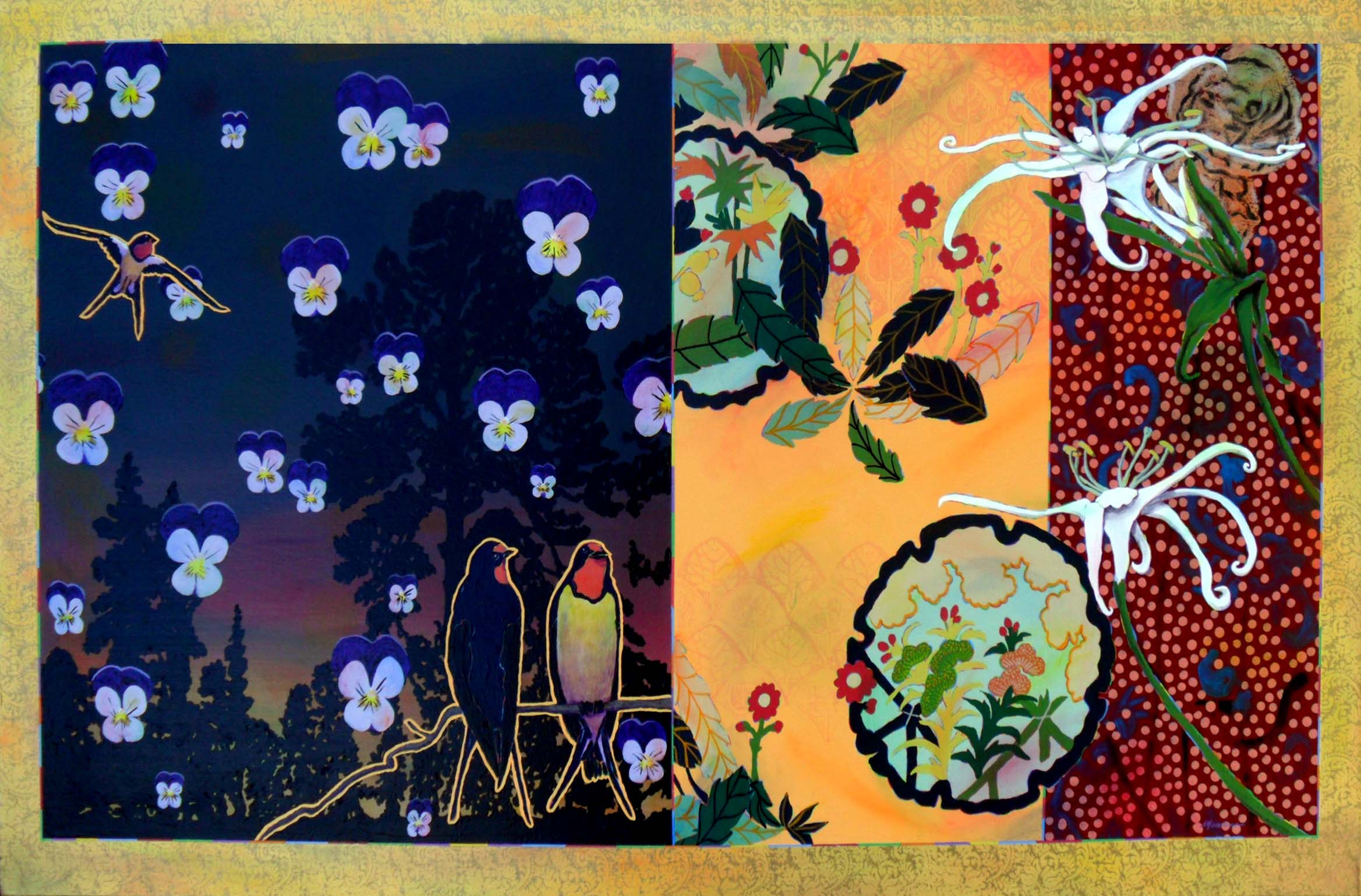 Layered Realities: Sunset and the Commencement of Dreams
Meacham's Layered Realities series encompasses the idea that we all have alternate realities existing in our heads. Although Meacham references images of real birds and plants during her research stage, she uses photoshop to change their sizes, shapes, and attributes. Once she begins painting, she prefers unrealistic, non-lifelike colors and shadows. By the time she is finished, the birds and plants no longer depict species that exist in real life, but are products of her imagination.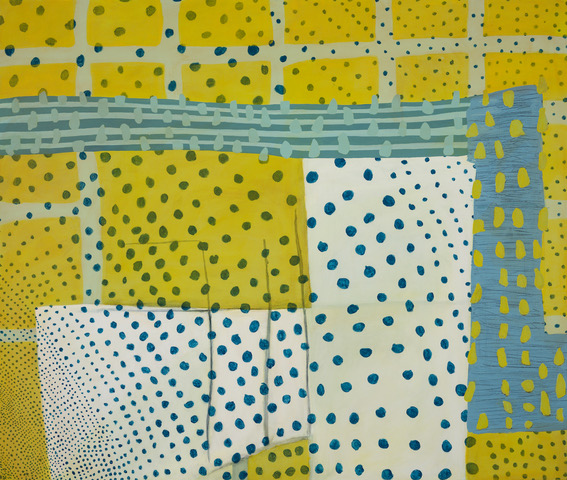 Migration
Migration tells the story of shapes moving through space. Dunn worked to translate a small dot gestural painting into a large-scale painting, relying on her muscle memory to repeatedly recall the relationships between space, shape, and color. The action required to recall these configurations is relayed on the canvas as Dunn uses color to push, pull, and manipulate shapes.