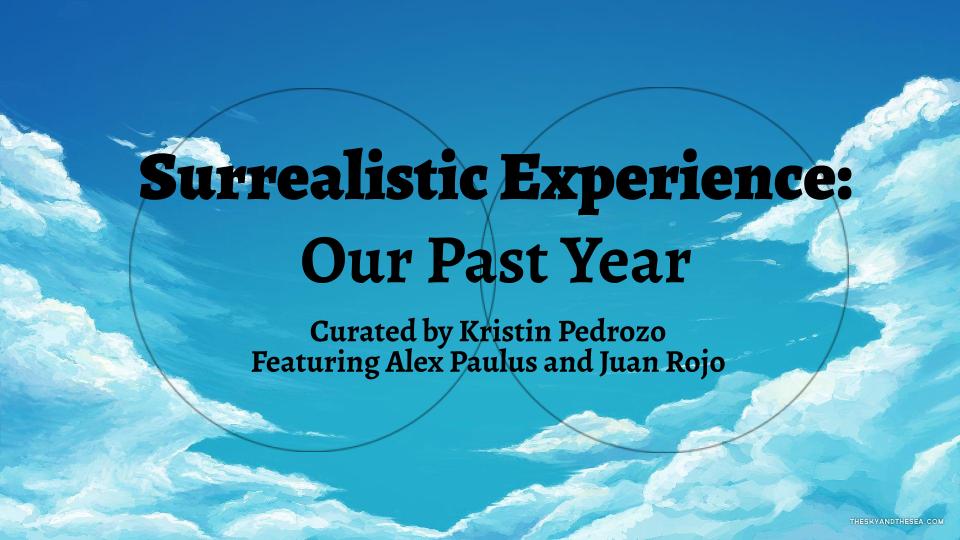 Artists: Juan Rojo and Alexander Paulus
Curated by Kristin Pedrozo
Throughout this past year, we have been bombarded with an emphasis on the seriousness of our individual and collective situations and how we have dealt and coped. For some, achievements in quarantine have racked their brains and their time while for others, simply getting through the day was, and is, the focus. This experience has changed the way some events and things are viewed and how we relate it back to ourselves. The surrealism of 2020 has bled into 2021 and finding small touches (if we are lucky, large!) of humor in any way is a beacon of light that has the ability to briefly lift the pressure. The dream-like aspect of our coronavirus life is an upsetting experience. There have been moments of irony and laughable situations that soften the tone of living through this pandemic. Social media has been a source of many different types of entertainment but the main one that many people can generally agree over is humor. Some prefer darker humor and others are more drawn to a more light hearted version. Pieces in this exhibition have differing elements regarding what is playful and what is serious. The unexpected juxtapositions of objects focused in the paintings lighten the overall mood and in certain cases, extend the intent of the painting's aim itself. The topic overall can be read as slightly disturbing but not completely grave and heavy toned.
This exhibition showcases surrealist paintings depicting serious subjects lightened with a strangely humorous appeal, a theme that can relate to our current climate. The surrealistic environments depicted in these paintings apply to this past year and it's wholly unreal blend of time and strange circumstances. Before 2020 whenever the word pandemic was used, the first connection the average person would make is viruses in history, specifically the old plagues. Now we have truly weathered a year for the books and it feels bizarre!
Alex Paulus' work consists of surrealistic humor of funny figures in sometimes dark, yet amusing situations. We have an abundance of experiences from this rough year in which our situation has been dark yet in a way it makes us laugh, whether out of sadness or out of true irony. Juan Rojo's work carries a tone of seriousness that is evident in expression yet has a light and sometimes childish touch to it in the form of repeating objects and props. The result of this combination is a beautiful composition that can be strange in movement or through use of playful patterns. As a society many people have gone back to what comforts them or searched for hobbies to fill their time and distract from the rising issues.
Biographies:
Alex Paulus    http://alexanderpaulus.blogspot.com/
Alex Paulus is originally from southeast Missouri, but has been a resident of Memphis, TN, since 2007. He received his MFA in 2009 from the Memphis College of Art and is now an Assistant Professor at Southwest Tennessee Community College.
Paulus's  work focuses on figures in depressing situations. Sometimes they are celebrities, sometimes him, sometimes imaginary people. Paulus places these figures in odd situations or surroundings, to investigate how they react to the space. 'I often think about how humans fit into this world and how small we actually are compared to the rest of the universe/multiverse. I am very interested in the purpose of human existence. It seems like we do a lot of weird shit for no reason.'
Paulus's work has been shown in numerous galleries in Memphis, Nashville, Dallas, Houston, Aspen, St. Louis, Los Angeles, London and many others. His work has also been published in New American Paintings, Studio Visit magazine, Beautiful/Decay, It's Nice That, Osso Magazine, Neon Magazine, and Glasstire.
Juan Rojo      http://www.juanrojoart.com/
Juan Rojo was born in Valladolid, Spain in 1977. He graduated from the University of Salamanca (Spain) with a degree in Fine Arts and he obtained his Masters degree in painting and video at the University of Maryland, College Park. He is represented in Spain by Rodrigo Juarranz Gallery and by Jay Etkin Gallery in the United States. He has exhibited extensively in the USA and Europe and he is currently living in Memphis, Tennessee.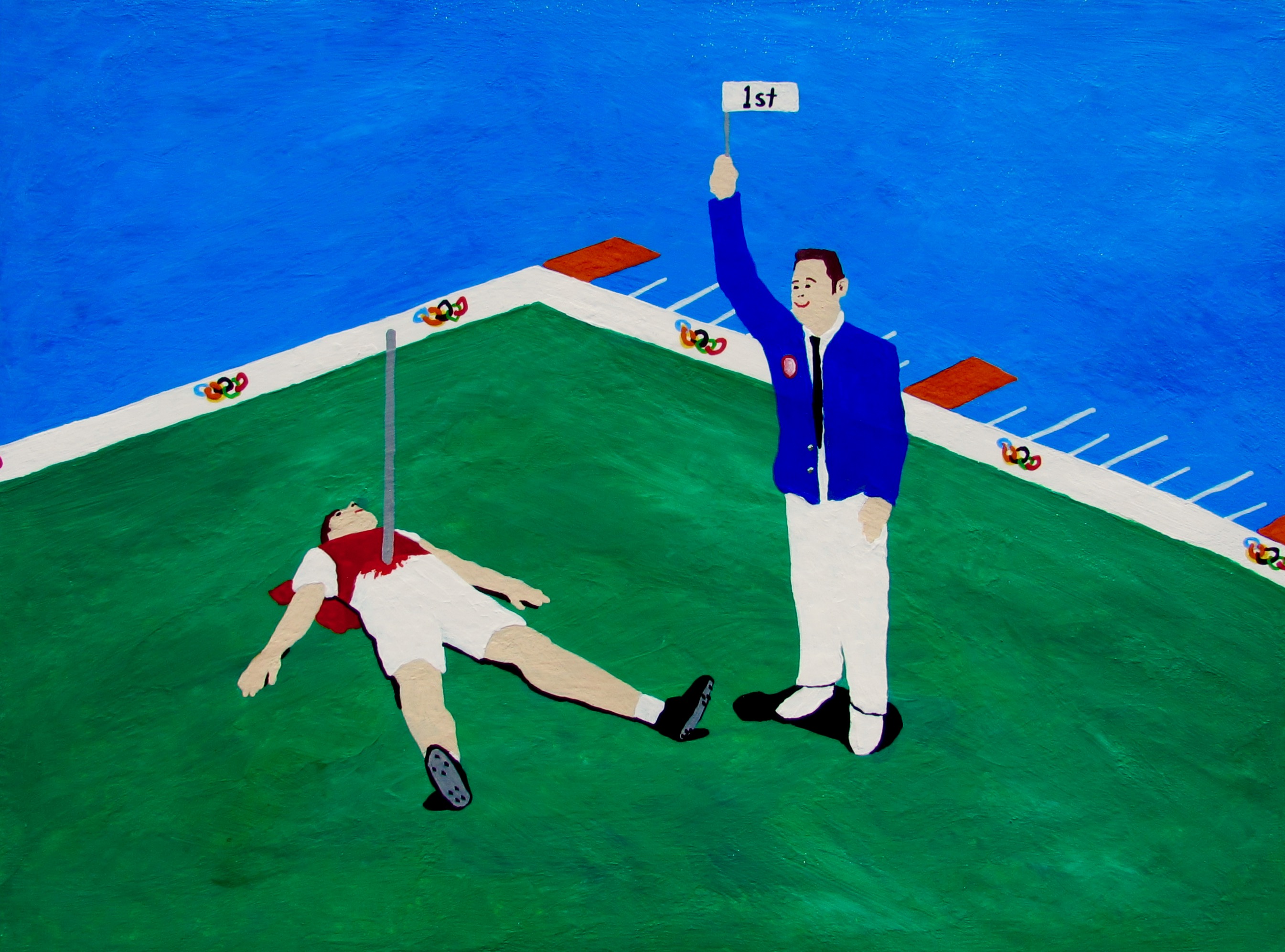 He took first in the javelin catch
The very simplified, dream-like background accentuates the gravity of the death of an olympic participant and amplifies the humorous, punchline title that sets the framework. The lack of somberness in the Olympic official's face adds a sense of uncomfortable laughter to the piece, similar to real life reactions in which people use humor to deflect and as a coping mechanism.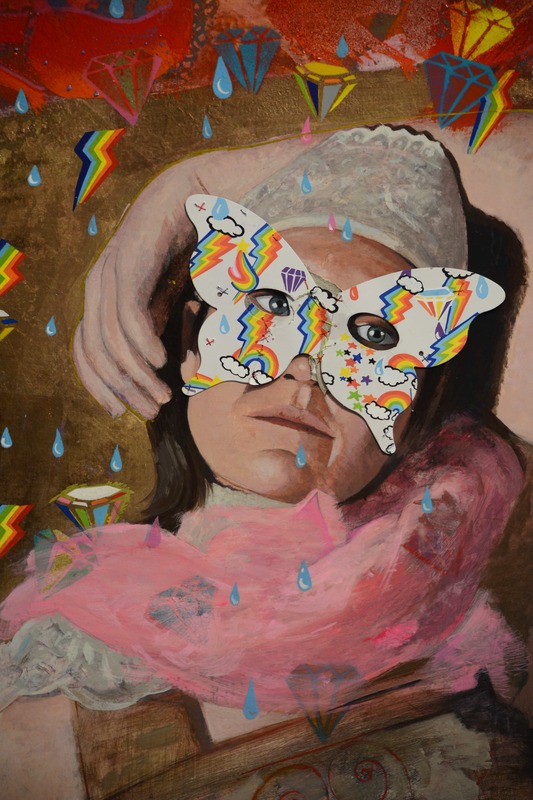 Dame of the Butterfly
The bright, very childish references in this work dilutes the seriousness in a way that frames it. The colorful mask prop demands attention, bearing similarity and reference to a young child's attitude. Dame's face holds a blank expression, indicating a lack of uplifting emotion despite the brightness of the objects that surrounds her, reminiscent of material distractions sometimes not being enough during the rough patches we've had.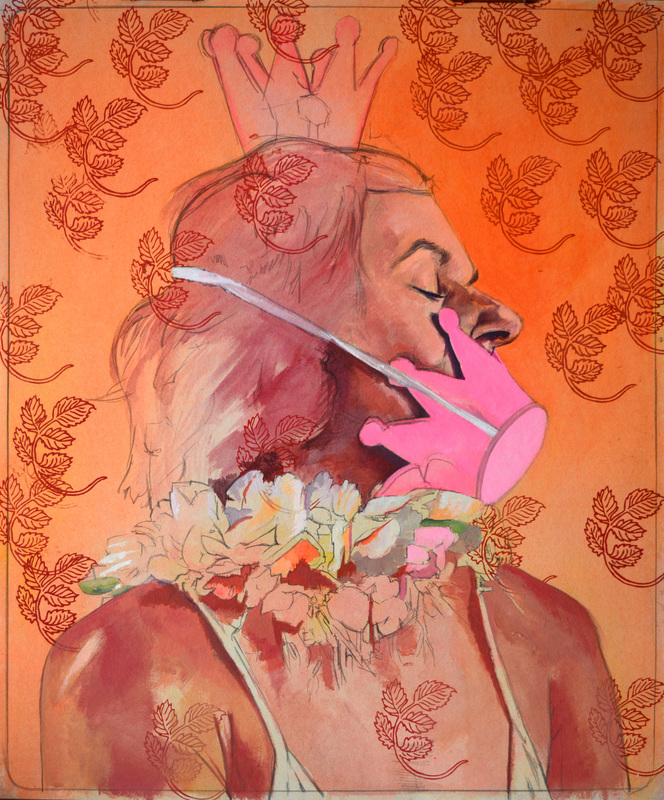 Coronada
The use of kid appropriate props on a subject who looks to be of a more mature age is in its own way a strange but comical juxtaposition of elements. As a period of time, quarantine has been a useful element in urging people to either find or even return to hobbies and entertainment sources that provide relief from the gravity of our pandemic while sparking joy and sometimes even triggering a sense of nostalgia.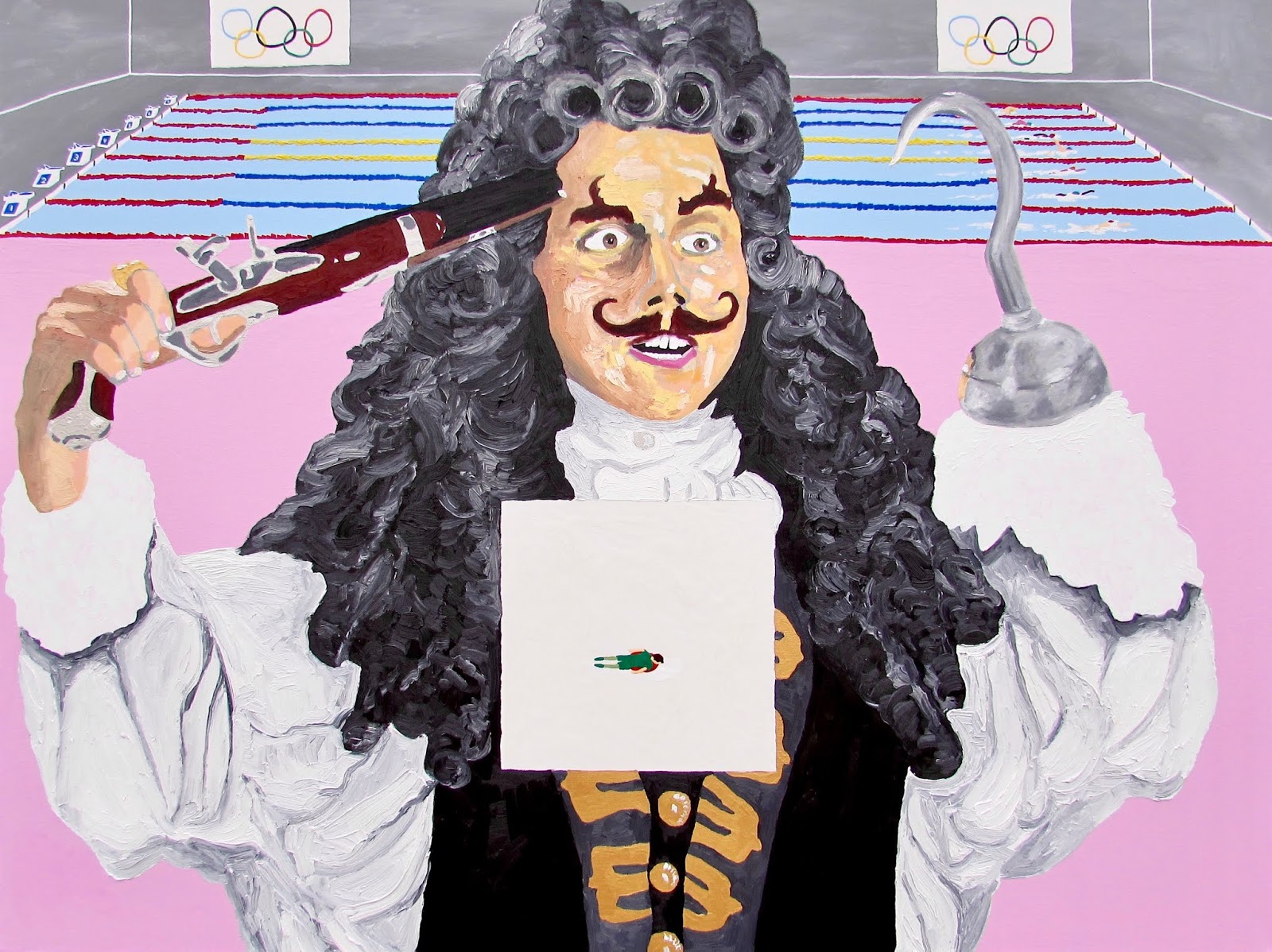 Death is the only adventure
The cancelation of the 2020 Olympics was a sore spot for people around the world. The presence of Captain Hook committing suicide in the middle of a pink Olympic arena is an uncomfortable and ridiculous looking situation. It is strange but communicates the desperate feeling of having done everything therefore only having the last step left: death.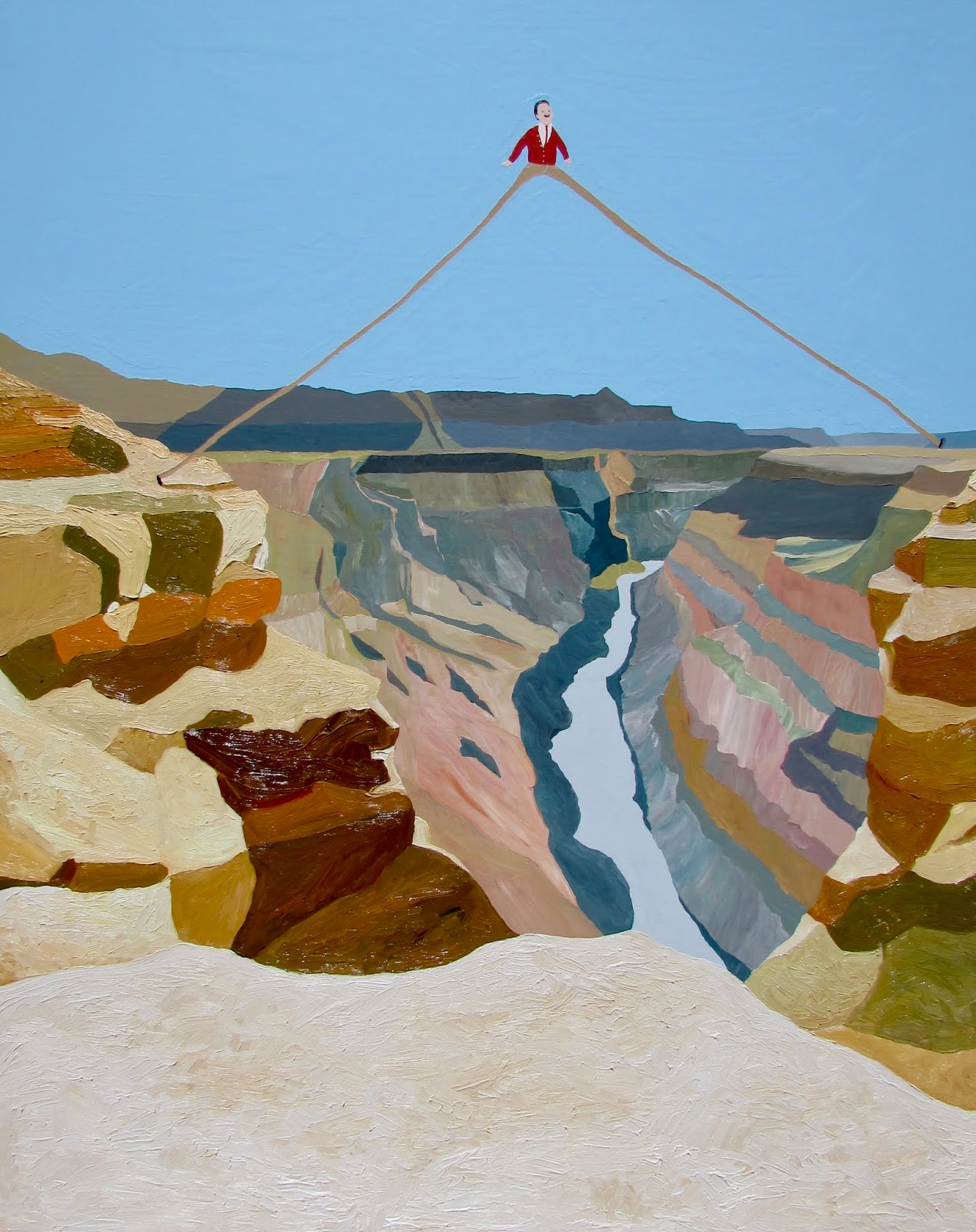 One giant leap for kind man
One man. One giant leap. This surrealist valley feels like a void and this red vest cladded man scales it with a smile. The inhuman stretch of the man's legs is the set up for the punchline. There's a danger to what the figure is in the motion of doing yet in that tiny face there is no fear depicted. Not a single care to what is below. Sometimes we can't bring ourselves to care about what could be the worst thing to happen.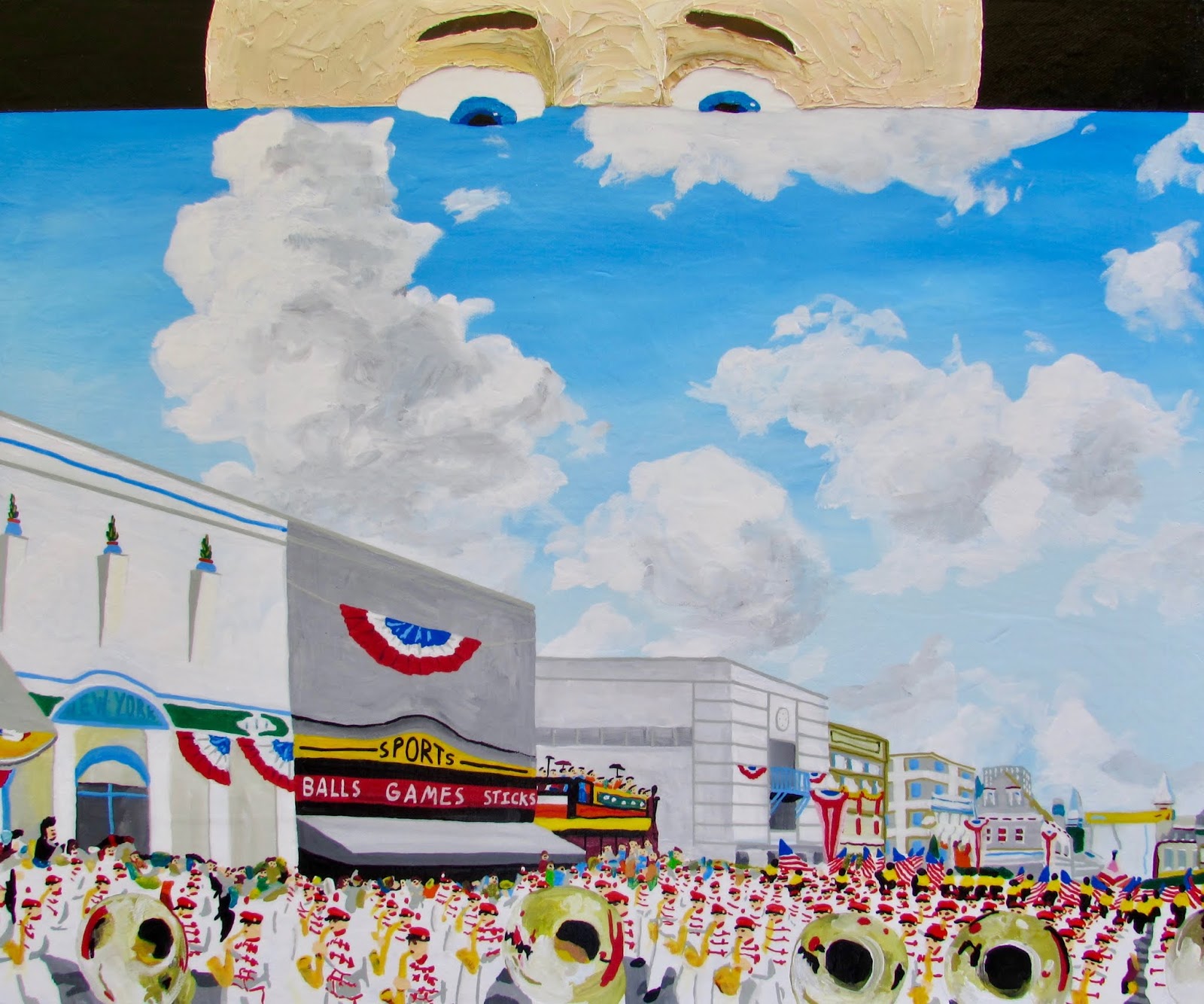 Strange mortals with curious customs
The questioning of a God is a never ending conversation and this humbling and humorous take is a fresher version than any lamenting done during the questioning of God and their relation to the purpose of the coronavirus. The composition is strange directly because of how the large being is peeking onto Earth while being hidden by the sky. It is surreal in space, specifically in how the sky has a depth to it while the black area above does not follow the same spatial rules.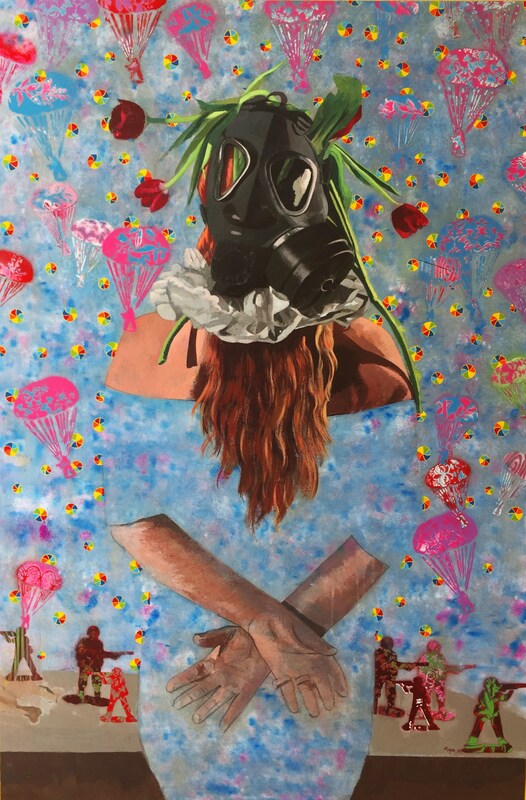 Wartime
Made during the beginning of the MeToo movement, this piece combines toy soldiers and Mac loading symbols resembling beach balls with the heavy conversation of the violence inflicted on women and can be related to early 2020's resounding thump on the Weinstein case. The resulting effect is a beautiful, colorful piece with a heavy content matter that gets tinged with a child's touch.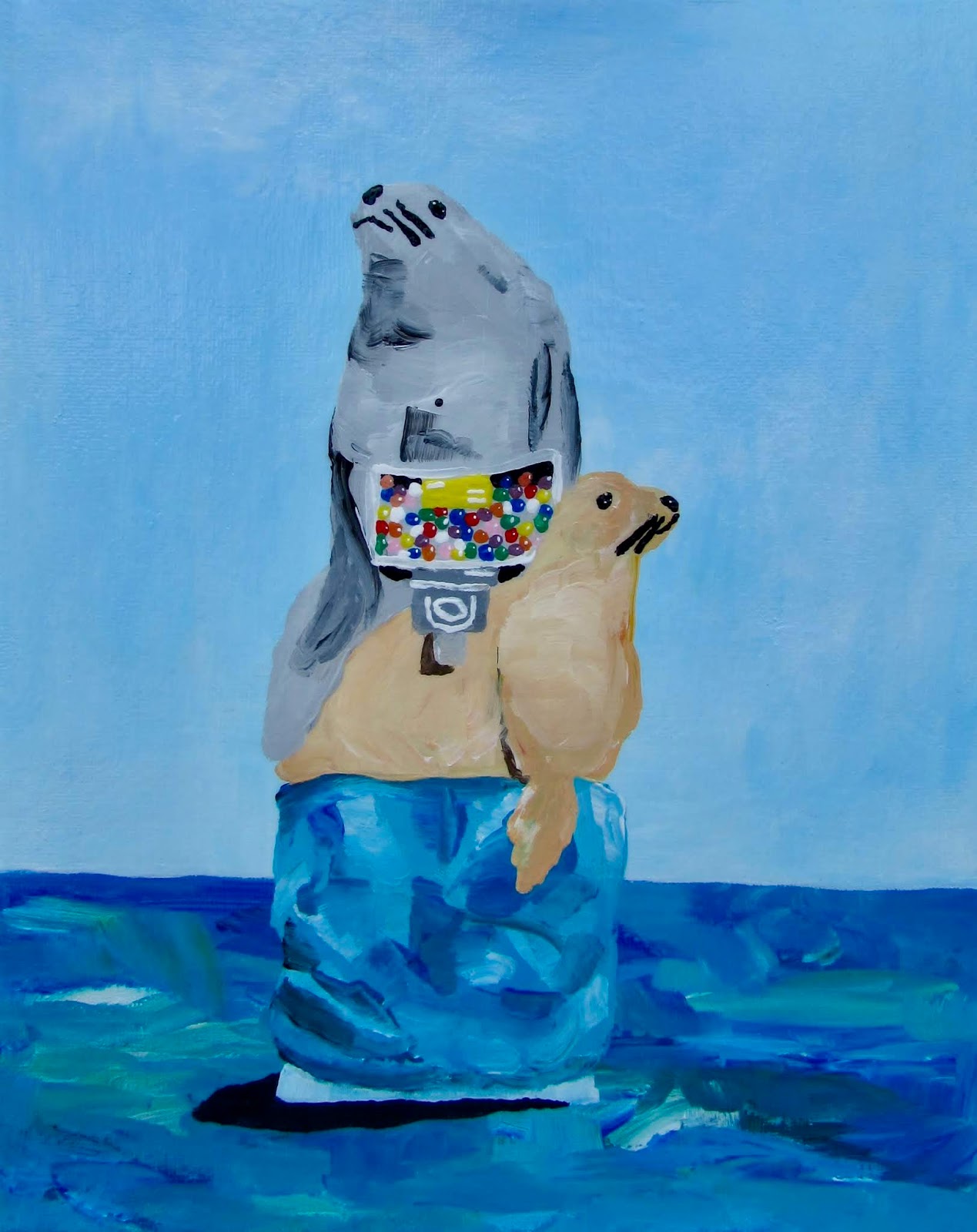 For real seals
The centered and stacked seals living in this stark landscape have a relatively small and concise color palette up until the squarish middle area. Climate change is an issue that was just slightly positively affected during the lockdown due to lack of the masses and their transportation methods being paused. The moment this was pointed out, it became a tiny sliver of the silver lining we searched for during the lockdown that gave what was happening a bit more of a purpose.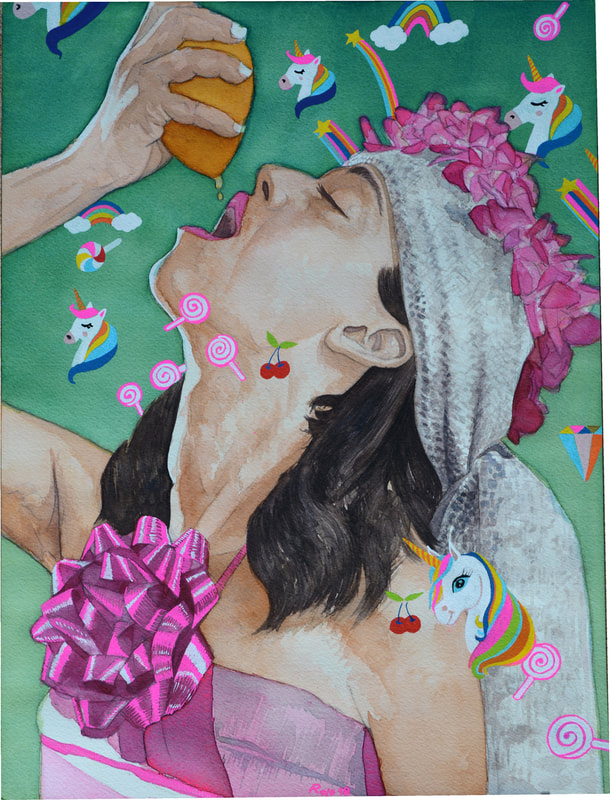 The Fountain
The action of consuming tiny drops from what looks like an orange whilst being wrapped in literally wrapping paper provides a whimsical tone. Unicorns and gift bows with lollipops floating around! The repetitive symbols of girlish youth are scattered amongst our thirsting subject. Another return to the nostalgic and carefree childhood memorabilia some have found during our long and lonely quarantine days.