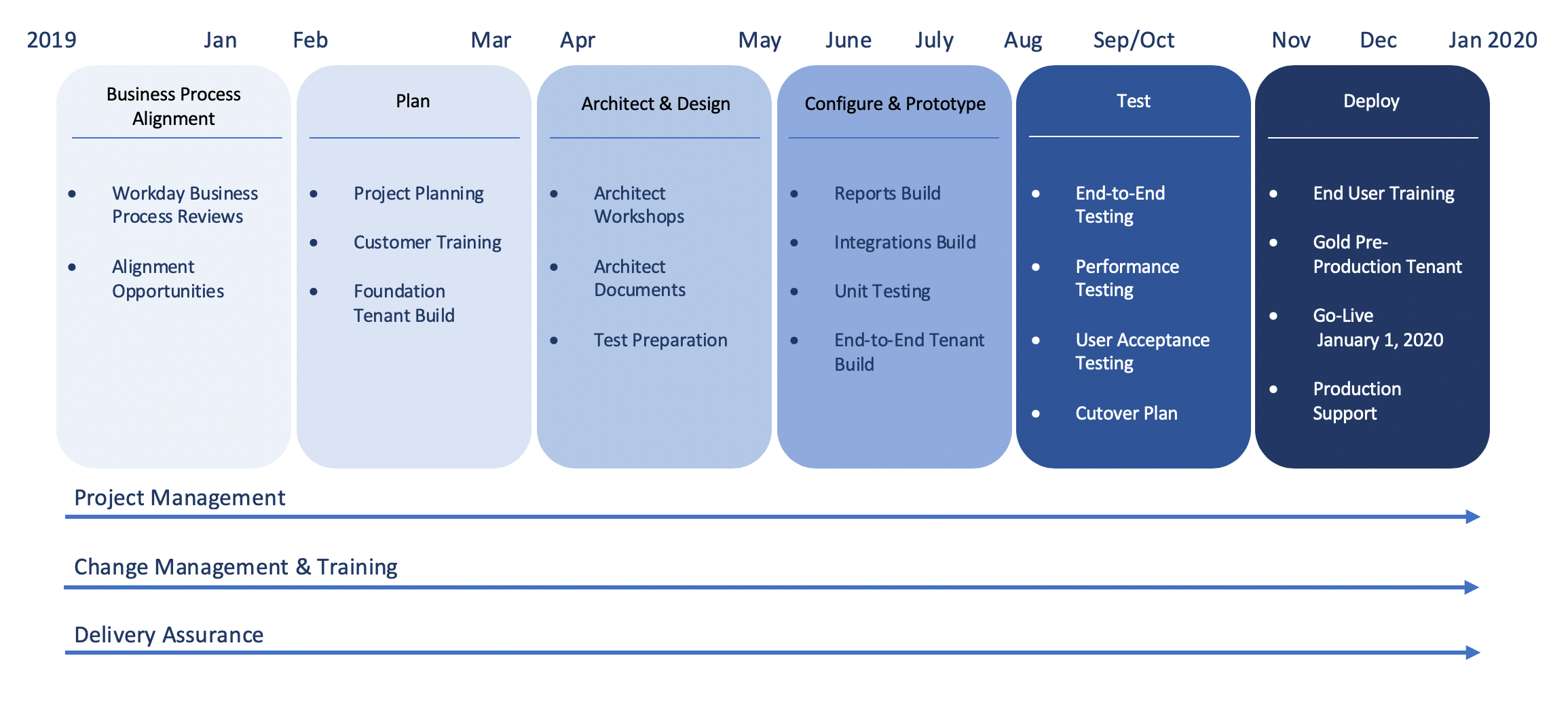 12/10/19
Training sessions have been conducted in November and December and the Rhodes community has joined us for over 20 different sessions on Basic, Manager tasks, Finance and Human Resources. Meanwhile, other from the project team have been busy finalizing our Gold Tenant, the final Workday iteration which will become our new live environment. Communications will begin going out about cutover deadlines for Concur, Asureforce and other systems transitions for January 1, as well as what to expect for support in the new year.
11/19.19
We completed very successful User Experience sessions for the Rhodes community and have been busy providing training, which will continue through December. The data team is currently working on the final (Gold) data migration from Banner to Workday before we go live on January 1, 2020.
11/05/19
We are nearing completion of the TESTING period and heading into the final stage of the implementation: DEPLOYMENT. November and December will focus on training and final demonstrations, payroll validation, go-live cutover planning, and final configuration tweaks. 
9/10/19
Testing continues and the project is on track for January 1, 2020!
8/27/19
Testing continues and the project is on track for January 1, 2020!
8/13/19
All the gears are turning as testing of the Workday design continues, training curriculum for fall takes shape, and reporting and integrations are getting built and customized. Did you know we will have purchasing punchouts for Amazon and Staples? Punchouts create a window to a vendor's site from within the Rhodes Workday environment. It will be like having our own Amazon and Staples stores in Workday, just for Rhodes.
7/29/19
Currently the project team is in the midst of completing Unit Testing (78% complete) and is working on developing End-to-End tests for further, more precise testing later in August. We are also now developing our Workday training plan to provide training to the Rhodes community between October and December, and for after we go live on January 1, 2020.
7/2/19
Now starting the 5th week of Unit Testing, the Project Team is more than halfway through the initial testing period. Soon we will begin work on more complete testing for individual processes as if they were stories, from start to finish, for example "Hiring and Onboarding a new Employee", "Submitting a Request for Time Off and having it Approved", "Purchasing an item from Amazom.com and following it through approval, receipt, and invoice payment".
6/19/19
With the start of Unit Testing on June 3 the Project Team completed the Design Phase and entered the Configuration & Prototyping phase. What does that mean? It means that planning and design of Rhodes Workday is mostly complete and now it's time to test and tweak our prototype environment. And there will be several months of testing and verification. Unit Testing in June involves testing individual "bits" of our design – 1,200 functions in total! And the hard-working staff of Finance and HR are doing an amazing job churning through this important work. 
6/5/19
The Project Team is almost finished with the Design Phase, when all the data and fields for Workday get architected. This week we have begun something called Unit Testing. The Project Team will spend several weeks working through almost 1,000 individual feature tasks of Workday with Rhodes data in order to validate how well it's working and how accurate the data results are. Tedious, but critical work! 
5/21/19
We have completed the Planning stage (January-March) and are finishing up the design phase (April-May). Soon we will begin testing and data validation. 
April – May, 2019 – Architect and Design Phase (complete)
January – March, 2019 – Business Process Planning, building Rhodes1 environment (complete)