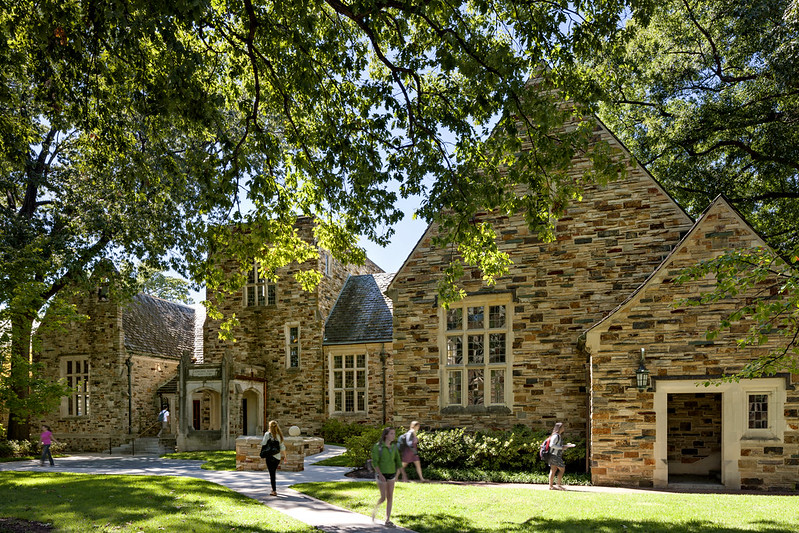 International Student Health and Accident Insurance Policy
To protect you and your family from financial strain in case you experience a serious illness or injury while studying in the U.S., Rhodes requires health insurance throughout your enrollment. Rhodes has selected a standardized policy for all of our international students (this includes Degree-Seeking and Exchange Students*, as well as students who are US citizens whose families live outside the United States). This comprehensive health insurance plan is offered by Academic Health Plan and Cigna, which specializes in providing health insurance to international students and scholars.
 
Rhodes will enroll international students each semester for health insurance and will charge each student's Rhodes account to pay for it. This insurance generally costs approximately $800/semester. There is no deviation from this policy. When budgeting for your time at Rhodes, remember to include this cost, as it is mandatory and Rhodes will only release your official transcript at the completion of your studies when your Rhodes student account has a zero balance.
You will be able to access a new insurance card every 6 months, the first of them during International Orientation and all subsequent ones through your Rhodes Mailbox. Your insurance card contains your identification number and your group number. Carry your insurance card with you, as you may need it in a medical emergency.
 
*With the exception of ISEP students.
Healthcare in the United States
The United States has a complex healthcare system, which might be overwhelming at first glance. Here we will try to explain the highlights.
How Does My Health Insurance Work?
All F-1 students at Rhodes have the same health insurance plan. The health insurance company has a list of in-network providers (PPO – Preferred Provider Organization), where a visit will be cheaper than non-network healthcare providers.
Here is a detailed website explaining the Rhodes international student insurance plan, including a "Snapshot" one-pager to help you get started, and a longer "Get Started" guide.
When visiting a healthcare facility, you may be asked to pay a copayment, which is a portion of the costs of your visit. In most cases, if the copayment paid at the healthcare facility is higher than established by your health insurance plan, Cigna will refund you the difference.
Example: When visiting an urgent care facility, you might be asked to pay a $100 copayment. If your insurance policy says that your copayment for urgent care visits is $20, Cigna will refund you $80.
MEDICAL EXPENSES

IN-NETWORK PROVIDERS
NOT IN-NETWORK PROVIDERS

Physician Visits

$20 copayment
80% of reasonable expenses

Treatment at Urgent Care Facility

$35 copayment
80% of reasonable expenses

Hospital and Physician Outpatient Services

$50 copayment
80% of reasonable expenses

Inpatient Hospital Services

$50 copayment
80% of reasonable expenses
Emergency Hospital Services

$50 copayment

If admitted to the hospital, the copayment is waived.

80% of reasonable expenses
*reasonable expenses are determined by the health insurance company
For additional healthcare coverage information, please refer to your health insurance policy materials.
Oh no, I think I'm sick. Where should I go?
The American healthcare system has multiple medical facilities for different kinds of patients and medical needs. Memphis has one of the best healthcare systems in the United States and Rhodes's location in Midtown allows for easy access to a wide variety of providers. Choose wisely, because some are very expensive and others are less expensive!
Rhodes College Health Center
Generally, the medical services provided at the Health Center address most of our students′ medical needs. The Rhodes College Health Center is located in the Moore Moore building. The main entrance is on the east side of the building. Handicap access is available on the south side of the Health Center, closest to the Refectory. Students can seek advice and treatment for a wide range of medical needs, such as strep, flu, treatment of ENT infections, and some in-house lab work, as well as to obtain a prescription.
Health Center hours are 8:30 a.m. - 5:00 p.m. (closed 12:00 -1:00 PM), Monday through Friday. Students can see the staff nurse at no cost for routine health issues. There is also a Self-Care counter, where students can obtain a cough drop, Band-Aid, or perhaps a decongestant.
Appointments with the Nurse Practitioner are available five days a week, 9:00 a.m. - 11:45 p.m. and 1:00 p.m. - 4:30 p.m. The NP is able to presrcibe medication, unlike general nurses. There is a $60 fee per visit for each appointment with the Nurse Practitioner, which is charged to your student account (so, you will not be required to pay at the time of service). Insurance is not accepted at the Health Center.
Off-campus services such as some laboratory work, x-rays, specialists, and emergency room visits will be the financial responsibility of the student. For an appointment, call 901-843-3895. Walk-ins are always welcome!
Emergency Rooms (ER) (Usually attached to a Hospital)
These are only to be used in case of life-threatening health conditions, such as a heart attack, a stroke, or a serious accident. You should not visit an emergency room otherwise, because they are much more expensive than any other type of medical provider, even with health insurance coverage. If you believe you are in a life-threatening situation, call 911 immediately.
Methodist University Hospital ER
1265 Union Ave
901 516-7000
Open 24/7
Regional One Health Medical Center: Elvis Presley
877 Jefferson Ave
901 545-7100
Open 24/7
Baptist Memorial Hospital
6019 Walnut Grove Road
901 226-5000
Open 24/7
Saint Francis Hospital
5959 Park Ave
901 765-1000
Open 24/7
Urgent Care
Urgent care facilities are for illness or injuries that do not appear to be life-threatening but can't wait until next day to be treated. Some examples include: accidents and falls, cuts that might need stitches, severe sore throat, skin rashes, urinary tract infections, vomit, diarrhea, dehydration, minor broken bones and fractures in fingers or toes, diagnostic services, x-rays, laboratory tests, among other non-life-threatening conditions. Appointments are not necessary.
Methodist Minor Medical Center
1803 Union Ave
(901) 722-3152
Check site for office hours.
CVS Minute Clinic
2115 Union Ave
(901) 274-4085
Check site for office hours.
Baptist Minor Medical Center
3295 Poplar Ave
(901) 327-8188
Check site for office hours.
Promedica Clinic PC
493 Doctor M.L.K. Jr Ave
(901) 526-7695
Check site for office hours.
The Little Clinic
3444 Plaza Ave
(901)730-4204
Check site for office hours.
MedPost Urgent Care of East Memphis
4562 Poplar Ave
(901) 329-8990
Check site for office hours.
Family Care/Primary Care/Internal Medicine Clinics
These facilities offer preventive care and treatment of non-urgent medical conditions. This would be very similar to having a family doctor whom you visit annually for a check-up. They provide the first contact for someone with an undiagnosed health concern as well as continuing care of varied medical conditions, not limited by cause, organ system or diagnosis. Usually, an appointment is required. There are multiple primary care facilities around Midtown. Since the insurance coverage in each center varies, call the facility of your choosing to check for your coverage.
Specialists
You may refer to a specialist if you have a medical condition that requires greater expertise than a primary care facility is able to offer. It is likely that a visit to a specialist is more expensive than a visit to a primary care center. Examples of specialists: gynecologists, urologists, etc. Usually, an appointment is required. There are multiple specialist physicians around Midtown. Since the insurance coverage in each center varies, call the facility of your choosing to check for your coverage.
Pharmacies
Pharmacies are retail stores that sell prescription medications as well as over-the-counter medications that do not require a physician's prescription. Generally, pharmacists in the United States are not permitted to offer medical advice or suggestions.
Madison Pharmacy
Crosstown Concourse
1350 Concourse Ave
(901) 321-5530
Check site for office hours.
Walgreens Pharmacy, multiple locations. Check site for office hours.
1863 Union Ave
(901) 272-2006
359 Poplar Ave
(901) 276-5491
1424 Union Ave
(901) 725-7828
CVS Pharmacy
2115 Union Ave
(901) 274-4085
Check site for office hours.
Kroger Pharmacy
Inside the Kroger Grocery Store
1759 Union Ave
(901) 721-0805
Check site for office hours.