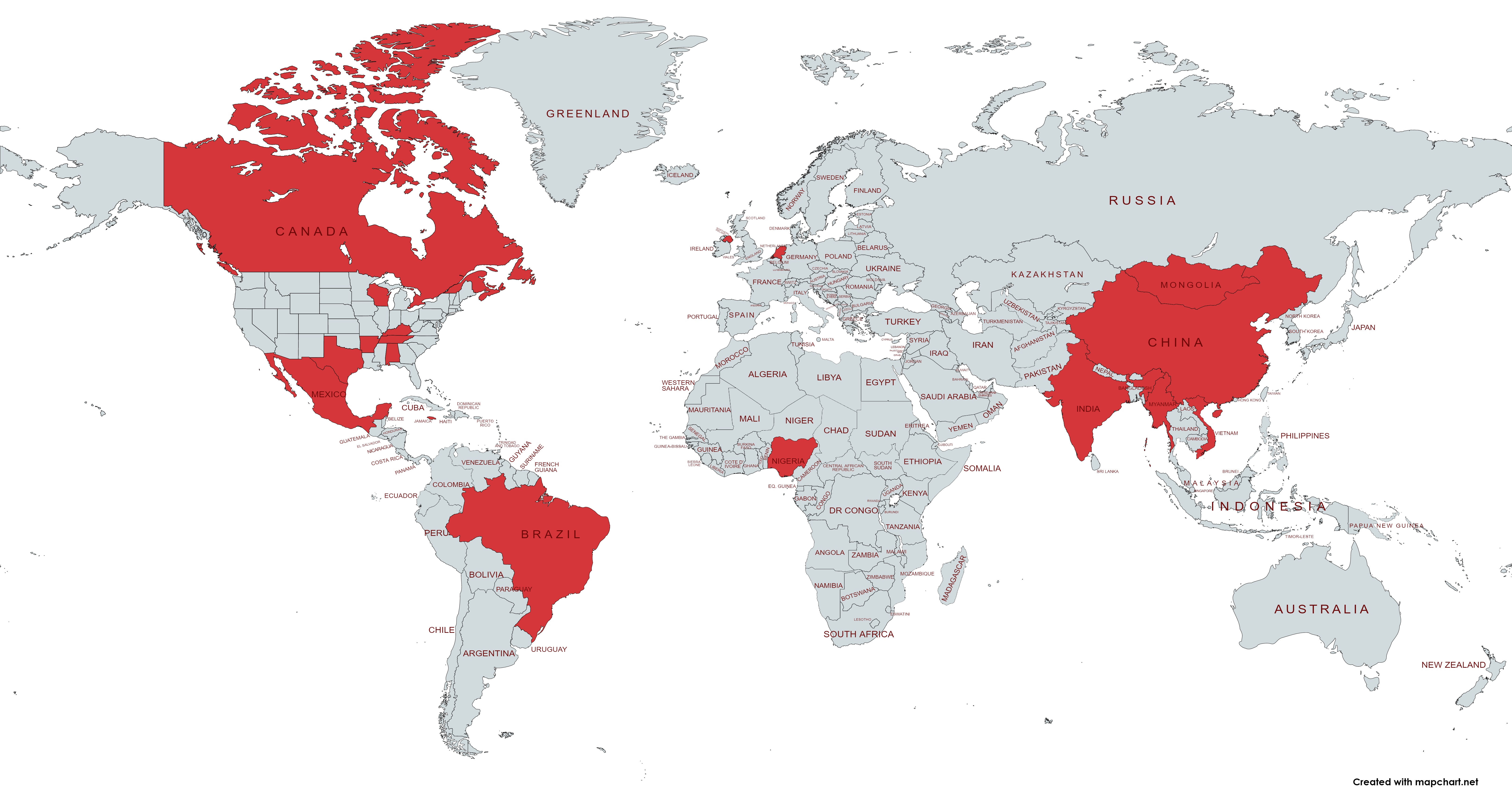 2022 - 2023 IPAs
These students provide leadership to the international student population at Rhodes by helping new international students to acclimate quickly to their new home. The IPAs are older students (US or International) who enjoy being a resource for our international students about life in Memphis, at Rhodes, in the US, and about cultural transitions.
Fikemi Aiyepeku | Lagos, Nigeria | '23
My name is Fikemi and I'm from Lagos, Nigeria, double majoring in Business and French! I'm an IPA at heart, but this year, I'm the Rhodes Student Associate (RSA) for International Students. In other words, I'll be leading the amazing team of IPAs this year as we make this year as amazing as possible for all International Students! 
I'm pretty involved on campus being the incoming President of the African Students Association (ASA) and being on the Social Justice Cohort of Memphis Wesley! I'm also a member of multiple student organisations like All Students Interested in Asia (ASIA), South Asian Culture and Advocacy (SACA), LatinX Student Association (LSA), the French Club, Rhodes Organisation of Investors (ROI) and Black Students Association (BSA)! I love playing volleyball, writing articles, taking walks, and being the life of a party 😉. I believe so much in the International community at Rhodes and it's so fulfilling being surrounded by so many amazing people with cultures from all over the world because these very people have become the ones to make Rhodes feel like a home away from home. 

I'd love to talk to you about any questions you might have so don't hesitate to reach out on aiyot-23@rhodes.edu!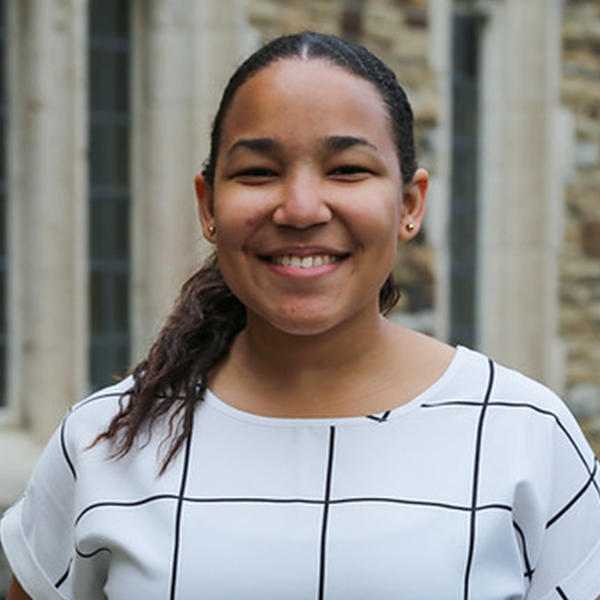 Katie Miller | Kingston, Jamaica | '23
Hey everyone! My name is Katie Miller and I am the Diversity and Inclusion Rhodes Student Associate, working with both international students and students who want to study abroad. I'm from Kingston, Jamaica, and so I know first-hand how important it is to have IPAs that you can connect with, who truly make you feel welcome at Rhodes, and I promise to do that with you. I think a sense of community is important wherever you go and you will definitely find that at Rhodes.
There are so many opportunities to do what you love. Rhodes has given me the chance to get involved in the Memphis community, explore my interest in the criminal justice system through the Rhodes Liberal Arts in Prison Program, and interact with students at campus events and through my fellowship at the Writing Center. Email me at milkm-23@rhodes.edu so I can help you access all the resources at Rhodes in order for you to fulfill your potential!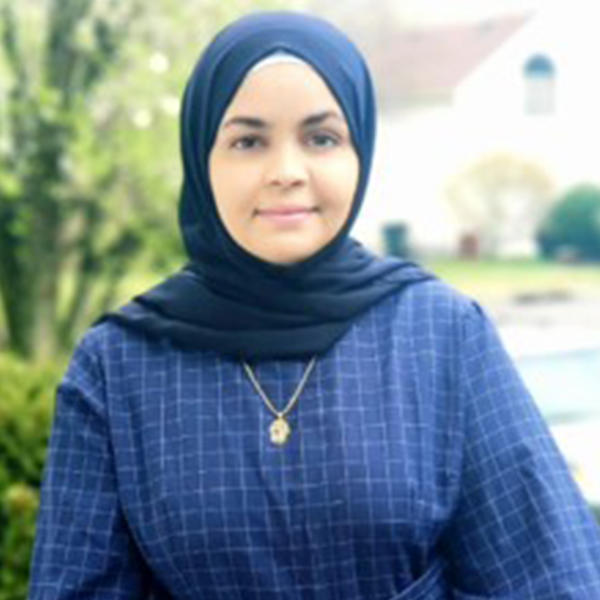 Ayat Hassan | Assiut, Egypt; Nashville, TN | '23
Marhaba ("Welcome" in Arabic)! My name is Ayat and I was born in Assiut, Egypt (a city in southern Egypt) but raised in Nashville, TN, for 16 years of my life. I am a Biology major with a concentration in Biomedical Sciences, a JIMES and International Studies minor, and a member of the Class of 2023.
On-campus, I am a Resident Assistant (RA), a mentor, a photographer, a Rhodes Diplomat, a Rhodes Ambassador, a member of the Muslim Student Association (MSA), South Asian Culture and Advocacy (SACA), and so much more! These are just a few ways I like to give back to Rhodes because it has provided me with a lot of confidence and opportunities over the past years.
What I love most about Rhodes is how close of a community we are, and also the diversity of its students, faculty, and staff! We are a small campus, but you will be surprised about the number of new people you will meet every day! It's crazy, right? I love meeting new people and I really describe myself as an "omnivert!"
A lot of people will describe me as the "mom" of the group, but I just care about people and love to help in any way possible (hence, the main reason why I am an IPA)!
Can't wait to welcome you to Memphis and our wonderful Rhodes College!
Fun fact: My name in English is pronounced as "A-yacht" (yes, think of it as the boat), but it has a very different meaning in Arabic!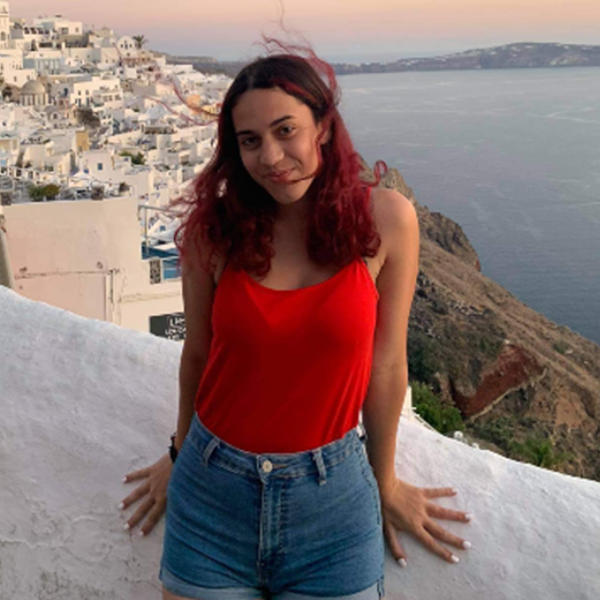 Anna Tassou | Thessaloniki, Greece | '25
Hello! My name is Anna Tassou and I am from Thessaloniki, Greece. I am a rising sophomore and intended Biochemistry and Molecular Biology major with a Psychology minor. This is my first year as an IPA, but other than that I am part of the American Society for Biochemistry and Molecular Biology (ASBMB), Rhodes Diplomats (the people giving tours on campus), I work for the Modern Languages Department, and volunteer at the Memphis Animal Services (basically I just get to play with cute dogs). I also love to dance and I play the piano. 
Coming to the US for the first time was definitely hard but I love the international community at Rhodes because these people made me feel welcome and have made the experience so much more fun. It is amazing being surrounded by people from all around the world and learning about different cultures as well as sharing things about my own. I genuinely met some of the coolest people and some of my current closest friends during the international welcome week so I am really excited to get to know all of you!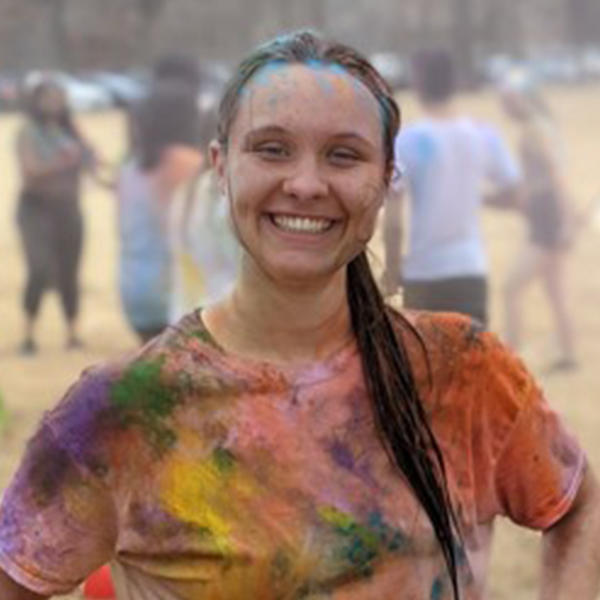 Katie Cruse | Batesville, AR | '24
My name is Katie Cruse and I am a junior biochemistry & molecular biology major and computer science minor.  I'm originally from Arkansas and I love hiking and kayaking in the Ozark Mountains. At Rhodes, I love participating in cultural events, such as the Holi Festival of Colors hosted by the South Asian Culture and Advocacy (SACA) Club that I'm pictured in here. Rhodes has offered me so much opportunity to grow personally and professionally, and as an IPA, I would be happy to answer questions about how to get involved on and off campus. I am an RSA (Rhodes Student Associate) in the Biology Imaging Lab, I have spent a summer on campus researching malaria in birds (I drew blood from geese!), and I now do research in the Neuroscience Department at UTHSC. Spending the summer on campus allowed me to become close with many international students. We shared our cooking with one another, had dance parties with music from each other's country, and watched movies together that we grew up with. It's these special moments that make Rhodes feel like home. I'm so excited to be an IPA for a second year and welcome new people to our family.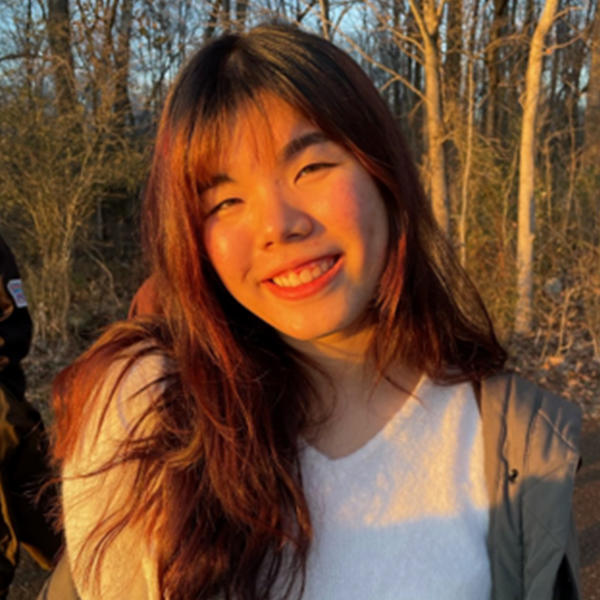 Chau Le | Hochiminh City | Vietnam; New Jersey | '24
Welcome to Rhodes! It's a much better place with you here. The international community at Rhodes is a tight-knit and special one that I adore immensely, and I can't wait to be one of the first people to welcome you to your second home and to this loving community.
I'm Chau, a rising sophomore from Hochiminh city, Vietnam, but I went to high school in New Jersey. On campus, I'm a Rhodes Diplomat, a member of Greek Life, ASIA, RUF, Food Recovery Network, MVP, and Rhodes Theater Guild. My favorite thing to do at Rhodes is going to the events on campus. There is always something exciting going on everyday, from cultural ones that ASIA, LSA, SACA, MSA put up, which are usually filled with very delicious food ;), to very impactful events from Amnesty International, Culture of Consent, fun-filled RAB events, or very cool performances by Curb Institute, RCDC (Dance Company), Choir, Orchestra, Fencing Club or our amazing Theater program. As you get on campus, I'd love to accompany you to any of our campus' lively events or keep you updated on what's resources available on campus–especially to all the cultural organizations and events that might feel more like home. (It's my specialty truly, you can catch me at almost all the events, even the academic ones.) In my free time, I love going on picnics, playing pool, badminton or chess. 
I love Rhodes with all my heart, and I can't wait for you to experience it for yourself. SO thrilled to meet each of you so soon! In the meantime, feel free to reach out to me at lech-24@rhodes.edu if you have any questions :)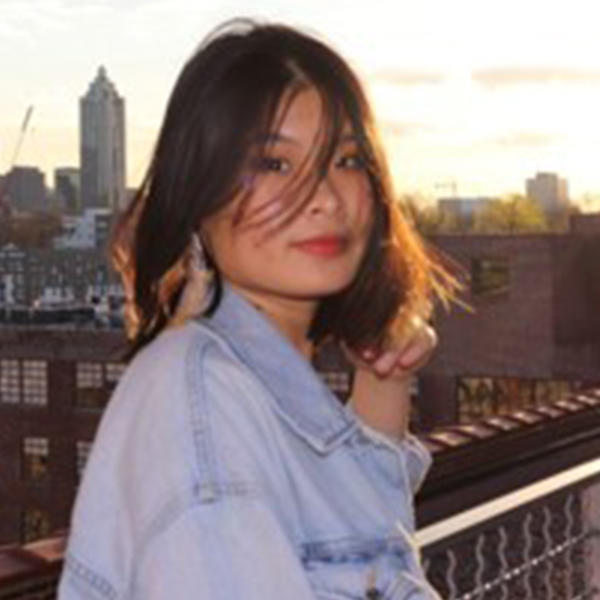 Huyen (Scarlett) Nguyen | Vietnam | '24
Hello everyone!!! My name is Huyen (Scarlett) Nguyen and I am an international student from Vietnam. I have not declared my major yet, but I am thinking of biochemistry or chemistry major and in Chinese Studies minor. One thing I love the most about Rhodes is the extremely welcoming and inclusive community here. It's also my biggest motivation to become an IPA this year as I want to bring the incoming international students the same wonderful experience about the Rhodes community as I am having now! I love baking and cooking so much, to the point that I sometimes can bake at 1am while I have 8 am class the same day :>>> Besides baking, I love traveling, learning languages, and hanging out with my friends here. I can't wait to accompany the lovely incoming international students on their new journey at Rhodes!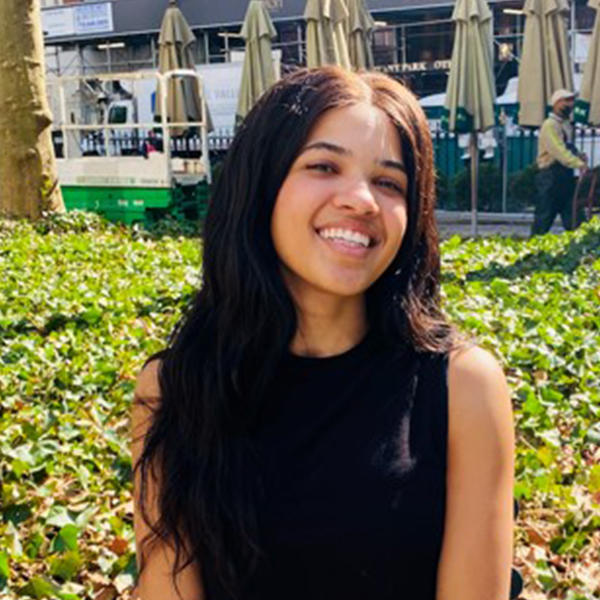 Naomi Bates | Colorado | '24
Hi! My name is Naomi Bates! I am originally from Colorado but just recently moved to New York. I am a rising junior and a Political Science major with a minor in Psychology. I am currently a part of the acapella group Lipstick On Your Collar at Rhodes. I am also a part of the ASL club. In my free time, I love to run, hang with friends and explore Memphis. I have learned a lot throughout my time at Rhodes and love to share my experience! I cannot wait to meet you all and If you have any questions feel free to reach out.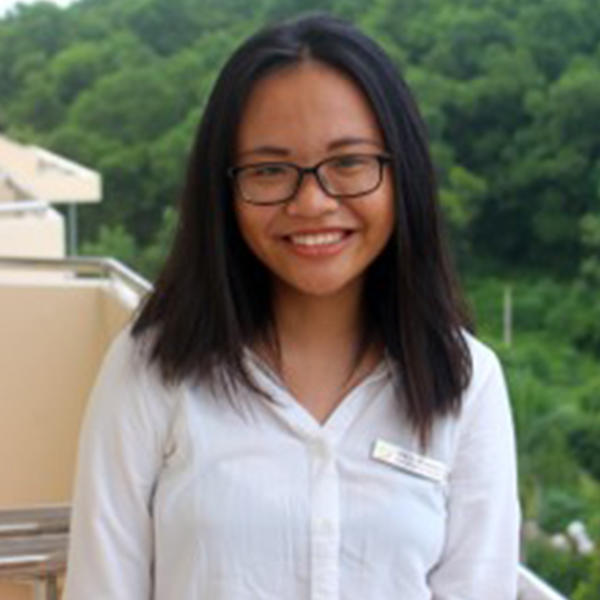 Khanh Ton | Hue, Vietnam | '23
My name is Khanh Ton, and I am from Hue, Vietnam. I have been away from home since the age of 16, going to a boarding high school in Tel Aviv, Israel, and traveling around the world – 19 countries and counting. It is pretty obvious that I love exploring new cultures – so tell me everything about yours! (Or take me there…) At Rhodes, I am a rising senior majoring in Environmental Sciences and minoring in International Studies. As a career-oriented person, I have interned at the Memphis Zoo, the Overton Park Conservancy, and spent a semester science-ing some more at the Marine Biological Laboratory in Massachusetts. This summer, I am interning at the Bald Head Island Conservancy in North Carolina – I would love to help you with major and career navigation especially at Rhodes and in Memphis.  
When I'm not busy identifying plants and making maps, you can find me in the Rat kitchen with Food Recovery Network, at A.S.I.A. festivals, and Tri Delta's philanthropy events. Getting involved at Rhodes can be overwhelming but also a lot of fun, and I can help you with that, too! Not a lot of international students are involved in Greek Life, but if that's an option you consider, please let me know. Anyway… welcome to Rhodes and I'm so excited for the four years that lie ahead of you.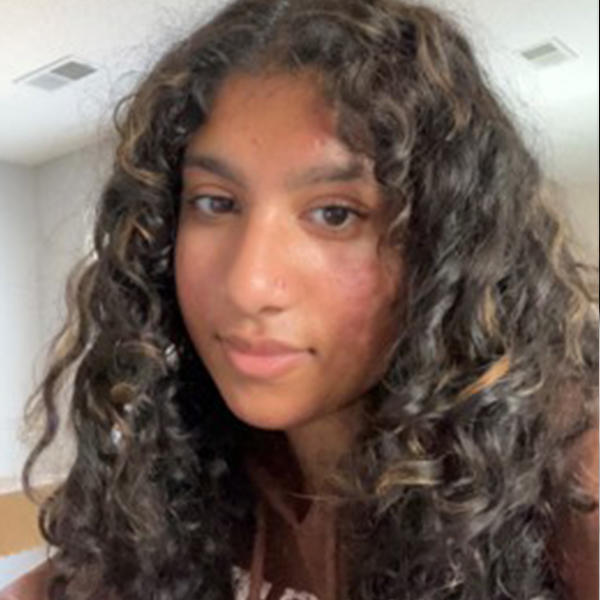 Sudiksha Polasa | Memphis, TN | '25
Hey everyone!! My name is Sudiksha Polasa, and I was born and raised in the Memphis area. I'm a rising sophomore and an intended psychology major on the pre-med track. My parents are from India, so I grew up with very close ties to the Indian cultural communities within Memphis and Collierville.
This is my first year as an IPA and I'm super excited to meet everyone! I look forward to welcoming our international students to campus and making the transition smooth and comfortable for every individual. Aside from IPA, I'm also involved in the Multicultural Vision Program (MVP), South Asian Culture and Advocacy (SACA), and Health Professions Society (HPS), and I'd love to share about any of these organizations with incoming students! In my free time I love just hanging out with my friends, whether it's on or off-campus. I'm excited to make some new friends and help out with whatever I can!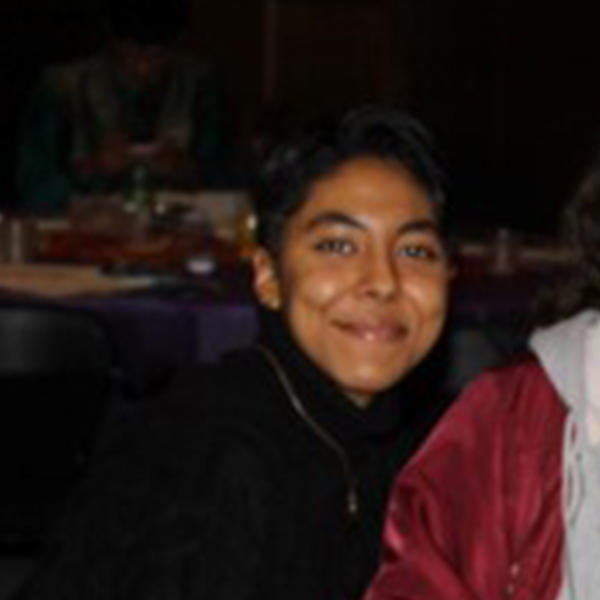 Vee Vyas| India; New York, NY | '23
Hi! My name is Vee Vyas and I'm a rising senior (Class of 2023)! I'm an Economics and International Studies double major, but I also love immersing myself in other disciplines offered by Rhodes. I am incredibly excited to join this amazing team and get new international students and cultivate wonderful memories.
I am involved in a variety of clubs on campus and serve on the exec board for GSA (Gender and Sexuality Alliance) and SACA (South Asian Culture and Advocacy). I absolutely love traveling and have lived in 16 countries over the past 8 years. Although I am originally from India, I spent the better half of my childhood in New York and developed to be a fascinating amalgamation of a diversity of cultures around the world. I also love hiking, exploring new music, finding new local coffee shops, and making economics graphs. The international community at Rhodes has been so welcoming and has helped me find my closest friends on campus. I recognize that this transition to another space and culture can be as challenging of an experience as it is rewarding, and as an IPA, I hope to create pathways for fellow international students to explore campus, Memphis, their communities at Rhodes, and their own way of being. I look forward to being a part of the IPA team and meeting everyone!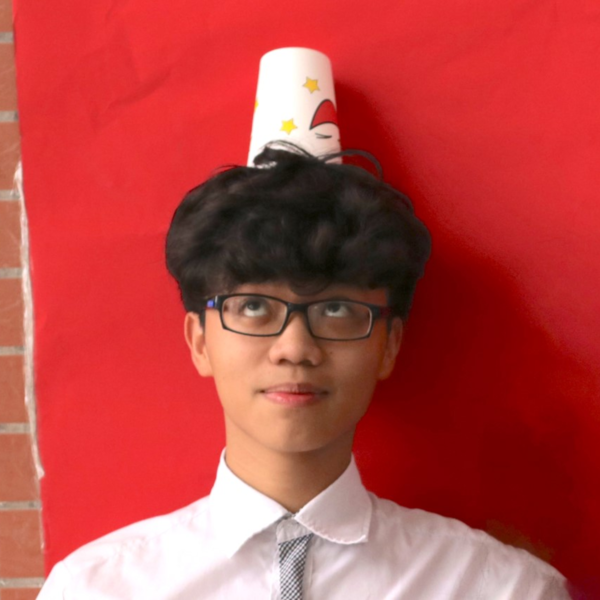 Tung Thieu | Hanoi, Vietnam | '23
Hello everyone! My name is Tung Thieu and I come from a country with a rich and diverse cuisine - Vietnam! I am currently a rising senior of the 2023 class and a Media Studies major. I love playing volleyball and badminton, so why don't we? During these past years, Rhodes has given me the diverse and funny experience like never before. I miss the noisy soccer matches and the walks through the Memphis downtown with awesome Rhodes students. The vibe of Memphis is the most precious thing I would not have felt if not for Rhodes. This is my second year as an IPA, and this recalls my first days in college with Rhodes IPAs. Without them, I would find it a lot difficult to integrate into this academic environment. Being a part of the large IPA family is truly an honor.
Hit me up if you'd like to cook. There is no better way to get to know me better.
P/S: I love to talk languages as well! Hê lô and 嗨 to all coming Vietnamese and Chinese-speaking international students!
Geethika Chelamala | Hyderabad, India; Collierville, TN | '23
Hey guys!👋 My name is Geethika Chelamala, and I was born in Hyderabad, India, but spent most of my life in Collierville, TN. I also lived in Doha, Qatar, for 4 years. I am a junior majoring in Computer Science while being on the pre-med track.
On-campus, I am involved in multiple organizations, like Rhodes Diplomats, MVP, ASBMB, ASL and Deaf Culture Club, SACA, etc. In my free time, I love listening to music, playing tennis, hanging out with my friends, watching Netflix, and sleeping. In Memphis, my friends and I love to have picnics near the Mississippi River, go to Shelby Farms, walk on the Big River Crossing, and go to the Memphis Zoo. I would describe myself as outgoing, awkward, and talkative. Even though this is my first year as an IPA, I understand how hard it can be to adapt to a new environment due to my past experiences, so I hope to help make the transition a bit easier for International students. I look forward to meeting new people, forming new friendships, and talking about random stuff. 😃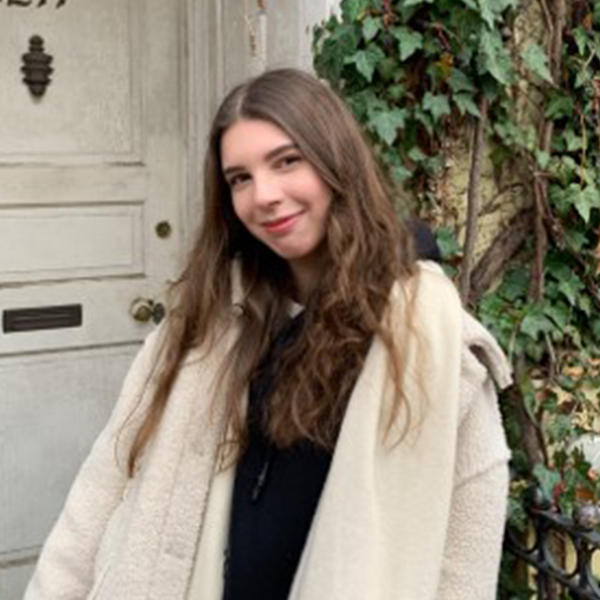 Julia/Yulia Vasedkova | Belarus | '25
Hello everyone, I'm Julia (which, I must confess, is a shamelessly Americanized version of my Slavic name Yulia or Yulya).
I was born and raised in Belarus — a small country on the edge of Eastern Europe — but moved to Russia at the age of 13 and had lived there before coming to Rhodes last summer. Severely cold winters and the necessity to always (always!) put on a couple of extra sweaters have certainly taken its toll — I've acquired quite a peculiar habit of drinking exceptionally hot drinks and wearing a maybe-a-little-bit-too-warm jacket when everyone around me is clothed in shorts and T-shirts, with a cup of an extra ice latte in their hands.
Several things I am utterly captivated by: playing Chopin in the moonlight, writing confusing poetry riddled with weird metaphors I myself sometimes find impossible to understand, reading Jane Austin (and a little bit of Dostoevsky), philosophising just about everything, and getting to know as many incredible personalities as I can.
Welcome to the Rhodes family! I am looking forward to meeting all of you and helping you to find a new home in this incredibly multifaceted and vibrant community.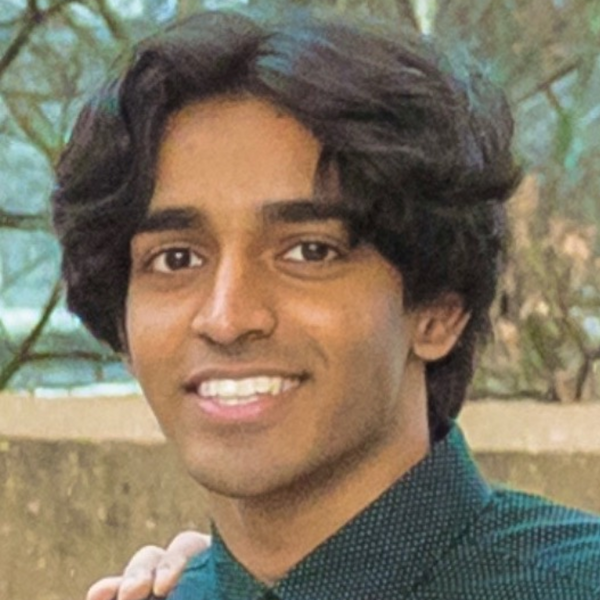 Jithin Manikonda | Anantapur, India; Memphis, TN | '23
Hey guys! My name is Jithin Manikonda, and I was born in Anantapur, India, but I grew up mainly in Memphis, TN. I am a Neuroscience major and am also planning to minor in Chemistry.
Going onto campus as a senior, I am involved in many things, including the South Asian Culture and Advocacy (SACA) and many intramural sports, such as basketball, volleyball, and flag football (I love to play and watch sports.) Overall, I try to balance out my interests and academics to make the most of my time here at Rhodes. With that being said, this is my first time being an IPA so I am very excited to make friends from different cultural backgrounds. Rhodes is an amazing place with a very close international community, so I am looking forward to welcoming you guys onto campus!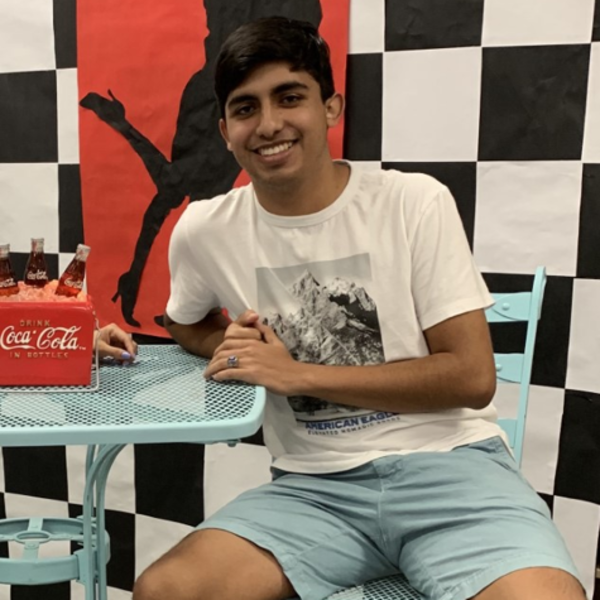 Luis Gallegos | Hamburg, AR; Michoacán, Mexico | '23
Hey everyone, my name is Luis, and I am from Arkansas but born in Mexico. I am a rising senior majoring in computer science.
I am looking forward to being an IPA this year and welcoming you all on campus. I enjoy reading books, drawing, and going on long runs – so if you want to suffer a little with me, we can go on a daily 5K … or not. I understand moving across the world can be stressful especially making an unknown environment your home for the next four years. I am always here to help so don't be shy to ask.